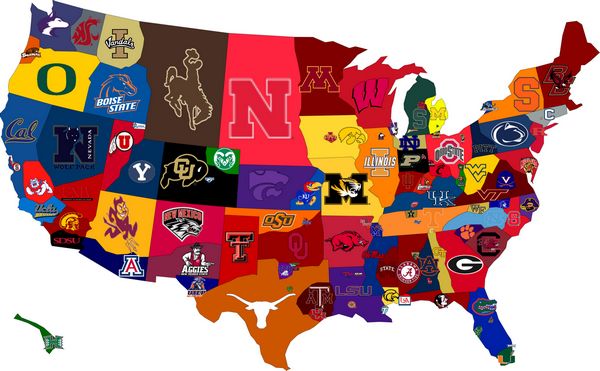 Awesome map showing College football throughout the states
American football is one of the most wagered sports in the world. In the United States the action is near equally divided between the professional version the National Football League (NFL), and the college football version (NCAA football – NCAAF). The latter is played by American universities, colleges, and military academies and is the level at which the sport was invented at in 1869. This is what I'll be discussing in this article – college football betting to be exact.
Where to Bet College Football Online
As I'll cover in this article there are many different ways to bet college football online. Some sites have more exotic and prop bets available than others. Some sites offer bets with lower juice (vig) than the competition. In this article I'll provided multiple references to why each of the websites below is recommended for college football betting. However, I decided to list them here in case you are in a hurry to get started with trusted online betting sites.
Where Should I Bet???
Rank

Sportsbook

Why We Like'em

1

Offers college football point spread and total bets at -105 reduced juice, is the first to post moneyline odds, and offers NCAAF teasers, pleasers, props and futures.

2

Is first to post college football point spreads and totals, and offers lines a week in advance on major matches.

3

Often has great value on underdogs primarily on the point spread. This is a great third site to use when matched with the two above and is the best place for clearing a bonus.
The above list is nonexclusive. www.topbet.eu is well liked for their ease of deposits and payouts and their generous 50% up to $250 sign up bonus. Also www.bookmaker.eu is another website that is very quick to post NCAA football betting odds. You can use the three sites above, these additional suggestions, or any other sportsbook we link to elsewhere on our website to bet college football online.
How to Bet College Football
There are many ways in which college football can be wagered. One option is moneyline betting which is a straight up wager on which team will win the match with no handicap involved. In college football there are many lopsided matches. For example, last season a game between UL Lafayette and Florida had Florida a 37-to-1 favorite meaning a $200 bet returned only $5.41 profit. In this game Florida did win, though it was close. On some occasions betting the underdog can be an okay bet as major upsets do happen at least a couple times most seasons. To learn about this form of wagering I strong suggest reading my article on moneyline betting strategy.
Point Spread Betting
Point spread betting is a more popular way to wager college football as this option is generally a 50/50 betting proposition. Last season, those planning to watch or follow the UL Lafayette vs. Florida game I mentioned earlier likely had no interest in betting the winner. The idea of shelling out $37 to win $1 isn't too appealing even when the team is very likely to win. Also, the idea of shelling out any amount of money on UL Lafayette for this match was not too appealing either as only once in a blue moon will they pull off the upset.
The wagering option known as point spread betting had this match Florida -27 / UL Lafayette +27. This meant for point spread bettors to win Florida needed to win by 28 points more. If they won by 27 it was a push (bets are refunded). If they won by 26 points or less, or lost the game, those betting UL Lafayette on the point spreads were the winner. In this case the latter scenario is how it played out as Florida won 27-20.
Although point spread betting is designed to be a 50/50 proposition, even money is not paid. The bookmakers charge vigourish (vig – also known as juice). Unless otherwise stated you can bet either team at American odds -110 (risk $11 to win $10), or for the simpler math risk X to win (X/1.1). At www.5dimes.eu, on game day their wagering screen has a check box called reduced. When you click this, you'll find point spreads available at -105 (risk 10.50 to win $10) or for simpler math risk X to win (X/1.05). The savings, or extra winnings, this provides are considerable over the long haul.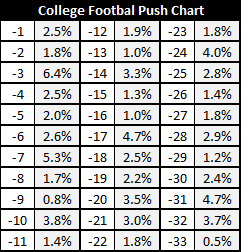 There are several strategies that can be used to beat point spread betting. In the article I just linked the importance of shopping point spreads at multiple internet sportsbooks is emphasized. How to determine which of two different priced point spreads (ex: +7 -120 or -6.5 -110) is a better bet is covered too. However for this you'll be using a push chart. That article explains the "how to math", while the table to the left is a rough push chart.
Understand the chart provided shows how often pushes will occur for point spreads close to the margin of victory listed. This means the percentage shown for a push on 3 does not reflect how often 10 point favorites push on 3. Rather, it reflects a rough estimate of how often point spreads of 2, 2.5, 3, 3.5 and 4 push on the 3. It is also possible to get more accurate figures than the rough ones posted here by building a push chart that considers the expected scoring. How to develop you own push chart is covered in my article on teaser betting. That same article also touches on college football teasers and strategy to beat teaser bets.
If you have a method for handicapping I suggest reading about how the betting market works. After doing so you'll understand why viewing the lines at Pinnacle Sports for the purpose of making bets at www.bovada.lv is advised. Also www.betonline.ag is a great site to use if you're a handicapper. They post point spreads and totals before any other website. They also have the friendliest pricing for buying points in football.
Total Betting
Another form of wagering popular for college football is total betting. The betting sites set a total (for example 58 points). Bettors can decide to wager either under the posted total or over the posted total. This total refers to the number of points both teams will combine to score in the game. The same as point spreads these are offered at -110 (Risk $11 to win $10 or otherwise stated as Risk X to win X/1.1). And again, on game day, www.5dimes.eu has a tab called reduced where over/under the total can be bet at -105 (Risk $10.5 to win $10 or otherwise stated as Risk X to win X/1.05).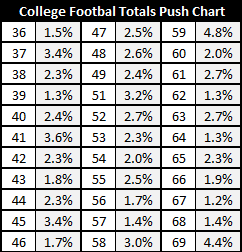 Total betting is another form of wagering where using multiple betting sites to shop the totals is of high importance. Also to compare two different totals with unique pricing you'll need a college football totals push chart. Luckily for you, I've provided one that should he highly accurate for all games in the image to the left. You can use the same math covered in the point spread article I already mentioned to work out proper pricing for half point differences on college football totals when having this provided push chart.
Betting Games Segments
www.5dimes.eu offers betting on first half, and first quarter for most college football games. You'll also find at half time, all the online betting sites open their odds for half time betting. While the article linked provides data mostly for NFL, the handicapping and theories covered mostly apply to NCAAF too. One difference here is half time last 20 minutes so there is a bit more time to research your bets than with other sports leagues where half time is 12-15 minutes long. Also at www.bovada.lv you'll find plenty of live-in play betting on nationally televised NCAA football games.
Future Betting
College football is unique as it is the one league that actually crowns the best team the champion at the end of the season. Compare this to NFL where the NFL's 2011-2012 New York Giants had just a 9-7 regular season record yet won the Super Bowl. Sure it is exciting to follow, but the way college football is done with computer rankings and votes assures the final game of the season is the two best teams head to head to decide a national champion.
Using online sportsbooks there is no need to wait until that match is decided to start placing your bets. From the end of the previous season all the way up until the decision of which teams will play in the national championship is finalized, the sportsbooks have odds on who will be the BCS National Championship. They also have other future bets too. Over/under betting on regular season win totals (RSWs) is available prior to the season starting. During the season betting markets also exist for the Heisman Trophy winner. You can also find full season props at www.5dimes.eu for certain players and teams.
College Football Pools
There is a final way to wager football worth mentioning, which also comes from 5Dimes. During the season they have daily office pools. Versions with a point spread and versions without exist. The entry fees are generally $10 and $25. When you enter one of these daily pools you are competing against other users of their website. The person with the most correct picks takes the full pot. Also when the college football bowl season comes along, do some Google searching for pools. Even non-gambling sites tend to run pick 'em pools involving all bowl games. Many are free to enter and most provide some sort of prize to the winner.