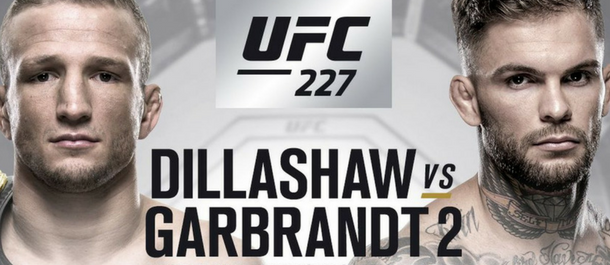 UFC's next pay-per-view event is here. At the top of the bill, T.J. Dillashaw and Cody Garbrandt will engage in an immediate rematch after the two battled in November last year. On that day, Garbrandt had his title taken away from Dillashaw after a back-and-forth fight that ended in the second round.
T.J. Dillashaw vs. Cody Garbrandt
T.J. Dillashaw is the slight favorite in this main event and can be found for odds of -112, while Cody Garbrandt is at -100 with most sites.
If their first fight was anything to go by, this rematch for the UFC Bantamweight Championship could go either way.
At UFC 217, Garbrandt almost defended his title from Dillashaw when he landed a devastating punch that sent Dillashaw to the mat with seconds remaining in round one. As Dillashaw walked back to his corner, he was wobbling all over the place and looked as if his chances of victory were slim. However, Dillashaw bounced back in the second round and began controlling the action before connecting with a powerful punch of his own that forced Garbrandt to the floor. Only this time, Dillashaw had enough time to finish the fight with a series of strikes to his grounded opponent.
Moreover, the two are set to go head-to-head again for the second time in a matter of eight months. What can we learn from their first fight? Well, Dillashaw had trouble finding his optimal range in the first round. Garbrandt was using his typical elusive footwork to dance in and out and avoid any real danger. He also can position himself in ways that he can launch devastating punches and punish Dillashaw for missing. However, all of that turned on its head in the second round when Dillashaw started to launch kicks without proper setup. By all means, it was these kicks that changed the fight.
This time around, we're taking Cody Garbrandt to get the win against T.J. Dillashaw.
Prediction: Cody Garbrandt inside the distance
Bet: Cody Garbrandt to win [-100]
Demetrious Johnson vs. Henry Cejudo
Current UFC flyweight champion Demetrious Johnson is the betting favorite here, of course, and he's currently at odds of -455. Henry Cejudo, the challenger, now sits at +400.
The co-main event of UFC 227 features another title fight, although this one isn't getting nearly enough attention compared to the rematch in the main event.
Like Dillashaw vs. Garbrandt, though, this fight between Demetrious Johnson and Henry Cejudo is the second time that these two have met. At UFC 197, "Mighty Mouse" defeated Cejudo in dominant style. He controlled the clinch and connected with many powerful knees and elbows to eventually back Cejudo up and put an end to the fight.
Since then, "Mighty Mouse" has defeated Tim Elliott, Wilson Reis, and Ray Borg, and each of these victories has an amazing story behind them. Elliott won a UFC organized flyweight tournament that was created with the sole intention of finding someone who can challenge Demetrious Johnson. "Mighty Mouse" then submitted talented jiu-jitsu black belt Wilson Reis. And his flying armbar submission vs. Ray Borg is something that fans will never forget.
Cejudo has been on a roll of his own lately, as well. He lost a decision to Joseph Benavidez which sure looked questionable. However, he backed it up with two consecutive victories and managed to defeat Wilson Reis using his improved striking and then Sergio Pettis over three rounds.
Will Cejudo's elite wrestling play a factor this time around?
Prediction: Demetrious Johnson to win inside the distance
Bet: Demetrious Johnson to win [-455]
Cub Swanson vs. Renato Moicano
Veteran Cub Swanson is a heavy underdog at +350 while Renato Moicano is available for -355.
Talented striker Renato Moicano will face yet another tough test as he prepares to take on exciting veteran Cub Swanson in a three-round fight.
Moicano could very well be the most underrated fighter in the UFC's featherweight division and has made a name for himself for being a tough and gritty stand-up fighter with impeccable technique to go with it. He outclassed Jeremy Stephens at UFC on FOX 24 before finding himself in a memorable matchup with Brian Ortega not long after. He was getting the better of Ortega on the feet before eventually falling victim to a guillotine choke from the jiu-jitsu ace in the third round. He enters this fight after defeating Calvin Kattar at UFC 223.
And then there's Cub Swanson, a fan favorite in the 145 lbs division who recently had his four-fight winning streak snapped. Now, he finds himself in desperate need of a victory after losing to Brian Ortega and Frankie Edgar. Unfortunately for Swanson, though, this one looks like a difficult task.
Prediction: Renato Moicano by unanimous decision
Bet: Renato Moicano to win
Polyana Viana vs. JJ Aldrich
Brazilian Polyana Viana [-240] is a moderate betting favorite in this main card matchup with JJ Aldrich [+240].
Arguably the least anticipated fight on this main card is a women's strawweight battle between Polyana Viana and JJ Aldrich. Viana and Aldrich are both unranked in the 115 lbs division and had been moved to this main card to plug some holes after injuries ruined the original plans for the event.
This fight could accurately be regarded as a striker vs. grappler type of affair. Viana, a jiu-jitsu fighter, will be looking to get Aldrich down to the mat and work her over with ground and pound or eventually submit her. On the other hand, Aldrich is a reasonably talented kickboxer with the ability to keep her distance and pepper an opponent with strikes. She'll be focusing on disallowing Viana to shoot in for takedowns.
It's hard to see a case in which Aldrich can stop the takedowns and keep this one standing long enough.
Prediction: Polyana Viana to win inside the distance
Bet: Polyana Viana to win [-240]
Thiago Santos vs. Kevin Holland
There are no surprises here as Thiago Santos is the overwhelming favorite at odds of -370 and Kevin Holland can be found for odds of +330.
Kevin Holland will be stepping in on short notice to challenge Thiago Santos on UFC 227's main card. Holland got the call up to compete on this pay-per-view main card just weeks after making an appearance on Dana White's Tuesday Night Contender Series. On that night in June, Holland picked up a unanimous decision victory over Will Santiago.
As for Thiago Santos, his place in the division will be tested as he looks to not just score a victory here against this UFC newcomer, but do so in style. The last time Santos was tested by a UFC debutant, he was submitted in the first round by Eric Spicely.
Prediction: Thiago Santos inside the distance
Bet: Thiago Santos to win [-370]
UFC 227 fight card
UFC 227 begins on UFC Fight Pass from 6:15 pm ET (10:15 pm GMT) on Saturday, August 4.
Pay-per-view (10:00 pm ET / 2:00 am GMT)
J. Dillashaw [-112] vs. Cody Garbrandt [-100]
Demetrious Johnson [-456] vs. Henry Cejudo [+400]
Cub Swanson [+348] vs. Renato Moicano [-355]
Polyana Viana [-240] vs. JJ Aldrich [+240]
Thiago Santos [-370] vs. Kevin Holland [+240]
FX Prelims (8:00 pm ET / 12:00 am GMT)
Pedro Munhoz vs. Brett Johns
Ricky Simon vs. Montel Jackson
Bethe Correia vs. Irene Aldana
Matt Sayles vs. Sheymon Moraes
UFC Fight Pass Early Prelims (6:15 pm ET / 10:15 pm GMT)
Alex Perez vs. Jose Torres
Ricardo Ramos vs. Kyung Ho Kang
Danielle Taylor vs. Weili Zhang
Marlon Vera vs. Wuliji Buren