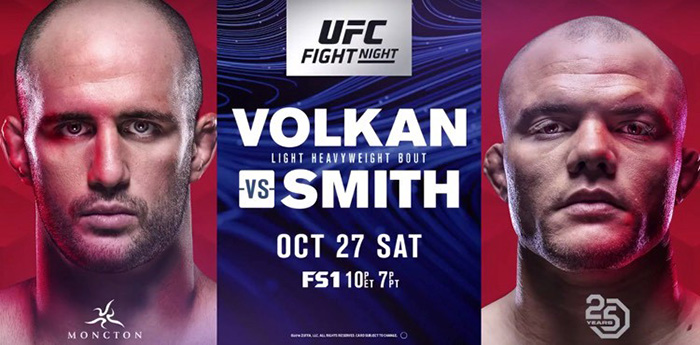 The UFC finally returns this weekend with an entertaining UFC Fight Night 138 event taking place in Moncton, New Brunswick, Canada.
The fight card is set for Saturday, October 27, and will feature on FOX and UFC Fight Pass.
We've uncovered six prime betting opportunities throughout the main card and will share our reasoning for every pick with you below.
Let's go!
Volkan Oezdemir vs. Anthony Smith
The super hard-hitting Volkan Oezdemir is set for battle against the rising light heavyweight contender, Anthony Smith.
These two guys have experienced much the same trajectory in the division so far, having both ascending through the ranks with lightning-fast speed.
Best odds for Volkan Oezdemir vs. Anthony Smith
Oezdemir worked his way past Ovince Saint Preux to then go on and dominate Jimi Manuwa and Misha Cirkunov inside the first 30 seconds. His power looked to be unbelievable, and it was only a matter of time until the UFC called on him to compete against Daniel Cormier for the UFC Light Heavyweight Championship. It proved to be too much, too soon for Oezdemir, and the top-ranked pound-for-pound fighter defeated him inside two rounds.
However, don't be fooled into thinking that Oezdemir is a pushover, because he's not.
Smith is a dangerous Muay Thai fighter and arguably looks like the better striker than Oezdemir, but he lacks defensively.
Anthony Smith will need to respect Volkan's power and blistering pace early in this fight. Despite his tendency to be involved in back-and-forth wars with an opponent, that's precisely not the type of fight Smith will be wanting against Oezdemir. He'll likely prefer to utilize his best techniques; such as excellent clinch strikes and long, rangy punches and kicks, and avoid exchanging punch-for-punch with Oezdemir.
We're betting on Volkan's knockout power to get him over the line in this main event. Smith gets hit a little too often, and that's not the type of trait we want from someone who is standing across from Oezdemir.
Bet: Volkan Oezdemir to win
Odds: -190 (Bovada)
Michael Johnson vs. Artem Lobov
The fighter who fans mock as the "Greatest of All Time," Conor McGregor's training partner, Artem Lobov, finds himself in an exciting co-main event clash with Michael Johnson in Moncton this weekend.
Best odds for Michael Johnson vs. Artem Lobov:
Michael Johnson has looked impressive since moving down to featherweight, although the results don't necessarily reflect the work he has done so far.
Johnson has incredibly fast hands and is excellent at positioning himself just out of an opponent's range before sliding back into range and hammering home a combination of his own. Johnson's punches aren't just touching an opponent; they're landing with full force as seemingly every one of them is thrown with vicious intentions.
While we're yet to see him score another knockout much like the one he had against Dustin Poirier at lightweight, he's still certainly capable of finishing a fight inside a matter of minutes.
Lobov will truly be tested in this matchup with Johnson. At a significant reach disadvantage, Lobov will be looking for ways to close the distance and connect his strikes. Lately, Lobov has been happy playing the role of a counter striker and this might work favorably against Johnson if he can lure him in and land a devastating punch or two. The problem is that many of Lobov's punches don't have the type of power that can finish a guy like Johnson.
Johnson is a wide favorite, but there are excellent odds if you take Johnson to win inside the distance.
That's what we're doing.
Bet: Michael Johnson to win inside the distance
Odds: +170 (Bovada)
Andre Soukhamthath vs. Jonathan Martinez
Now 1-3 in the UFC, Andre Soukhamthath will have the best chance possible to regain some momentum against late-notice opponent Jonathan Martinez.
Martinez will be making his UFC debut at UFC Fight Night 138.
Best odds for Andre Soukhamthath vs. Jonathan Martinez:
Martinez is a young and crafty fighter with what seems to be superb submission ability. While standing, he's particularly dangerous as well and has remarkably powerful kicks. In particular, he likes to work the lead leg of an opponent with these damaging kicks.
It's on the mat where he looks to be possibly more dangerous. Much like the super-elusive and submission happy Tony Ferguson, Martinez shifts his body around to create new angles and create an opportunity for a submission. Whether it's an armbar or a triangle choke, Martinez has locked up multiple submissions throughout his professional career so far.
This is where Soukhamthath will need to be careful, especially because Martinez's poor balance and below average takedown defense see him on the mat more often than the average fighter.
But despite Martinez's range and an arsenal of strikes, Soukhamthath should have the advantage for as long as this one stays standing. A composed and focused approach from "The Asian Sensation" will see him land his punches at will.
Bet: Total Rounds – Under 2.5
Odds: +170 (Pinnacle)
Misha Cirkunov vs. Patrick Cummins
Once regarded as one of the most fascinating prospects of the light heavyweight division, Misha Cirkunov is now booked in what could be an absolute war with Patrick Cummins.
Best odds for Misha Cirkunov vs. Patrick Cummins
Where there's Patrick Cummins, there's blood – lots of it.
Cummins takes ridiculous levels of damage every single time he steps into the UFC's octagon but still manages to grind out a victory here and there.
This happened twice against Jan Blachowicz and Gian Villante in recent memory. After being crushed in the first round and seemingly being on the verge of being knocked out, Cummins somehow recovered and made it to the stool at the end of round one. From there, he did just enough to secure rounds two and three and win the decision. Of course, this didn't happen against Corey Anderson, who just completely ragdolled him for three rounds.
Cummins tendency to stick around longer than usual is a desired attribute in a fighter, but it is only highlighted because he gets tagged way too frequently.
Expect Misha Cirkunov to land his shots early and often. If he does, he might be able to get Cummins out of there early – and that's a maybe worth betting on.
Bet: Misha Cirkunov to win by KO/TKO
Odds: +130 (Bovada)
Gian Villante vs. Ed Herman
Two light heavyweight fighters who are known to fatigue greatly after the first round are set to do battle in what realistically would be preferable as a five-minute fight.
Best odds for Gian Villante vs. Ed Herman:
Despite his incredible power and decent athleticism, Gian Villante has a bad, bad tendency of tiring through the middle and late stages of a fight. He did this against Patrick Cummins and gave away rounds two and three on the basis that he was physically unable to throw with the same conviction he had at the beginning.
However, don't let that distract you from his tremendous stopping power. If Villante can connect with his strikes in the first round, it's likely Herman will go down.
Herman will undoubtedly be looking to get this fight to the mat. He might not be able to use his wrestling skills to move the physically stronger and larger opponent around in the first round, but if they make it into the second and third, this could very well be a Herman on top kind of fight.
Although, the most realistic outcome for this fight is Villante crushing Herman and standing over him while the fight is called off.
Bet: Total Rounds – Under 2.5
Odds: -166 (Pinnacle)
Alex Garcia vs. Court McGee
Alex Garcia and Court McGee will get the main card started with what should be an exciting welterweight clash between two crafty fighters.
Best odds for Alex Garcia vs. Court McGee:
Alex Garcia is in desperate need of some consistency inside the UFC's octagon. Alternating wins and losses during his eight contests, Garcia has shown an inability to secure a decision victory in the last couple of years. Of course, he's more than capable of finishing a fight either via submission or KO/TKO, but we just haven't seen the consistency that is needed.
Look up Court McGee highlights, and you'll likely see clips from his work from 2011-2013. Back then, he was regarded as a monster and even managed to score a victory against current UFC middleweight champion, Robert Whittaker. He's still a dangerous fighter, especially when considering his blistering pace and high volume of strikes.
This fight comes down to whether Garcia can finish McGee inside the distance, as McGee's high volume of significant strikes landed will likely be enough to win a convincing decision if it makes it that far.
Bet: Total Rounds – Under 2.5
Odds: +205 (Pinnacle)
UFC Fight Night 138 fight card
UFC Fight Night 138 begins on UFC Fight Pass from 6:30 pm ET (10:30 pm GMT) on Saturday, October 27.
FS1 Main Card (10:00 pm ET / 2:00 am GMT)
Volkan Oezdemir vs. Anthony Smith
Michael Johnson vs. Artem Lobov
Misha Cirkunov vs. Patrick Cummins
Andre Soukhamthath vs. Jonathan Martinez
Gian Villante vs. Ed Herman
Alex Garcia vs. Court McGee
FS1 Prelims (8:00 pm ET / 12:00 am GMT)
Nordine Taleb vs. Sean Strickland
Thibault Gouti vs. Nasrat Haqparast
Calvin Kattar vs. Chris Fishgold
Sarah Moras vs. Talita Bernardo
UFC Fight Pass Early Prelims (6:30 pm ET / 12:30 pm GMT)
Te Edwards vs. Don Madge
Arjan Singh Bhullar vs. Marcelo Golm
Stevie Ray vs. Jessin Ayari