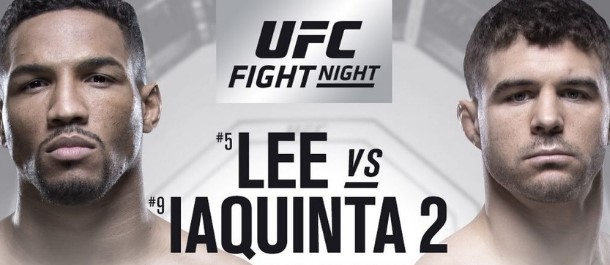 The UFC's last FOX-focused show will air this weekend in Milwaukee as Kevin Lee and Al Iaquinta headline UFC on FOX 31.
Kevin Lee vs. Al Iaquinta
Kevin Lee, a rising lightweight star, will get a chance to secure victory over Al Iaquinta in a rematch of a fight from February 2014.
Lee steps into the cage this weekend after a big win over Edson Barboza in April. That win was a return to form to the 26-year-old who had only recently failed in his quest for an interim title against Tony Ferguson.
Iaquinta returns after his inspiring performance against Khabib Nurmagomedov earlier this year. The 31-year-old from Long Island stepped into the main event against arguably the most feared fighter in the UFC on a few days' notice and managed to last the distance. Although he lost a unanimous decision, Iaquinta gained many fans and some favor in the eyes of the UFC.
Best odds for Kevin Lee vs. Al Iaquinta:
Despite losing the first fight against Iaquinta, Lee will enter this fight as a significant betting favorite. Hinting at major improvements to his game and a new approach to training, the bookmakers believe that Lee has a considerable edge in this main event.
Moreover, that's a fair assessment considering that while Iaquinta is aging and seemingly less focused on his mixed martial arts career, Lee has grand ambitions to work his way to the top and claim the title.
However, there's a lot more to it than that.
An Iaquinta dropped Lee with a left hand in round one of their first fight and mostly outworked him while standing in rounds one and three. In round two, Lee secured an excellent takedown to take the fight to the mat and attempt to finish Iaquinta with a rear-naked choke.
Now, Lee's striking has improved to a point at which we'd believe he has a small edge over his opponent in this fight for as long as it stays standing. Moreover, on the mat, Lee's jiu-jitsu has improved significantly as to suggest he would have a greater chance of submitting Iaquinta this time.
We're betting on Kevin Lee to win this weekend in what should be an exciting main event.
Bet on to Kevin Lee to win: -305 (Pinnacle)
Edson Barboza vs. Dan Hooker
This matchup is just as good as the main event. Striking phenom Edson Barboza will take on the up-and-coming 155-pound fighter, Dan Hooker.
Hooker has thrown himself right into the mix of top lightweight fighters after managing an impressive four-fight winning streak since moving up from featherweight. A six-fight stretch of fights that saw him win three and lose three was enough to encourage the 6'0″ (183cm) fighter to move up a division. He's since secured four excellent stoppage victories and is working his way up the rankings.
Barboza is one of the most dangerous strikers in the UFC. Renowned for his highlight-reel finishes including a spinning wheel kick stoppage of Terry Etim, Barboza has secured wins against a list of proven talent in the UFC through his many years of competition. Recently, however, a couple of difficult matchups against top-level wrestlers including Kevin Lee and Khabib Nurmagomedov have seen him struggle to stay off the mat and utilize his striking techniques. He's now on a two-fight losing streak.
Best odds for Edson Barboza vs. Dan Hooker:
Finally, Edson Barboza is back inside the cage with a fighter who will likely stand across from him and not rely on takedown attempts.
Barboza excels in this type of matchup, and we believe that he'll beat up the lead leg of Hooker while also tagging him with a check left hook on occasion. Hooker is defensively sound and will evade most of Barboza's spinning attacks while drawing out counters, but he doesn't have the offensive output that can help him win rounds against such a savvy striker.
If Hooker tries to take this to the mat, as he did against Marc Diakiese, he'll have a hard time achieving a dominant position considering Barboza's adequate takedown defense.
We can see Barboza winning a clear unanimous decision and will confidently support him at the current odds.
Bet on to Edson Barboza to win: +107 (Pinnacle)
Rob Font vs. Sergio Pettis
Sergio Pettis' time in UFC's 135-pound bantamweight division begins this weekend when he takes on Rob Font in Milwaukee.
The Duke Roufus trained fighter is moving back to where he first began. With Roufus proclaiming that Pettis is a much stronger fighter in the 135-pound category and not when fighting at 125-pounds, it's clear that his camp is entirely geared toward him making a run in this division.
Font will be looking to bounce back after a unanimous decision defeat to Raphael Assuncao earlier this year. That loss came just one fight after an impressive KO/TKO victory over highly-rated Thomas Almeida at UFC 220.
Best odds for Rob Font vs. Sergio Pettis:
Font might be one of the most underrated fighters in the bantamweight division. Of course, that's a natural result of his less than superb performances of recent memory. Those results have led us to almost forget his presence as a great striker and a serviceable grappler.
Pettis will undoubtedly be stronger and more powerful in his return to the division, but it's hard to find an area of the fight in which Pettis matches up favorably.
We're going to be taking Rob Font to get the win.
Bet on Rob Font to win: -165 (Bovada)
Jim Miller vs. Charles Oliveira
Jim Miller vs. Charles Oliveira opens up the main card with what is sure to be an exciting fight between two very familiar names in the UFC.
Miller has been competing in the UFC since 2008 and is still a constant feature of the promotion considering his entertaining fighting style that has seen him involved in many back-and-forth wars over the years. Most recently, Miller snapped a terrible four-fight winning streak by picking up a win over Alex White in the first round.
Oliveira brings it every time he enters the UFC's Octagon and is currently enjoying consecutive wins for the first time since 2015. Undefeated in 2018, Oliveira has secured memorable submission wins over Clay Guida and Christos Giagos.
Best odds for Jim Miller vs. Charles Oliveira:
Charles Oliveira might be too good across the entire board in this contest. A submission specialist, no one in the division wants Oliveira on their back. While standing, he is relentless, unorthodox and extremely powerful.
Miller will be tested by Oliveira's size, power, and speed, especially when considering that Miller is slowing down of recent. However, there's one aspect of the fight that cannot be measured adequately, and that's Miller's incredible ability to manage and command fights through three rounds of action.
Oliveira might need a finish to get the win over Miller, but fortunately, that's a probable outcome considering Oliveira's fantastic submission ability.
Take Oliveira to win.
Bet on Charles Oliveira to win: -300 (Bovada) (Pinnacle)
UFC on FOX 31 fight card
UFC on FOX 31 begins on UFC Fight Pass from 6:30 pm ET (10:30 pm GMT) on Saturday, December 15.
UFC on FOX 31 Main Card (10:00 pm ET / 2:00 am GMT)
Kevin Lee vs. Al Iaquinta
Edson Barboza vs. Dan Hooker
Rob Font vs. Sergio Pettis
Jim Miller vs. Charles Oliveira
FS1 Prelims (8:00 pm ET / 12:00 am GMT)
Zak Ottow vs. Dwight Grant
Jessica-Rose Clark vs. Andrea Lee
Drakkar Klose vs. Bobby Green
Joaquim Silva vs. Jared Gordon
Jack Hermansson vs. Gerald Meerschaert
UFC Fight Pass Early Prelims (6:30 pm ET / 10:30 pm GMT)
Dan Ige vs. Jordan Griffin
Adam Milstead vs. Mike Rodriguez
Zak Cummings vs. Trevor Smith
Juan Adams vs. Chris De La Rocha