The UFC holds events almost every weekend now and Bellator, LFA and ONE: Championship are all beginning to increase the number of events held every year. Each of these events has approximately 10-12 fights featured on the entire card.
This means that there is likely 24 or more opportunities to bet on MMA fights every weekend. No matter your experience with MMA betting, our advice is that you create and maintain accounts across a diverse range of sports bookmakers so that you always have access to the best MMA betting odds and MMA betting lines online.
Don't miss our latest MMA tip – UFC on FOX 31: Lee vs. Al Iaquinta
How to Bet on MMA Fights
The most common and easy to understand the way to bet on MMA fights is, like any other sport, simply choosing a winner. If you're a little more of a risk-taker, or like to seek big rewards, there are plenty of other ways to boost your MMA betting odds online, but first, we'll break down how MMA betting lines work in the opening section of our MMA Betting Guide.
MMA Betting Lines Explained
In every fight, regardless of organization, there will always be MMA betting odds for straight-up choosing the winner. Each fighter will be represented by a negative money line (-) or positive money line (+).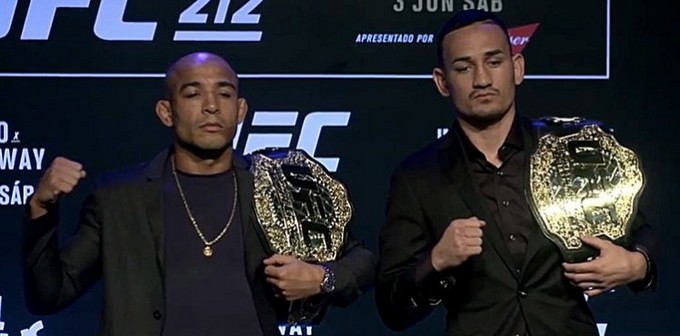 Here's an example of MMA betting lines:
Jose Aldo: -145 (favorite)
Max Holloway: +125 (underdog)
Negative Money Lines
A fighter with a negative money line is the favorite, as indicated by the bookmakers. The number associated with the money line indicates the required wager to win $100 in profit. While any amount can be wagered, these lines are used as per indicative purposes.
As such, to win $100 of profit in the above example, it would require a bet of $145 on Jose Aldo (-145), returning a total of $245.
Positive Money Lines
A positive money line works oppositely. Where the negative money line represents the bet required to win $100, a positive money line will show the winnings of a $100 wager.
Again, in the example above, a $100 bet on Max Holloway (+125) pays $125 in profit and returns a total of $225.
Boosting your MMA Betting Odds
So, you don't mind chasing the big returns, huh? If you want to increase your MMA betting odds in a big way, have a go at proposition betting! Instead of just betting on who you think will be victorious, you can bet on how they will win or when they will win, using 'Method of Victory' betting or 'Round Betting', for example.
If you're confident that Jose Aldo will win by decision, but you're not happy with those short odds (in the example above), why not increase your earnings by predicting the 'Method of Victory'. You can choose Aldo 'to win by decision' rather than 'to win' and boost your betting odds from -145 to +210! You can of course just leave the MMA Betting Tips to our OnlineGambling experts, and follow their selections for the best value bets. Keep a close eye on our betting blog as we update it regularly with MMA Betting Tips.
Again, with big MMA betting odds comes greater variation between sports bookmakers. Make sure to seek out the best MMA betting sites for your chosen bet type!
Best Sites for Online MMA Betting
Rank

Bookmaker

Why We Like'em

1

Great outright winners, prop bet odds/moneylines + parlays on MMA events. They cover UFC, Bellator and Strikeforce.

2

Early MMA lines on offer and can bet up to $1000 per fight! Very quick deposits & withdrawals.

3

Lowest juice on MMA with max bets of $1000 per fight.
MMA  Accumulators / Parlay / Multi Bets
Still not happy with your MMA betting odds and want to increase them even more? There's always the option of including your selections into an MMA accumulator! By combining a number of your selections together in the one bet, bookmakers will give you massively increased odds for all of your selections to win.
MMA Live Betting
Online sportsbooks have begun offering live betting markets for mixed martial arts events worldwide. These markets are most commonly offered for the UFC, which is the largest mixed martial arts organisation and therefore attracts the most bets.
We've got some live MMA betting advice for you; ensure that you are watching a completely live broadcast if you choose to bet on MMA live. If you're watching on FOX or via pay-per-view, you will be live to the second, whereas compared to UFC Fight Pass, you'll often be delayed by up a minute or more!
MMA Mobile Betting
If you love betting on MMA fights, you'll be happy to know that you can now bet from almost any location around the world. Sportsbooks have modernized gambling as such to ensure that you can place bets from your iPhone, Android or selected mobile device. You can now log-in and place a live bet from the stadium of the event if you so wish!