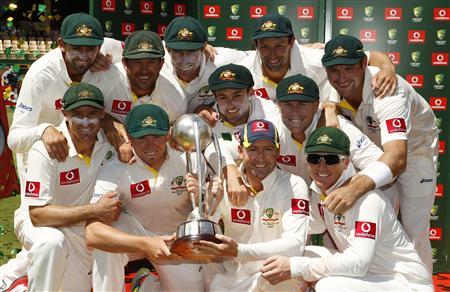 2012 Border-Gavaskar Trophy Winners, Australia Crush India to Stop a Three In A Row Conquest by the Indians.
The Border-Gavaskar Trophy will be up for grabs again when Australia travels to India for a four-Test cricket series running from 22 February 2013 in Chennai to, if the final match in Delhi goes the full distance, 26 March 2013.
The piece of silverware for which Australia and India have competed since 1996 is named after Australia's Allan Border and India's Sunil Gavaskar. Border scored 11,174 runs at an average of 50.56 in 156 Test matches for Australia, hitting 27 centuries and a top knock of 205. Gavaskar scored 10,112 runs at an average of 51.12 in 125 Test matches for India, hitting 34 centuries and a top knock of 236 not out. Both men captained their countries and, at some point in their career, held the record for the most Test runs scored.
Below, the unavailing of the Border-Gavaskar Trophy
India won the first Border-Gavaskar Trophy match, beating Australia by seven wickets in what was Sachin Tendulkar's first Test as skipper. India has held the Border-Gavaskar Trophy more often than Australia but Australia has won more individual games, leading that ledger by 14 victories to 12, helped in no small way by its 4-0 home win in 2011-2012.
Aura Surrounding India Has Gone
Bookmakers have installed India as the favourite not only for the four-Test series but also the First Test in Chennai, with the home team trading at odds of around 4-6 to regain the Border-Gavaskar Trophy and 5-4 to get off to the best start with victory in the city formerly known as Madras.
Betting on Test series played in India used to be what is politely called a no-brainer. After South Africa's Test series win in India in 2000, India won 15 and drawn five of its next 21 home Test series before going down to England towards the end of last year. The only side that had won a Test series in India in recent memory was the all-conquering Australia team featuring Glenn McGrath and Shane Warne.
But times have changed. Sides used to fear touring India and usually they were happy to return home with some of their pride intact. That is not the case anymore. England fought back from 0-1 down to comprehensively outplay India in the last three Test matches of its 2012 series. The aura surrounding Indian cricket has gone away and, therefore, bookmakers are taking chances in quoting India at short prices to get the better of Australia this year.
Test Records For Each Venue
Chennai's MA Chidambaram Stadium will stage the First Test between India and Australia, starting on 22 February 2013. India has won 12, drawn six, tied one and lost six of its 30 Test matches at the ground, while Australia's record reads one win, two draws, one tie and two losses. The tie occurred in 1986 when Australia set a target of 348 runs for India to win and the home team fell one run short, Greg Matthews trapping Mahinder Smith leg before wicket for a duck.
Hyderabad's Rajiv Gandhi International Stadium is a fairly new Test venue, with India having won one and drawn the other of its two matches there, both versus New Zealand. Therefore, punters betting on the Second Test, scheduled to begin on 2 March 2013, will have to do some guessing work.
Mohali's Punjab Cricket Association Stadium will be where the Third Test will take place from 14 March onwards. India has played 10 Test matches at the ground, resulting in four wins, five draws and one loss. Australia has lost both of its Test matches at the venue, although recent statistics suggest that the pitch is likely to be less spin-friendly than some of the others that the away side will encounter.
The Fourth Test is set down for Delhi's Feroz Shah Kotla Stadium, with the action programmed to get under way on 22 March 2013. India knows the ground like the back of its hand having played 31 Test matches there but it has registered just 11 wins, with 14 draws and six losses. Australia's numbers stand at one win, three draws and two losses.
Clarke To Star For Australia
Even allowing for India's home advantage, which is not inconsiderable, the favourite is under the odds to beat an Australia team that one must not forget won the reverse Test series 4-0 little more than 12 months ago. Put aside one's concerns about Australia's inexperienced batting line-up and maligned spin bowlers and take the odds-against price about Michael Clarke's side either winning or drawing the series.
Speaking of Clarke, the Australia captain is a phenomenally good player of spin bowling so back the man known as Pup to be the away team's top scorer across the four Test matches at odds of around 9-4. Clarke is the only Australia or India batsman ranked in the world's top 19 currently. Next best is Tendulkar in 20th position and the second highest ranked of Clarke's compatriots is David Warner down in 25th place.
Bad Batting Should Equal Positive Results
Neither India nor Australia appears to have a killer batting line-up – the world rankings speak for themselves and are pretty condemning – so be mindful of backing the draw in any of the four Test matches. Indian punters love to back the draw so often it trades well below its true level. There are more grounds for expecting positive results than stalemates.