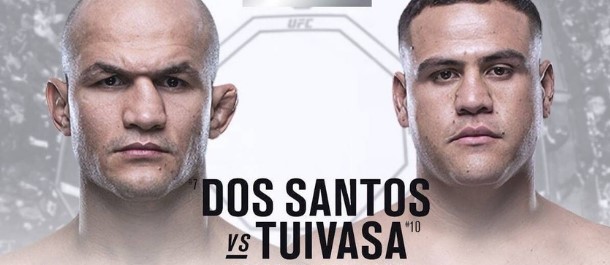 The UFC travels back to Adelaide, Australia, for the second time in its 25-year history this weekend.
UFC Fight Night 142 is the event of choice, and it will feature a fantastic heavyweight duel at the top of the card with Junior Dos Santos defending his spot against Tai Tuivasa.
Also on the card is several talented fighters from Australia and New Zealand.
The event is scheduled to take place on Saturday, December 1, and will air on FOX and UFC Fight Pass.
Junior Dos Santos vs. Tai Tuivasa
Junior Dos Santos has returned, and he's on the pathway to a shot at the UFC Heavyweight Championship. However, he'll first need to move past Tui Tuivasa who has looked outstanding since arriving at the 265-pound division last year.
Best odds for Junior Dos Santos vs. Tai Tuivasa:
After returning from a suspension from USADA, Junior Dos Santos got right back on track with an impressive victory over Blagoy Ivanov in July this year. That win somehow continued Dos Santos' unbelievable stretch of alternating wins and losses in his last nine fights. The Brazilian had not won consecutive fights since 2012 when he defeated Frank Mir via KO/TKO not long after defeating Cain Velasquez via KO/TKO in 64 seconds.
Dos Santos is a highly-skilled boxer and proven veteran of the heavyweight division and will undoubtedly be Tuivasa's toughest test to date.
The 25-year-old Australian has been an excellent addition to the UFC's heavyweight category and is now riding what is tied for the second-longest winning streak in the division. It's difficult enough to win two fights in a row – as Dos Santos' record suggests – but Tuivasa has managed to win three fights in the UFC and extend his undefeated streak to ten.
In his last fight, a heavyweight war with Andrei Arlovski, Tuivasa's streak of nine first-round KO/TKO victories came to an end. The experienced Arlovski weathered all of Tuivasa's best shots and managed to crash him some of his punches in return.
That fight proved that Tuivasa might not be able to walk through the top-tier fighters in the division in the same way he has done against others. Dos Santos is indeed a more polished boxer than Arlovski and will likely cause even more difficulty for the Australian for as long as this stays standing.
Whether by decision or inside the distance, we see Junior Dos Santos shutting down the rise of Tai Tuivasa this weekend.
Bet on Junior Dos Santos to win
Mauricio Rua vs. Tyson Pedro
An intriguing light heavyweight co-main event will see Mauricio "Shogun" Rua battle Tyson Pedro in a three-round fight.
Best odds for Mauricio Rua vs. Tyson Pedro:
Mauricio Rua needs to bounce back, and he'll have a chance to do so against the relatively inconsistent Tyson Pedro. Rua had surprisingly managed to turn his career around recently until eventually being smashed by Anthony Smith in his last fight.
Pedro also needs a win after a disappointing effort against Ovince Saint Preux. The Australian managed to damage his opponent early in the fight but confusingly chose to shoot in for a takedown rather than keeping his distance and peppering Saint Preux with more heavy shots. He was eventually submitted and lost a fight that he arguably should have won.
There's a lot to dislike about betting on Tyson Pedro considering his questionable decision making, but he should have a sizable advantage in this one against the aging heavyweight. Expect Pedro to run through him with ease.
Bet on Tyson Pedro to win
Mark Hunt vs. Justin Willis
Mark Hunt will make what is expected to be his final walk to the UFC's octagon this weekend. He'll be up against Justin Willis in yet another fight between the big boys of the promotion.
Best odds for Mark Hunt vs. Justin Willis:
Mark Hunt will be looking to return to form after suffering defeat in his most recent two bouts. After being out-grappled by Curtis Blaydes in Perth, Australia, he was then submitted by Aleksey Oleinik in Russia.
Hunt is best-known for his walk-off knockouts, strong chin, and ability to stand and trade with the best in the heavyweight division. Having stood toe-to-toe with some of the best ever to do it, the fans in Australia will be hoping to see another powerful knockout finish from Hunt.
As Hunt wraps up his career in the UFC, Willis is one who is looking to make a name for himself in a surprisingly competitive 265-pound division. Enjoying a seven-fight winning streak, Willis has now earned three victories in the UFC. Willis trains with an elite team at American Kickboxing Academy alongside the current division champion, Daniel Cormier, and is making major improvements every time we see him compete.
Like fans all over the world, we'd love to see Hunt get the job done but it's an unlikely task against the fast-rising heavyweight contender. We believe Willis will outwork Hunt through three rounds to score a decision.
Bet on Justin Willis to win
Jake Matthews vs. Tony Martin
Australian talent Jake Matthews will look to keep moving through the division this weekend when he meets Tony Martin in Adelaide.
Best odds for Jake Matthews vs. Tony Martin:
Jake Matthews has been on a roll since moving up the welterweight division. Now 3-0 as a welterweight with wins over Bojan Velickvocic, Jingliang Li, and Shinsho Anzai, Matthews – much like other fighters who have made a move up a division in recent times – has rejuvenated his career after a two-fight losing streak. Matthews is a frequent competitor on the fight cards in Australia and won a Fight of the Night award for his efforts against "The Leech" in Perth in February.
Just like Matthews, Tony Martin has been outstanding in his new home at welterweight after moving up from the 155-pound division. With wins over Keita Nakamura and Ryan LaFlare, Martin is just a couple of big wins away from being a ranked competitor in the 170-pound category.
Tony Martin is a big ask for the Australian welterweight. With superb pressure, a devastating right hand, and excellent counter striking skills, we are expecting Martin to time Jake Matthews coming in and frequently land his shots. It might take Martin a while to get going, but once he does this fight should become a difficult one for Matthews.
Bet on Tony Martin to win
Jim Crute vs. Paul Craig
Fresh after a big win on Dana White's Tuesday Night Contender Series, Jim Crute will make his UFC debut against Paul Craig.
Best odds for Jim Crute vs. Paul Craig:
Jim Crute is a new breed of Australian fighter coming from the Oceanic region. With excellent Brazilian Jiu-Jitsu skills and polished striking, Crute has been a feared competitor in the Australian regional circuit. Although expected to steamroll his opponent on Dana White's Tuesday Night Contender Series, it took Crute a little while to get going. Once he shifted into gears, however, he used his powerful striking to overwhelm his opponent and earn the victory.
Craig is now 2-2 in the UFC after a last-second triangle choke victory against Magomed Ankalaev at UFC Fight Night 127. That win helped him recover from a disappointing two-fight losing streak against Tyson Pedro and Khalil Rountree. Craig is especially crafty on the mat and has earned all of his last six victories by way of submission. However, that's an unclear path to victory for him in this fight considering Crute's ability as a grappler.
Crute is equally dangerous while standing and on the mat. A knockdown might earn himself the chance to secure a top position where he'll rain down heavy shots on Craig for as long as the referee allows it to last.
Bet on Jim Crute to win
UFC Fight Night 142 fight card
UFC Fight Night 142 begins on UFC Fight Pass from 7:00 pm ET (11:00 pm GMT) on Saturday, December 1.
FS1 Main Card (10:00 pm ET / 2:00 am GMT)
Junior Dos Santos vs. Tai Tuivasa
Mauricio Rua vs. Tyson Pedro
Mark Hunt vs. Justin Willis
Jake Matthews vs. Tony Martin
Jim Crute vs. Paul Craig
UFC Fight Pass Early Prelims (7:00 pm ET / 11:00 pm GMT)
Suman Mokhtarian vs. Sodiq Yusuff
Yushin Okami vs. Aleksei Kunchenko
Wilson Reis vs. Ben Nguyen
Mizuto Hirota vs. Christos Giagos
Elias Garcia vs. Kai Kara-France
Keita Nakamura vs. Salim Touahri