The pinnacle of auto racing, Formula 1 merges the fastest open-wheel race cars with the best drivers in the world. Grand Prixs are held in several countries around the world, including the United States, Australia, China, Japan, Korea, Spain, Italy, Turkey, Hungary, Malaysia, Great Britain, Canada, Germany, Belgium, India, Abu Dhabi, Brazil, Monaco, and Singapore.
Similar to Moto GP racing, only a small number of drivers win F1 races each season. When selecting race winners, the first thing to do is to eliminate drivers who have very little chance of winning. The same can be said for picking podium finishers because it seems to be the same group of guys all season long. The trick is matching up cars and drivers with tracks they should perform well on.
If you take your online F1 betting seriously, you should register and fund accounts at several online betting sites. This will allow you to compare odds and get the best prices available. Over the course of a season, small advantages can be the difference of having a winning or losing season.
What Section are you Looking for?
How to Bet on F1
Betting on individual race winners is the most popular way to bet on F1 Grand Prix racing, but podium finishers, speed row bets, and futures bets are popular as well.
Betting On Individual Race Winners
In most seasons, only 5-8 drivers win races. Of that 5-8 winning drivers, 3-4 drivers win the vast majority of them. Punters should never bet on drivers who haven't won a recent F1 race. Until a driver proves that they and their car are capable of winning, this is a bad place to put your money.
Here are some basic stats from 2010-2012:
• There were 58 races in that time span, with only 8 winning drivers.
• 5 drivers won 55 of those races.
• 1 driver won 21 races.
• 4 drivers won 7-10 races each.
• 3 drivers won 1 race each (all in the 2012 season).
One of the difficult aspects about betting on F1 race winners is finding the best value. One thing I always look at are the trends. In F1 racing, it's very common for drivers to win back-to-back or two out of three races. So, I'm more likely to pick a driver who has won one of the previous two races than any others.
Here are some interesting stats:
In 2012, there were only 3 back to back wins in 19 races all of which were Sebastien Vettel (15.78%). 5 out of 19 races had a winner who had come first in one of the previous two races (26.3%).
In 2011, Sebastien Vettel won back to back races 6 times. Noone else was a back to back winner in that season. This still accounted for 6/18 races (33.3%) (there are 19 races but we do not include the last race of the 2010 season).
In 2011, in 9 out of 18 races the winner had won one of the previous two Grand Prixs (50%).
In 2010, four different drivers won back-to-back races. Those were Webber, Hamilton, Alonso, and Vettel. Those combined back-to-back wins account for 8 of the 18 races (44.4%)
In 2010, four drivers won 2 out of three (or three out of four) races. These accounted for 6 more wins, on top of the 8 that were won back to back. So, 14 of the 18 (77.77%) races were won by a back to back winner, or two out of three winner.
In 2009, only two drivers won the first 8 races (Button -6, Vettel -2). In the remaining 9 races, nobody went back-to-back, but 2 drivers won two out of three, accounting for 4 more wins. So, 12 of the 17 races came from back-to-back or two out of three winners (70.6%).
In 2008, three drivers won back-to-back races, accounting for six of the wins. 2 more drivers won 2 out of three, accounting for 4 more wins. 10 of the 18 races were won by back-to-back or two out of three winners (55.56%)
In 2007, four drivers went back to back for a total of 8 wins. One driver won 3 out of four, accounting for one more win, and 9 out of 17 (52.9%).
Based on the numbers above, it appears that F1 is in a period of less parity, where back-to-back and two out of three winners is a good rule for finding the best drivers to wager on. Let's review these stats:
2012 – 26.3%
2011 – 50%
2010 – 77.77%
2009 – 70.6%
2008 – 55.56%
2007 – 52.9%
Based on 2009 and 2010, these stats tell us that the winner is more than 70% likely to be a driver who won one of the last two races. Of course the numbers could be broken down even further, but we'll save that for another day. The general concept I want people to get out of this is how important trends are in F1 racing. In 2011 and 2012 these numbers have come down alot. 2012 was the most open season for a number of years with 8 different drivers winning at least one race throughout the season. However, the top 5 winners were the same as in 2011, which makes us think that the 2013 season will see a similar trend, and that 2012 has just been a rare exception. Watch this space!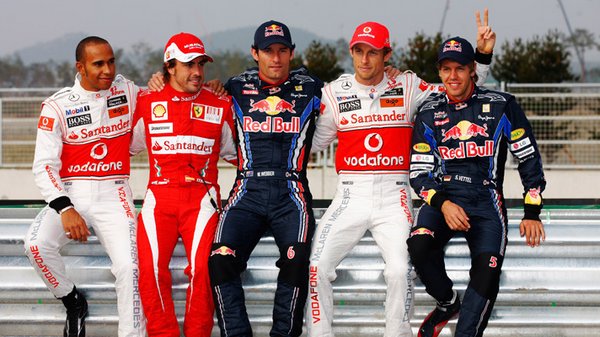 In the past 3 years these 5 drivers have between them won an incredible 95% of F1 races
From 2000 – 2006, the % of races won by back to back and two out of three winners was even higher. This was during the period when Fernando Alonso and Michael Schumacher were dominating the sport. There was even less parity at that time, and although we can consider that a different era for F1 racing, there is still much to be learned from that period of time. Note: In 2012, this trend changed somewhat, as there was only one back to back race winner; namely Sebastien Vettel, however his four straight race wins demonstrate that the logic above is still very much applicable to today's F1 races.
Clearly this is a sport where financial backing and rule changes have a dramatic effect on the sport. Part of a handicappers job is to detect when that trend will go back down. If a huge team sponsor pulls out or a new one comes in, you have to follow the money and see the effect it is having.
What tends to happen in F1 is often seen in other sports as well. Teams or competitors that generate the most revenue tend to become more and more dominant over time, until the governing body of the sport makes changes to even out the competition level and make the sport more exciting again. Heading into the 2013 F1 season, the sport is entering it's fifth year of this latest trend. It is likely that at some point before the 2015 season, Formula 1 will put into place some sort of major rule that creates more competition. Keep an eye out for when that happens, and remember that the stats above will mean less after it does.
Interesting information – The stats above tell us that it's a good idea to bet on drivers who've won one of the last two races. However, it's a bad idea to bet on back to back winners. From 2007-2012 there have been twenty two back to back winners. Only three times in 6 years did one of those drivers go on to win the third race in a row. That was in 2009 when Jenson Button won 4 straight and in 2011 and 2012 when Sebastien Vettel won 3 in a row and 4 in a row. Considering that these drivers have won 2 races in a row, they'll typically come in as the favourite for the third race, giving us low odds to bet on them. However, the stats show us how difficult it is to win 3 races in a row, so look to place your bet on another top driver instead. You'll generally get better odds, and theoretically have a better chance to win.
From 2007-2010, of the thirteen back to back winners, two of them occurred during the final two races of the season. Eliminating those, and including the fifth race after Button won 4 in a row in 2009, we're left with 11 back to back wins to study podium finishers for the next race. 6 of those 11 drivers finished on the podium in their third race (or fifth in Button's case). This is a very small sample size, so we can't bank on this stat, but it's still useful as a reference for F1 betting.
A 54.5% win rate on a podium finish wager placed on the favoured driver in an F1 race will lose money. A lot of punters like to place podium bets on drivers who've won back-to-back races, feeling like they have a very solid pick – which isn't necessarily the case. Without getting close to even-money or better on this bet, based on a 54.5% win rate, this is a losing bet. Getting even-money for a podium finish wager on the favoured driver is highly unlikely anyway. While the sample size is small and we can't count on these stats, they reinforce the idea of finding a different driver to bet on for the third race. By the way, in 2009 after Jenson Button won four races in a row, he did not finish on the podium in the fifth race.
Serious punters need to compare stats with the odds they're getting at online bookmakers. Of course it's not an exact science, but numbers don't lie, and over the course of a season they tend to work out.
Best Places for F1 Betting Online
BEST BETTING SITES FOR FORMULA 1 RACING
Speed Row Betting Online
Speed Row bets for F1 races are wagers where the punter decides between 5 predetermined drivers, and chooses who will have the highest finish in a race. Since there are 5 drivers in a Speed Row bet to choose from, and since they tend to be priced in the 3/1 – 4/1 range, Speed Row betting is generally considered a sucker bet.
In Speed Row betting, drivers are put into groups who are generally considered to be fairly evenly matched. However, these random drivers tend to have very random results as well, making it difficult to find value. When you're getting 3 or 4 to 1 odds on 5 random drivers, how do you generate consistent profits?
The easiest Speed Row bets to pick are ones that include the top 5 drivers in a race. Since a large % of race winners have won one of the two previous races, it can be easier to predict the outright winner of a race than it is to pick the highest finisher of 5 random drivers. So, let's look at why Speed Row bets for the top 5 drivers are not good bets.
We already know that only a small number of drivers will win races each year. Since that's the case, most races only have 5-7 drivers with any legitimate chance of winning. Even within that group of 5-7 drivers, we can usually narrow it down to 3-5 who will ultimately take the checkered flag. The difference in a Speed Row bet is that punters are given lower odds on each driver (versus bets on outright race winners) because everyone else in the race is removed from the picture. Well, since most of them can't win anyway, we want that dead money factored into our odds. We essentially don't 'need' the online sportsbooks to remove the field, because we already know they're highly unlikely to win.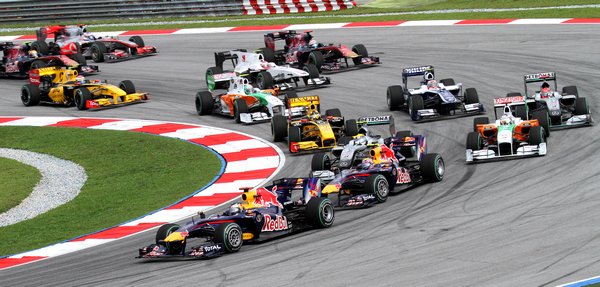 Formula 1 is the pinnacle of motor sport racing outpacing both NASCARs and Indy Cars
It comes down to this. The easiest way to pick consistent, winning Speed Row bets is to bet on groups that include the top 5 drivers in a race. Most often, that group will include the race winner. But, we're getting worse odds on that driver in a Speed Row bet than if we bet on that same driver in an outright win bet. So, why do the bookmakers offer Speed Row bets?
• Casual punters think they're fun and easier to win.
• Bookmakers make more money off of them.
If you're going to find any value at all, it will generally be when one driver in a Speed Row bet is clearly better than the other four. In this (somewhat rare) case, winning bets can be made. The question then becomes, do the odds you're getting provide any value?
If you're still interested in making Speed Row bets for the top 5 drivers, the process below will help you pick winners. The process is essentially the same as it is for picking race winners, but it'll also keep active punters up to date with what's happening in F1 racing. A little extra research now and then is never a bad idea.
How to Pick Winners of Speed Row Bets
Cliff notes on the information below: Find the winners of the last two races and pick the driver with the greater odds. However, if the winner of the last two races is the same guy, pick someone else. For more clarification, keep reading.
The first step in picking a driver for an online Speed Row bet is to eliminate the two drivers who are least likely to win. You should not eliminate a driver who has won one of the prior two races, unless they won because of a fluke accident or something out of the ordinary.
Then, figure out if one or two of the remaining drivers have won either of the last two races. If one driver has won the last two races back-to-back, the numbers discussed above suggest that we eliminate him, leaving us with two drivers that have a more likely chance of winning.
If none of the remaining 3 drivers have won the last two races back-to-back, we have three drivers left to consider. If only one of them has won one of the last two races, the stats tell us he's most likely to finish on top. If two of them have each won one of the last two races, then it's best to decide between one of those two drivers and eliminate the third.
At that point, you have two drivers left to choose from. From there, I look at a few things, including recent history at the track they'll be racing on. Have either of these drivers won on this track before? Does this track favor one driver over the other? Of course odds play a large part in this decision as well. If I have two closely matched drivers but am able to get much greater odds on one of them, I'll usually go with that driver. Dissect information, stats & odds until one driver stands out.
Betting on Podium Finishers
Podium bets are just as they sound. A punters job is to choose a driver that will finish in the top 3, or 'on the podium'. This is similar to betting on Speed Row bets in that you'll generally be able to narrow it down to two or three solid choices, but there's one major difference. In Speed Row bets, drivers have to finish first in their grouping. In Podium bets they do not. Whether a driver wins the race or finishes in 2nd or 3rd position doesn't matter, meaning that odds play a larger role when choosing who to bet on.
For online F1 Podium bets, it's not necessarily a good idea to bet on favored driver in a race. If the odds are too low, it might be a better idea to find the driver you think can finish 2nd or 3rd and get better odds. Remember, the goal in this bet is not to pick the race winner, it's to find the most value on a winning bet.
My favorite time to make a podium bet is when I'm researching potential race winners and I'm having a difficult time deciding between two drivers. When two drivers clearly look to have an edge over the rest of the field, I'll generally place a Podium bet on the driver that gives me the greatest odds – which is not necessarily the guy who I think is going to win.
F1 Drivers World Championship Betting
The driver who accumulates the most points during a season wins the F1 Drivers World Championship. Futures bets for the Drivers World Championship are offered at most online bookmakers well before the season begins. Some online sportsbooks end these bets when the season begins, others keep it running, with adjusted odds until the championship has been clinched.
There isn't any statistical information that can help us conclude much for predicting the Drivers World Championship. Historical data really only tells us what we already knew, which is that a small number of drivers tend to be in the battle each year. From 2004 – 2010, only 9 drivers have traded the top 3 positions each year. From those 21 top 3 finishes, 8 of those 9 drivers have finished in the top three 2-4 times. One driver (Mark Webber, 3rd place in 2010) has just one top 3 finish.
In the last five years (2006 – 2010), five different drivers have won the F1 Drivers World Championship. So, the sport is very competitive, but only within a small group of drivers.
Since very little information can be used from year to year, many punters wait until a few races have passed before placing their online F1 Drivers World Championship futures bets. This gives them time to see how changes in the off-season have affected each team, and obviously a better chance at picking the winner.
F1 Constructors Championship Betting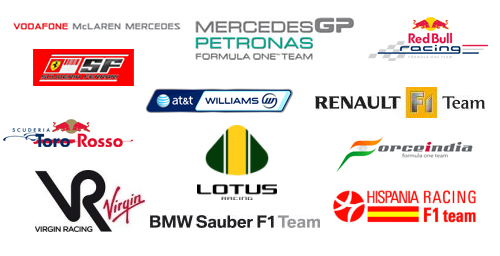 There are usually only 2 or 3 realistic contenders for the constructors championship
The F1 Constructors Championship is given to the most successful engine/car make combination for each season. While the Constructors Championship typically is won by the same team that wins the Drivers World Championship, it's not always the case.
Most online bookmakers offer futures bets for the Constructors Championship, generally well before the season starts. Some books keep them open as the season goes along, adjusting the odds according to how the season is playing out. Some other bookmakers shut down their futures bets just as the season begins.
Since a constructor needs to have a great amount of success to win the Constructors Championship, it makes sense to pick the constructor of the driver you expect to win the Drivers World Championship. The one exception to this would be if your pick for the Drivers World Championship has a weak or inexperienced teammate, while another team has 2 very strong drivers.
Since there are fewer constructors than drivers, these are easier bets to win than the F1 Drivers World Championship, but of course the odds reflect that.
Article Sources
http://f1-facts.com/statistics
http://www.f1fanatic.co.uk/statistics/
http://en.wikipedia.org/wiki/List_of_Formula_One_Grands_Prix
http://en.wikipedia.org/wiki/Formula_One
https://www.formula1.com