While PGA golf tournaments are the most popular to bet on, LPGA and EPGA betting is available as well. During the four Majors, most of the big online sportsbooks expand their betting options to include more prop bets, and some offer live betting as well.
Golf betting has evolved alot in the past 10 years. Before then most bookies would just have odds on tournament winners. Now there are tons of golf betting options with all kinds of exotic bets that provide a savvy golf punter with a wide range of markets where value can be found.
If you're already pretty well versed on how to bet on golf, then you can skip the basics by choosing any of the below linked sections.
Types of Golf Bets
As an individual sport, online sportsbooks have to create bets beyond picking the winner. It's tough to pick tournament winners, and without easier bets to win, betting interest would be low. So, most sportsbooks also offer head-to-head and 3-ball bets as well.
Most online sportsbooks also offer a variety of prop bets, which are fun for recreational bettors. Futures bets on the end-of-season #1 player can be found almost year-round, and they can be fun bets to follow if you have a good horse.
Tournament Winners
Since it's so difficult to pick tournament winners, the odds can be very enticing. Since most players have odds in the 20/1 – 40/1 range, it's hard not to place a bet and hope to get lucky. For casual bettors, these types of bets definitely add some excitement to a golf season. However, serious handicappers should always shop around for the best odds. The odds can vary greatly in golf, and anyone looking to make money in this sport needs to have funded accounts at as many online sportsbooks as possible.
It's not uncommon to find a player at 25/1 at one sportsbook, and 40/1 at another. It's also not uncommon to find several sportsbooks within a certain, tight range, and one sportsbook that is totally different. For newer handicappers, let's put this in perspective.
$25 wager on a 25/1 bet = $625 profit.
$25 wager on a 40/1 bet = $1000 profit.
If you can get 40/1 on the same player at Sportsbook X, and 25/1 at Sportsbook Y, where do you want to bet? If you don't have an account funded and ready to go at Sportsbook X, you could cost yourself a ton of profit. In the scenario above, a small wager of $25 could make you an extra $375. That's the equivalent of a free $25 win on a 15/1 bet. Why give that up?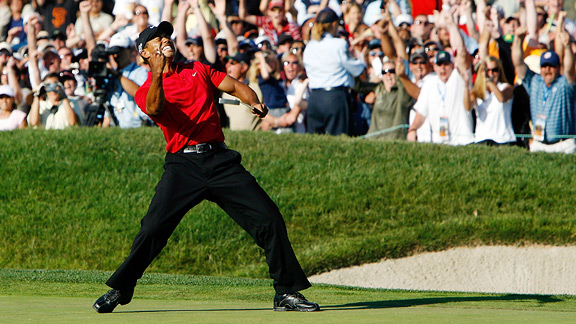 While picking the winner is still the most popular type of golf bet, online betting sites now have hundreds of different betting options and markets on every golf tournament throughout the year
Head to Head Golf Bets
Head to head bets are simple and fun bets to make. For each head to head bet, two players are pitted against each other, and your job is to decide who will have the better finish. Often, the players in a head to head bet are based on the pairings for the final two days of a tournament.
These are very simple bets, but the key is finding the best odds. Why pay -170 if you can get -150? At the risk of beating a dead horse – always shop for the best price!
Head to head bets can be found for single 18-hole rounds, or for full 72-hole tournaments.
3 Ball Golf Bets
During the first two rounds of most golf tournaments, players go out in groups of three. A 3 Ball bet is a wager on which of the three players in a grouping will have the best round for a specific day.
Some sportsbooks offer 3 Ball betting for most PGA tournaments, while others only offer them for the biggest tournaments. They can also be found for EPGA tournaments, usually from bookmakers that focus more on European sports.
Golf Prop Bets
Another way that online sportsbooks keep people interested in betting on golf is by offering prop bets. Prop bets are essentially bets that don't fit into any other category.
They're often a bit off the wall, but some of the more typical golf prop bets include:
Over/under on how many tournaments (or Majors) a player will win during a season.
Will player X or player Y finish the year with higher rankings?
Will player X score an eagle during the current tournament?
For the four majors, The Masters Tournament, U.S. Open Championship, The Open Championship, and PGA Championship, the variety of prop bets that can be found are much greater.
Golf Futures Bets
Before each season starts, most online sportsbooks post odds on who will end the season as the worlds #1 player, and who will win each of the four Major tournaments. Since Tiger Woods is no longer dominating the sport, it's a much more open race now. This may or may not be good for golf, but it is good for handicappers.
As the season goes along and players begin to move up or down the rankings, the futures odds change with them. Heading into the season, if you have an underdog you like, it's a good idea to get your futures bet placed before the season starts. If you're right about that player, his/her odds will go down as they rise up the rankings.
Aside from Tiger Woods or Phil Mickelson, most players have odds above 15/1 heading into the season. If you think it's likely that neither of these players will end up #1, you can place wagers on multiple players and still end up a big winner if you're right.
PGA Golf Betting
Of course the PGA is the most popular professional golfing tour. So, every online sportsbook offers lines for the PGA. As mentioned above, most offer bets for the tournament winner, as well as head-to-head and 3 Ball bets. Some offer prop bets and futures as well.
EPGA Golf Betting
EPGA betting is offered at most online sportsbooks, but a better variety is offered at those who focus on European sports. While this isn't always the case, in general terms, if a sportsbook does not accept U.S. handicappers, they probably have a better selection of EPGA betting options.
LPGA Golf Betting
Most online sportsbooks offer betting for tournament winners for all LPGA golf tournaments. However, it's tough to find head to head, 3 Ball, and prop bets. Futures bets for the season-ending #1 player are available at most books.
Best Online Sportsbooks for Betting on Golf
The online sportsbooks listed below offer the widest variety of golf bets, along with low vig and simple deposit options. Since odds vary so much on golf, we recommend that serious handicappers have accounts at as many reputable online sportsbooks as possible. This allows you to compare lines and get the best odds available. For this reason, we have a list of the best online golf betting sites for you to consider.

1/ Bovada.com – U.S. friendly. An industry pioneer, established in 1994. While we don't like their high vig on prop bets, Bovada offers a lot of unique lines for tournament winners and head to head matchups. If you compare odds, you'll often find the best prices here. Minimum bets of just $1, and maximum of $5000 depending on the type of bet you want to place.
2/ Topbet.eu – One of the top U.S. friendly online sportsbooks, with a great selection of PGA bets available, along with a fair volume of EPGA and LPGA bets. Tournament winners, head to head, and 3 Ball betting offered, along with a nice selection of prop & futures bets. Check vig on props before betting, they can get a bit greedy at times. U.S. handicappers usually have high success rates when depositing with credit & debit cards.
3/ BetOnline.com – U.S. friendly. Mainly focused on PGA and LPGA, but tournament winners are available for EPGA as well. U.S. handicappers can use Visa credit & debit cards for deposits, but other deposit options are available as well.
4/ 5Dimes.com – U.S. friendly. Don't let their ugly website fool you, this is a top-notch, highly reputable online sportsbook. PGA, EPGA, and LPGA lines available, with a nice selection of props & futures. Low vig, great reputation. One of the best online sportsbooks in the world where every handicapper needs to have an account. Decent Visa deposit success rate for U.S handicappers. Plenty of easy deposit options for those outside of the United States.
5/ Bookmaker.com – U.S. friendly. Known as the #1 sportsbook for high stakes handicappers, with a wide range of focus on U.S. and non-U.S. sports alike. Wide variety of PGA & EPGA bets, with LPGA offered as well. Huge variety of prop bets available for the Majors, with possibly the lowest vig in the industry. Minimum bets of $5, and maximum bets of $20,000 or higher upon request & approval. Visa deposits accepted worldwide, and dozens of other, simple deposit options accepted outside the United States.
Golf Betting Advice
Just because a player is hot right now doesn't mean a course is suited for them. Some players prefer long fairways where their long drives have an advantage. Others have a great short game where tight, twisty holes give them the advantage. Always consider the course before placing your bets.
Picking tournament winners is tough. For serious handicappers looking to win consistently, look for better odds on 3 Ball and head to head matchups. Then, compare odds for the same bets at other online sportsbooks.
Pay attention to the game, follow the sport. If a player is going through a difficult time in their personal life, this will affect their game. This type of information is especially useful for head to head matchups when one player who is focused is pitted against a player whose mind might not be fully into the game. They might be professionals, but they're also human.
Be mindful of the vig you're paying on prop bets. While some bookmakers offer reasonable vig on props, others are too greedy. Since a lot of people who bet on props are casual, less sophisticated handicappers, some online sportsbooks try to take advantage of this. If you have to pay a lot of juice, don't place the bet.
Some Things You Might Not Know about Golf

Infographic provided by visual.ly