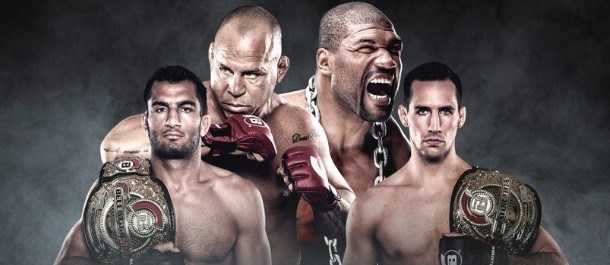 Gegard Mousasi is a significant betting favorite at odds of -230 and Rory MacDonald currently sits at +221.
This is the matchup that everyone wanted. The fans and fighters themselves called for this one, and now Bellator has managed to put together one of the most highly-anticipated fights of the year.
It's not surprising to see Mousasi and MacDonald reigning over their divisions in Bellator already. These world-class fighters are incredibly well-rounded and would arguably still be disrupting the top of their respective divisions in the UFC.
Before parting ways with the UFC, Gegard Mousasi was on a five-fight winning streak that included KO/TKO victories over Chris Weidman, Uriah Hall, Vitor Belfort, and Thiago Santos. After signing to Bellator in 2017, Mousasi has since defeated Alexander Shlemenko and then took the middleweight title from Rafael Carvalho in May this year.
Rory MacDonald has been equally as dominant since joining the ranks at Bellator. MacDonald dominated Paul Daley on arrival and then defeated the underrated Douglas Lima by unanimous decision to claim the welterweight title.
And that's why this fight is sure to be amazing. MacDonald will be moving up a weight class to challenge Mousasi for the Bellator Middleweight Championship and attempt to become the first-ever simultaneous two-division champion in Bellator.
What should we expect?
Both fighters have several remarkably similar traits and tendencies. They are exceptionally composed during combat and rarely stray from their chosen game plan. Systematic in their approach, Mousasi and MacDonald will patiently wait for the right opportunity to strike.
These fighters are well-versed on the mat, as well as on the feet, and apply outstanding pressure from the top position while connecting with heavy ground and pound. While standing, we can expect to see Mousasi land with his stinging jab and MacDonald will likely attempt to answer back over the top with his counter right hand.
If it weren't for the size and strength disparity, it would be hard to separate these two fighters.
We believe Mousasi deserves to be the betting favorite by only a slight margin. These odds are too far apart, and we will be backing MacDonald to win at what seems like exceptional value.
Prediction: Rory MacDonald by unanimous decision
Bet: Rory MacDonald to win (+221 at SportBet)
Quinton Jackson vs. Wanderlei Silva
Quinton Jackson will enter the co-main event as a significant favorite (-253) against Wanderlei Silva (+245) for this rematch.
Well, here we are again. Quinton "Rampage" Jackson will step into the cage with Wanderlei Silva for the fourth time when they clash at Bellator 206.
Silva holds a 2-1 advantage over "Rampage" with knockout finishes in 2003 and 2004 in Pride. Jackson got his revenge at UFC 92 in 2008 when he floored Wanderlei with a powerful left hook.
To say that Wanderlei Silva isn't the same fighter is a gigantic understatement. However, it's worth mentioning that "Rampage" isn't as terrifying as he once was, either. Although it's been over four years since we've witnessed a KO/TKO finish from Quinton Jackson, this could be the night we see another one. Jackson's boxing has evolved tremendously since losing to Wanderlei many years ago, and this was the critical factor in the third fight.
After both fighters lost to Chael Sonnen in their recent bout, Jackson and Silva will welcome a stand-up battle in this one, and it's likely that Jackson will connect with enough power to end the night early.
Prediction: Quinton Jackson by KO/TKO – Round 2
Bet: Quinton Jackson to win (-255 at BetOnline)
Andrey Koreshkov vs. Douglas Lima
Andrey Koreshkov (-150) is favored to score the victory against Douglas Lima (+135) at Bellator 206.
Unlike the rematch between Quinton Jackson and Wanderlei Silva, Andrey Koreshkov vs. Douglas Lima is a rematch that the people actually wanted.
Koreshkov and Lima will open up the first round of the Bellator Welterweight Grand Prix here at Bellator 206 this weekend. The winner of this fight will go on to meet the victor of Paul Daley vs. Michael "Venom" Page in the semi-finals. If victorious, they'll then fight for the Bellator Welterweight Championship in the final. There's clearly a lot at stake here for these two former champions.
There's also a lot of history.
These two first met at Bellator 140 in 2015 when Douglas Lima lost his title to Andrey Koreshkov. After bouncing back with a win against Paul Daley, Lima then successfully reclaimed his belt by knocking out an over-aggressive Koreshkov in the third round.
This fight is essentially a battle of power vs. speed. Lima packs jaw-shattering power in his hands and Koreshkov is the lighter and faster fighter who has controlled most of the action between these two in the past.
Prediction: Andrey Koreshkov by unanimous decision
Bet: Andrey Koreshkov to win (-150 at BetOnline)
Aaron Pico vs. Leandro Higo
Aaron Pico (-450) is a massive betting favorite against former title challenger Leandro Higo (+430)
It's about time that we stop calling Aaron Pico a "prospect."
The 22-year-old has now managed three spectacular KO/TKO finishes consecutively and bounced back from the stunning defeat in his debut. Showcasing his heavy hands, Pico has crushed his last two opponents with devastating body shots and is yet to utilize his offensive wrestling skills inside the Bellator cage.
There's no doubting that Leandro Higo is the toughest test to date for Pico. Higo is a smooth and highly-skilled submission specialist with many rear-naked choke finishes to his name. Now 1-2 in his three fights under the Bellator banner, Higo has only dropped bouts against Eduardo Dantas and Darrion Caldwell, who were the bantamweight champion at the time. If Higo wishes to be victorious against Pico, he's going to need to avoid the mighty punching power of his adversary and uncover a way to get Pico down on the mat.
Prediction: Leandro Higo by submission – Round 3
Bet: Leandro Higo to win (+431 at BetOnline)
Bellator 206 fight card
The Bellator 206 main card begins on DAZN from 10:00 pm ET (2:00 am GMT) on Saturday, July 29.
Bellator 206 Main Card – DAZN (10:00 pm ET / 2:00 am GMT)
Gegard Mousasi vs. Rory MacDonald
Quinton Jackson vs. Wanderlei Silva
Andrey Koreshkov vs. Douglas Lima
Leandro Higo vs. Aaron Pico
Keri Melendez vs. Dakota Zimmerman
Bellator 206 Preliminary Card (7:00 pm ET / 11:00 pm GMT)
Adam Piccolotti vs. James Terry
Gaston Bolanos vs. Ysidro Gutierrez
Jeremiah Labiano vs. Justin Smitley
Danasabe Mohammed vs. Salvador Becerra
Arlene Blencowe vs. Amber Leibrock
Joe Neal vs. Josh San Diego
Abraham Vaesau vs. DeMarco Villalona
Cass Bell vs. Ty Costa
Isaiah Batin-Gonzalez vs. Khai Wu
Ignacio Ortiz vs. Jacob Ycaro
Ricky Abdelaziz vs. Laird Anderson
Chuck Campbell vs. Joseph Ramirez
Anthony Figueroa vs. Samuel Romero