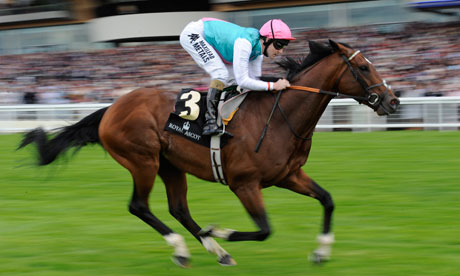 With Juddmonte having released an updated list of mares that are visiting Frankel in his first year at stud and media speculation mounting that Black Caviar will join them, now is a good time to consider the Frankel sire betting markets.
Frankel is, in the opinion of many horse racing experts, the world's best thoroughbred ever. Foaled in 2008, Frankel is a bay horse by Galileo out of Kind. Frankel made his debut at Newmarket on 13 August 2010, beating fellow newcomer and future King George VI and Queen Elizabeth Stakes winner Nathaniel by half a length, albeit with a bit to spare.
By the time that Juddmonte boss Khalid bin Abdullah Al Saud took the decision to retire Frankel to stud, the top-rated thoroughbred of all time had won 14 consecutive contests, including the 2011 English 2,000 Guineas. Since 1900, of British thoroughbreds only Ribot has won more races than Frankel and finished his career unbeaten. Frankel's record of nine successive Group One victories is unsurpassed, with only American filly Zenyatta equalling that superb tally.
Odds pertaining to Frankel's first crop have been put up and taken down by bookmakers at regular intervals since his last racecourse appearance in October 2012 but, of those that are available currently, the 6-1 about him siring a winner of an English Classic with his first crop is the most interesting.
Frankel has the bloodstock world at his hooves. Breeding experts, particularly those who place great importance on the dosage index, believe that Frankel did remarkably well to win so many races at seven furlongs and a mile. According to dosage disciples, Frankel was bred to excel over middle distances and several of them advised backing him to win the English Derby over 12 furlongs at Epsom before he began his three-year-old season in Newbury's Greenham Stakes. With a dosage index of 0.94 and centre of distribution of 0.10, Frankel's profile is very similar to that of 2012 English 2,000 Guineas and 2012 English Derby winner Camelot (0.94 and 0.10). Camelot ran in the 2012 English St Leger and would have completed the first English Triple Crown since 1970 had Joseph O'Brien given him a half-decent ride.
So, unlike many expensive, high-profile stallions, Frankel has the potential to sire a winner of any of the five English Classics that range in distance from one mile to 14 and a half furlongs. Of course, much will depend upon the quality of the mares that Frankel covers in his first year as a stallion. But the early signs are very good indeed.
The most recent list of Frankel visitors that Juddmonte has published includes more than 60 Group One-winning and/or Group One-producing mares. Nine of the mares – Dancing Rain, Finsceal Beo, Light Shift, Maycocks Bay, Musical Treat, Quest To Peak, Ramruma, Sariska and Waldmark – have English Classic-winning form either as a racer or as a dam. And the list of mares is very likely only to improve in quality as berths become scarcer and Frankel's owner gets fussier.
While most of the other 12 horses that received a Timeform rating of at least 140 had successful stud careers, none of them sired an English Classic winner with their first crop, although neither Harbinger nor Sea The Stars have had the chance yet. That is one reason not to snap up the 6-1.
However, there are three reasons why the 6-1 represents a value bet. First, Frankel's sire, Galileo, got the job done when Sixties Icon won the 2006 English St Leger, justifying a starting price of 11-8 to prevail by two and a half lengths from The Last Drop, with Red Rocks in third.
Second, Frankel is the best thoroughbred ever in the eyes of most horse racing aficionados. His Timeform rating of 147 is two pounds higher than that of 1960s superstar Sea Bird and a baker's dozen superior to that of his sire, Galileo, who has won countless awards since becoming a top stallion.
And third, when complete, Frankel's book of mares is likely to be the finest to visit a new stallion in horse racing history. It will be the thoroughbred equivalent of this year's Miss Universe delegates making babies with the supposedly hottest man on the planet, Channing Tatum.
If one takes the 6-1 available at Bet365 about Frankel siring a winner of an English Classic with his first crop, one will have an interest in the bloodstock story of the millennium until the English 1,000 Guineas, English 2,000 Guineas, English Derby, English Oaks and English St Leger are contested in 2017.