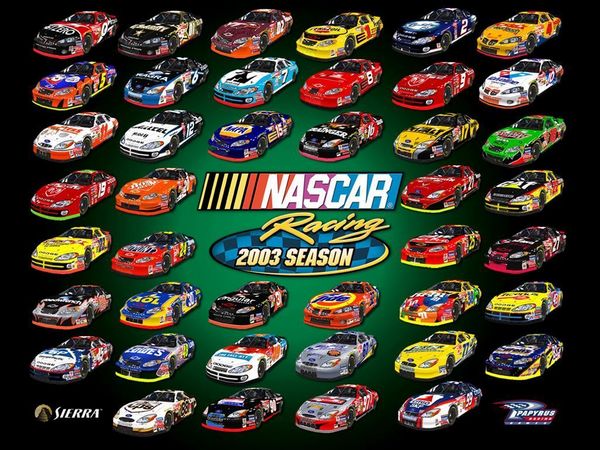 One of the biggest sports in America, NASCAR gives sports bettors and fans ten months of action every year. Most online sportsbooks offer betting on Sprint Cup and Nationwide Series races, and some offer betting for the Camping World Truck Series as well.
As funny as it sounds, NASCAR and golf actually have a lot of similarities when it comes to betting. Golf tournaments generally run from Thursday to Sunday, and NASCAR races typically run Friday through Sunday. Also, both sports have a lot of competitors, meaning it can be hard to pick a winner. Of course, that also means that when we win, we can win big.
Also similar to golf, you'll find a wide range of odds from driver to driver, and from book to book. Serious NASCAR bettors need to have accounts at several online sportsbooks to find the best odds for their favored drivers. With such a long NASCAR season and so many races to bet on, small advantages over the length of a season really add up. Don't give away free money.
Looking for Something in Particular? Jump Right There!
Ways to Bet on NASCAR Races
Race Winner, Top 3, and Speed Row bets are the more popular way to bet on NASCAR. A race winner bet is self explanatory, just pick whoever you think will win the race. With 40+ cars on the track, it's hard to pick outright winners, so Top 3 and Speed Row bets give bettors a much better chance to win. Speed row bets let you choose the top finisher between a smaller group of drivers (generally 5). While the odds aren't as great, you'll win these bets a lot more often, keeping the bankroll replenished.
Well before the season starts, fans can wager on who they think will win the championship for the upcoming season. These are called futures bets, and although they can offer some enticing odds, they're very difficult to win (unless you bet on Jimmie Johnson every year). Most online sportsbooks offer futures for the Sprint Cup and Nationwide Series, and a few offer them for the Camping World Truck Series as well.
Prop bets for individual races and a variety of oddball things can be placed at most online sportsbooks. See below for more details.
Individual Race Winners
Of course, picking the winner of a race is the most popular and fun type of bet to make on NASCAR. Favorites usually have odds in the +500 through +1200 range, and others go as high as +8000. It's not a bad idea to pick 2-3 drivers to give yourself more chances to win (when the odds are right).
In the following example, we're going to place 3, $10 bets, for $30 total wagered.
Race Favorite at +550: $10 bet = $55 win, plus $10 wager = $65 return – $30 total wagered = $35 total profit.
Top 5 favorite at +1000: $10 bet = $100 win, plus $10 wager = $110 return – $30 total wagered = $80 total profit.
Top 10 Favorite at +1800: $10 bet = $180 win, plus $10 wager = $190 return – $30 total wagered = $160 total profit.
The idea here is, you can bet the favorite, and if he wins, you take home a small profit. However, he's not the guy you're hoping will win. Of course, you're hoping one of your other two picks wins the race, returning a much better profit.
Still, a Better Way
Since the bet on the favorite is more of a safety net than anything else, consider a smaller bet on the favorite, enough to cover your bets on the other drivers you choose. For example, at +550, a $4 bet would return $22 profit, plus the $4 wager, for $26 total. If the favored driver wins the race, you've covered the $20 you lost on the other two drivers. Betting this way gives you a chance at a big win on two of the less favored drivers, with a bit of protection as well. While there's no guarantee any of your drivers will win, your $4 wager on the favored driver will often cover the bigger bets placed on your dogs.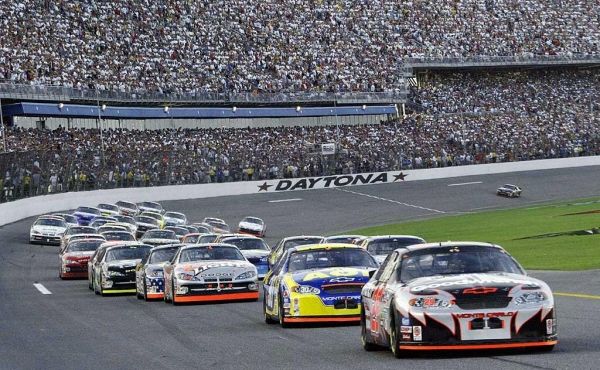 Interesting fact: NASCAR has the highest average attendance of any sport in the USA
NASCAR Top 3 Bets
Top 3 bets are another way to increase your chances of winning. Instead of choosing a driver to win the race, you can pick a driver to finish in the top 3. The odds are lower of course, but you'll win these bets more often. For casual bettors looking to have some fun, top 3 bets are perfect because more drivers have a shot at the top 3 close to the end of a race, meaning you'll be screaming for your drivers down to the final lap a lot more often.
Odds for top 3 bets typically range in the area of +180 up to +2000.
NASCAR Speed Row Bets
As mentioned above, speed row bets are wagers where a smaller group of drivers are pitted against each other. Your job is to decide which of the drivers will have the highest finish. For example, at some sportsbooks in the US, speed row bets consist of 5 drivers, typically drivers considered to be close competitors. Speed row odds are generally in the +300 to +350 range.
At most online sportsbooks, if they're offering speed row bets, they'll usually offer several of them. This gives handicappers more choices, plus additional bets they can place.
NASCAR Futures Betting
Well before the NASCAR season starts, most online sportsbooks offer futures bets on who will win the Sprint Cup, Nationwide Series, and Camping World Truck Series championships. As the season goes on and certain drivers start separating themselves from the rest of the field, of course the odds change to reflect that.
The major downside to a futures bet is the length of time it takes to get your money if you win. With a season more than 9 months long, you could be waiting a long time before collecting your earnings. In December of 2007, I placed a $50 bet on Jimmie Johnson to win the 2008 Sprint Cup Series Championship. Close to a year later I noticed one of my accounts had an extra couple hundred bucks in it, and I had no idea why. My man came through, but I'd completely forgotten that I ever made the bet. That's how long it can take. That's also when I started a proper system for recording my futures bets.
When betting on NASCAR futures, you might consider placing more than one bet. For example, heading into the 2013 Sprint Cup season, Jimmie Johnson is around +500. After riding a streak of five straight championships, followed by a further 2 top 10s, it's hard not to bet on him again. However, +500 isn't terribly exciting, and this guy can't win every year…can he? Well, at +500, you can afford to bet on a couple other drivers as well. If one of them wins, you'll get a much better return, but if Johnson wins again, you can at least cover your losses on the less favored drivers. In this scenario, you're getting a shot at a bigger win, while giving yourself a good chance to at least break even. So, make your $20 bet on Johnson, then $20 more on someone who is +800, and $20 more on someone +1000. You'll have three chances to win and a lot of excitement that should last until the end of the season.
You can place equal bets on Johnson, plus two other top drivers, and if any of them win you'll either break even or take home a nice profit.
NASCAR Prop Bets
If you love NASCAR like I do, you'll love the prop bets. The issue isn't finding fun props to bet on, it's finding the lowest vig (juice). For the lowest vig on NASCAR props, we recommend BetOnline.com. The Bodog Sportsbook offers some unique, fun props as well, but the vig is usually higher than other books. Every serious NASCAR bettor needs to have an account at Bodog, but always shop around before placing prop bets there.
Examples of NASCAR prop bets that can be found:
Who will lead the most laps?
How many caution flags will there be?
Over/under on how many laps certain drivers will lead.
Who will win the pole position?
Will driver X DNF?
Of course, during the biggest races you'll see more prop bets being offered. The Daytona 500 is a great example, where hundreds of props are offered from the top online sportsbooks.
Best Sites for Sprint Cup & Nationwide Series Betting
1/ Bovada.lv: U.S. handicappers welcome. The Bovada Sportsbook is one of the most respected online sportsbooks in the world. Online since 1994, these industry pioneers run betting lines for every Sprint Cup and Nationwide Series Race, plus some Camping World Truck Series races as well. Bovada is known for a wide selection of prop bets, although handicappers need to pay attention to the juice they're paying, which isn't always favorable. This means that Bovada is a great place for casual bettors looking to place a bet on Nascar races, but that they don't want professional sports bettors.
Live betting is available for some of the bigger races each year, including the Daytona 500, Brickyard 400, Kobalt Tools 500, and the season finale Ford 400. Bodog has the best live betting in the industry, with minimum bets of just $1 accepted. During the race, bettors can wager on a variety of things, including who will be next to crash, over/under on how long a team will take during a pit-stop, over/under on how many caution flags will come out, and more.
Visa credit & debit cards accepted from all handicappers. Neteller, Moneybookers, and other deposit options available for those outside the United States.
2/ Topbet.eu: U.S. handicappers welcome. Topbet.eu is known for their focus on U.S. based sports like NFL football, NBA basketball, and NASCAR racing. They have the highest success rate in the industry for American bettors who deposit with Visa credit & debit cards. Some of the best odds for race winners & speed rows, plus a lot of fun props and NASCAR futures bets are available for roughly 10 months out of the year. Betting is available for all Sprint Cup & Nationwide Series Races and most Camping World Truck Series races as well.
Topbet also offers some of the best parlay odds in the industry. Even a $10 parlay on all three race winners each weekend could result in a huge payday…and a lot of screaming fun.
NASCAR Betting Tips
When picking winners, we recommend keeping your bets smaller than you would for football, soccer, or other sports where you only decide between two teams. In fields with 40+ cars, it's much harder to pick winners, and with much greater odds than 2-team games provide, the wins will be larger when they come.
It's not personal. As NASCAR fans, we all have our favorite drivers, and the drivers we love to hate. This has to be kept separate from your betting. For example, NASCAR's favorite driver, Dale Earnhardt Jr., has only 4 Sprint Cup wins since 2005, and had none from 2008 until June 2012 when he finally ended a 4 year winless streak. Until he shows us he's able to win consistently, he's not someone to be betting on. On the other side of it, Kyle Busch is one of the most hated men in NASCAR, but the kid wins races. Personally, I'd bet on the devil himself…if he was fast enough. Every winning handicapper has that attitude.
For futures bets, remember that it's about points, not wins. If your driver only makes 30 starts, it's highly unlikely he'll win the championship. In 2010, Kyle Busch started 29 races in the Nationwide Series, amazingly winning 13 of them, taking 22 top 5 finishes, and 25 top ten's. For those 29 races, this was total domination. However, in the points race he finished third behind Brad Keselowski and Carl Edwards who only had 10 wins combined. But, each of them ran all 35 races, accumulating enough points to finish ahead of Busch. The same can be said about consistently finishing in the top 5 or top 10.
Since 2004, every driver who has won the Nationwide Series Championship has at least tied for first with the most top 10 finishes. For 2011, the Sprint Cup Series has once again changed how they calculate points, but not for the Nationwide Series. While we'll see some changes for the Sprint Cup, old rules still apply for the Nationwide Series.
NASCAR teams keep finding ways to make cars faster. NASCAR keeps finding ways to make them go slower, with new rules that seem to pop up every week of the season. This means that large teams with better resources and ability to make quick & correct changes have an even bigger advantage over the smaller teams. Look for late rule changes mandated by NASCAR each week, and consider how this might impact your picks.
Sprint Cup Bets

As the premier racing series in NASCAR, of course every online sportsbook offers Sprint Cup betting. Most sportsbooks, especially those that accept U.S. bettors, also offer Top 3 & Speed Row bets, plus props & futures.
If you have a dark horse for the upcoming Sprint Cup season, place the bet before the season starts. If you're right, the odds will go down as he moves up the standings. You want to bet dark horses while the odds are their greatest – before the season begins and everyone agrees with you.
Nationwide Series Bets

Most online sportsbooks that offer Sprint Cup betting also offer betting for the Nationwide Series. You may not find as many Top 3, Speed Row, or prop bets though. Since there is less interest in the Nationwide Series, it's usually easier to find value here than it is in for Sprint Cup races. Serious handicappers should always be looking for value anyways, but always compare odds before placing bets on the Nationwide Series. You'll generally find a wider range of odds than you will in Sprint Cup.
In general, sportsbooks that accept U.S. handicappers offer a wider variety and higher volume of betting options for NASCAR. If you're in the U.S., read each of our sportsbook reviews and make sure the sportsbook you're interested in accepts U.S. bettors.
Camping World Truck Series Bets

If you follow the Camping World Truck Series closely, some value can be found here. Most linesmakers know far less about this series, the teams, and the drivers than they do for the Sprint Cup and Nationwide Series. Always compare odds and look for the best lines available.