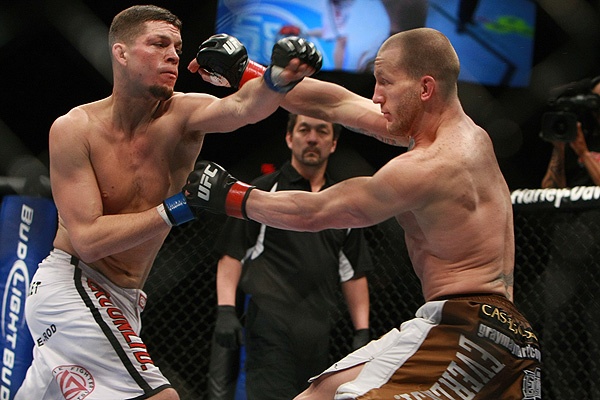 The 18th finale of The Ultimate Fighter rolls into the bright lights, neon signs and 24-hour excitement of Las Vegas this Saturday November 30 which guarantees action, intrigue and, for the first time, a six-figure contract for a female MMA fighter.
Taking over the Mandalay Bay Events Center, the Ultimate Fighter finale is the perfect event to whet the appetite for next month's UFC 168 which will see Chris Weidman take on Anderson Silva in a Middleweight Title fight.
Heading up the main event is Gray Maynard (11-2-1 MMA, 9-2-1 UFC) and Nate Diaz (17-9 MMA, 11-7 UFC) who will take each other on for the third time. The popular reality show which will culminate in Sin City with two men who have been slightly out of sorts in the ring.
The pairing have a long-standing rivalry which dates back to Season 5 of the show, which Diaz went on to win, and have a win a piece head-to-head as they prepare for the grudge match at the weekend. Look back nine months ago and this fight would have probably had title implications, but with both men having had a difficult season, it has become more about determining who stays a major player in the 155 lb. division.
For those seeking a bet on the UFC, it could end up wide open but if Diaz somehow returns to form, it could very well be his to lose. Whether that will happen though, is another question entirely. The 28-year-old Californian has a record of 3-4 in his last seven fights and will enter the ring on the back of his first career knockout.

The Bully has also not had the best of times recently and has recorded his only two defeats in his last three fights by knockout. However, with experience in his corner, it's thought the 34-year-old will rise to the occasion and take part in what will be an almighty battle.
Maynard will have to be wary of getting involved in prolonged stand-up exchanges against Diaz who has rapid hand-speed in the punch, whilst the man from Phoenix will look to use his power over speed to send Diaz to his third straight defeat.
Where Diaz is likely to win it, should he bring his form, is on the floor. A technical specialist, Diaz holds the record, alongside Kenny Florian and Frank Mir, for the most submission victories in UFC history with eight, and wil be looking to clear them on Las Vegas Boulevard.
One match which may not be as tense is the main fight on the undercard between Jessica Rakoczy and Julianna Pena. Fighting for a six figure contract and the first women's 'Ultimate Fighter' title, the fight is likely to go the way of 36-year-old Rakoczy, who got her first career win just prior to entering TUF tournament. She earned her place in the final with a unanimous decision over Raquel Pennington, who also features on the undercard, whilst Pena has dominated her way to the final but comes in off the back of two straight defeats in official matchups.
Pennington will kick off the Main Card in Vegas with a fight against 31-year-old Roxanne 'The Happy Warrior' Modafferi. Pennington should provide too tough for a fighter who struggles in her striking game and could just get bullied into a knockout.
Similarly the UFC TUF Men's Finale could also prove to be one sided. Chris Holdsworth goes into the fight unbeaten in his five official outings and with a slightly longer reach and three first-round submissions in the season, he goes into the fight in superb form. Expect an early submission when he faces up to Dangerous Davey Grant.
It's set to be a good weekend of fighting as we build up to the big Christmas event, and with the two tall TUF ladies also set to go head to head on Saturday night, you could also be expecting to see Peggy Morgan lose her official unbeaten record when going head-to-head with the technically superior Jessamyn Duke.