Half Time betting is wagering on the result of the second half of a game after the first half is complete. This is offered by both online betting sites and Las Vegas sportsbooks for football and basketball. The available wagering options include 2ND half point spreads and 2ND half totals. 2ND half Moneylines can be found at select online sportsbooks. If the wagered game goes to overtime, all overtime periods played are considered part of the second half results.
Where's the Best Place to Wager?
When making half time bets it is a good idea to use multiple online sportsbooks. This is because half times are short. Specifically, for both NBA and college basketball half times last 15 minutes. For NFL football half time lasts 12 minutes and for college football half time lasts 20 minutes. The bookmakers post their half time lines in a hurry and adjust the odds, totals and point spreads based on bets they accept. This means the second half point spreads and totals often vary greatly between internet sportsbooks and have lots of line movement.
The three betting websites below tend to have point spreads, totals and odds that differ from each other the most. This is a decent starting combo for both recreational and professional bettors to use and the advice here is to not to pick one, but rather to use all three. Simply look at all three sites and bet at the one offering the best odds for the wager you are looking to make.
Top Sites For Half Time Betting
Rank

Sportsbook

Why We Like'em

1

Generally the quickest to post half time point spreads and totals, and offers a 15-25% bonus on all deposits.

2

Has the lowest margins (juice) on half times. Also offers moneylines and alternative lines on the most popular games.

3

Due to a largely recreational player base often great value can be found on underdogs. They also have a 50% to $250 sign up bonus.
Understand the more websites you use for shopping half time lines and totals, the better value you'll find. The reason the sites above were selected is the lines often differ from each other. www.bookmaker.eu is another website quick to post half time lines, but their lines are often similar to BetOnline. www.topbet.eu is another where off market prices can be found, though Bovada has more off market prices. I suggest starting with the three sites above. Next add Bookmaker, Topbet and others if your bankroll can support using more websites.
Half Time Betting Strategy
Recreational players enjoy half time betting because it sometimes gives them an opportunity to lock in a guaranteed win on their full game wager, and other times lets them change sides if a bet isn't going their way. This form of wagering is also appealing to professional bettors for reasons already explained. The bookmakers set their second half point spreads, totals and moneylines in a hurry and use only basic handicapping.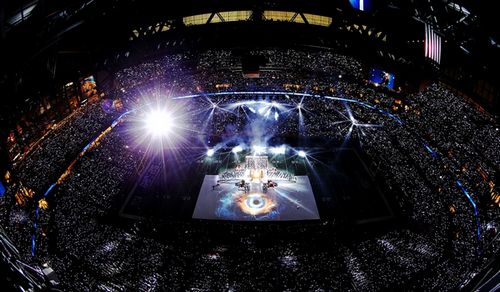 Half time betting allows you to get a bet on while enjoying the show!
To explain that handicapping process, the bookmakers generally uses the formula that a full game line is 60% first half, 40% second half. This means if the point spread is -10 and a team is winning by 6 at half time, the second half line will generally be -4. When the favorite is well ahead of pace the line will move towards zero. For example, if that -10 favorite is up 21 at half, the second half might be a pick (-0 point spread). If the favorite is behind the scheduled pace the second half point spread will be larger. For example if they're up only 3, the second half line might be -6.
What I just explained is an extremely rough method the bookmakers use for creating second half lines. In football it is important to consider the current score. For example if a favorite is down 3 points at half time, betting them -2.5, -3, and -3.5 for the second half are all essentially the same (NFL games rarely end tied). The second half does however tie often (8.2% of the time overall for NFL) so -0.5 and +0.5 are huge factors for second half betting when the game is not already tied. If the game is tied then -0.5 and +0.5 have next to no difference between them.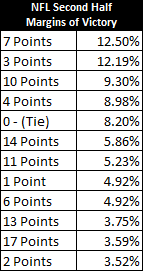 It is also important to look at key margins of victory as shown to the left. This is helpful in deciding if one site has -1.5 +100 and another -0.5 -120 which might be the better bet. For this you will need a much larger database to get exact figures. The chart to the left only shows margin of victory for either team winning. It does not take into consideration which team is favored or the underlying point spread. It is however helpful information as 82.96% of NFL games end with a second half margin of victory being the 12 margins listed on the shown chart.
There are many other things to consider too. Some teams perform better in the second half. You can see that in these second half NFL stats. However do keep in mind that teams who are often up large at half will of course average lower second half scoring, and teams often well behind will average higher on their season long stats. This data is helpful only to an extent. If a team with a poor record on the season has strong second half stats this is a trend that you can consider in your analysis.
Injuries are a major factor too, as is the flow of a game. When teams are flat out flopping, it is often more likely the case this continues to the next half than the team suddenly comes to life. Unless you have stats that show a team performs stronger in the second half, betting based on the way things have gone so far is advised over betting based on the idea things might change.
As you can see a lot of thought can go into second half handicapping and I haven't even covered the dynamics of most leagues. What the professional bettors do is assemble massive databases. When Lebron James has a poor first half does he generally play better or worse in the second? How has his team faired in similar situations? This is an example of data that professional bettors assemble and can query on the fly towards making their half time wagering decisions.
The bookmakers rarely do deep analysis. They set a rough number, move the lines, and after ten to fifteen minutes of taking bets the market is closed. Doing analysis or applying logic it is quite possible to gain an advantage with half time betting. Whether you're a professional, a fan, are betting with data or gut feel, I can't stress enough the importance of using multiple online betting sites. The three sportsbook combination I provided earlier in this article is likely the best to get started with. All this said, no matter if you use one site or three, we at IG wish you the best of luck with all your half time bets.