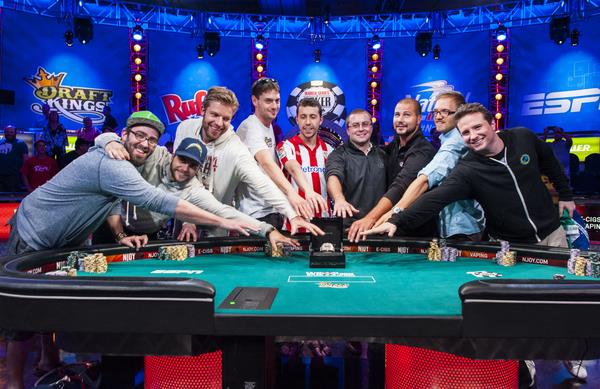 As of 8pm (ET) November 10th, the 2014 World Series of Poker final table will resume play with the winner taking home a stunning $10 million windfall. The biggest annual tournament in poker is being held, as ever, in the US gambling Mecca that is Las Vegas. The remaining participants – a collective now referred to as the November Nine – have been patiently waiting for four months since making the final table, and you can track their progress to riches live on ESPN as they battle for the crown of WSOP No Limit Champion.
Reaching the final table of this esteemed tournament is no mean feat with a field regularly exceeding 6,000. Following Chris Moneymaker's fairtyale win in 2003, the field tripled from 839 that year to 2,576 in 2004. From here it boomed right up to a peak of 8,773 people but over the last half a decade has consistently average around the 6,500. Remaining in the running until there are just nine people therefore requires patience, persistence, a huge amount of skill, and maybe a bit of luck along the way.
This year's grand prize of $10 million is the first time the bounty has ever reached eight figures, making it one of the most exciting final tables to date. The November Nine are a mixture of familiar names, online sharks and one that can only be described as a wildcard. Starting with the bookies' favourite and working through the odds, here's a quick rundown of the nine competitor's going into the climax of the competition.
Jorryt van Hoof:
For those of you that follow the online poker scene, van Hoof will already be well known to you after one of the sickest calls you're ever likely to see in a major tournament. Under the alias of 'TheCleaner11', the Dutchman made a complete soul read on fellow pro Dylan Linde and called with just 8-high on a 4-3-5-5-4 board. There were only a handful of hands that he could be beating, and all would involve a deuce and a second card lower than an 8 but excluding 4s, 5s and 6s. Incredibly his read was spot on and when he called the pot size bet on the river, Linde flipped over pocket deuces leaving the cleaner to clean up. But his credentials stretch far beyond a simple hero call.
With over 38 million in chips van Hoof is the chip leader going into the final furlong. This will certainly allow van Hoof an edge, and it is understandable that he is viewed as the favourite to win the coveted bracelet.
Felix Stephenson:
Although van Hoof is the chip leader it is not a commanding lead, with Stephenson just a few million behind. Ironically the Norwegian almost gave this year's WSOP a miss, and only entered after picking up around $60,000 backing the Netherlands to beat Australia 3-2 at the World Cup in Brazil. At that moment he packed up his things and headed on over to take part in the prestigious tournament, a decision he no doubt now rates among his most important ever. This time, though, he'll be hoping the Dutch don't come out on top again.
 Mark Newhouse:
As van hoof and Stephenson are nervously eyeing each other in the build up to taking their seats, it's possible Mark Newhouse will be sitting back with a wry smile, puffing on a fine Cuban cigar in a pair of flip-flops and Hawaiian shirt. He is, after all, the only one to have been there and done that all before – as recently as last year. Yes, this is Newhouse's second main event final table in as many years, which is an incredible achievement when you think about the size of the field. Last time out Newhouse was the first to fall, finishing in ninth in what he described as an emotionally draining experience. This year, expect that experience to help him get off to a strong start – perhaps stealing a few pots early on as the others get settled – and potentially overtake the leaders for the win.
Martin Jacobson:
The fact that Jacobson has the second smallest chip stack yet maintains relatively short odds speaks volumes about the bookies' confidence in the bespectacled Swede. He is the leading tournament earner of the November Nine with $5.5 million accumulated to date and will be exercising that familiar final table confidence that has served him so well in the past. Certainly one to watch.
 Andoni Larrabe:
The youngest player still in the tournament, Larrabe will stand out not only for his tactical nous but his Athletic Bilbao shirt. The proud Spaniard will be representing his home colours as he eclipses his current career earnings, which have yet to hit six figures, and he will be hoping to make a mark on a strong table.
Dan Sindelar:
Sindelar is regarded by some as one of the favourites to walk away from the WSOP final as champion despite a seemingly average stack of just over 21 million chips. Since 2008 he has cashed in WSOP events 17 times, but has failed to make a single final table. Having moved to Las Vegas to pursue his poker career, it is clear that Sindelar takes his game very seriously.
 Will Pappaconstantinou:
Everybody loves an underdog. The bane of commentators everywhere, Pappaconstantinou is an amateur player that has found himself just a few places away from a historic victory. During the four month hiatus preceding the final table the Greek captured a foosball championship. He exclusively hones his skill in live poker, preferring that to an online game, and is also a dealer at Rockingham Park. It will take a momentous effort to beat the other eight competitors but, as Chris Moneymaker proved in 2003, anything is possible.
 William Tonking:
Tonking will be thrilled to have made the November Nine having come some close to elimination as the bubble loomed large. Facing off against Jacobson, Tonking flopped the stone cold nuts, holding J-9 on a 10-8-7 flop. He managed to get it all in but Jacobson flipped over a flush, leaving Tonking to sweat two more cards as the crowd vied for his elimination. He survived, and will be looking to build on his 15 million chip stack.
Bruno Politano:
The short stacked Brazilian has become somewhat of a star in South America, so much so that a documentary is being made about his journey since qualifying for the November Nine four months ago. With a nation behind him and the shortest stack in play, expect plenty of support and a lively showing from Brazil's new golden boy.