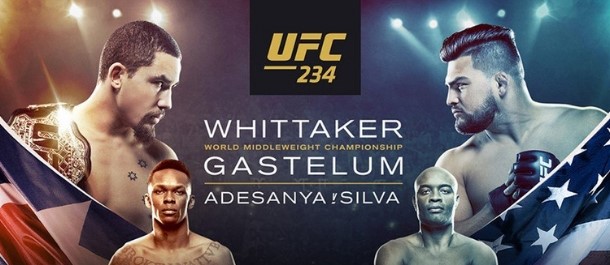 The UFC heads back to Australia this weekend with a relatively top-heavy fight card that features local hero Robert Whittaker's title defense against Kelvin Gastelum. In the co-main event, New Zealand's Israel Adesanya will fight Anderson Silva in what should be an intriguing clash of styles.
We're here to break down the entire UFC 234 main card to bring you the best bets and betting advice for this pay-per-view event.
Let's get started.
Robert Whittaker vs. Kelvin Gastelum
Robert Whittaker will attempt to defend his UFC Middleweight Championship in front of thousands of screaming local fans in Melbourne, Australia. The last time he stepped foot in the Rod Laver Arena, he competed against Derek Brunson, and it turned out to be a thrilling first round of action that saw both fighters stumbling around the cage. "The Reaper" defeated Brunson and it inspired an exciting run to the title.
Now, at the top of the middleweight division, Whittaker is coming out of two intense battles with Yoel Romero. In the first one, his knee was damaged just a few minutes into the fight after Romero smashed it with a push kick. He overcame the adversity to win a decision after denying Romero's takedowns and beating him up with heavy strikes.
Whittaker then managed to injure his hand in the second fight before somehow hanging on and winning a split decision. The second fight was much more competitive than the first, with Romero coming out of it feeling robbed by the judges after he scored some significant knockdowns.
Whittaker will be facing Kelvin Gastelum, who – like Whittaker – made a move up to middleweight after a lengthy stint as a welterweight. Gastelum has jumped all the way up into a title shot after recent wins against Michael Bisping and "Jacare" Souza. The Bisping knockout was impressive in nature, but more of a measure of Bisping's decline and baffling decision to take a fight on two-week notice, more so than Gastelum's meteoric rise. Moreover, the "Jacare" fight proved to be incredibly competitive, with Gastelum just making it over the line at the end of three rounds.
Best odds for Robert Whittaker vs. Kelvin Gastelum:
Whittaker's a favorite in this one, and it's easy to see why.
Anyone who can come out on top after ten rounds with Yoel Romero demands respect. There's even the fact that Robert Whittaker might just be the greatest middleweight fighter in the history of the UFC. Now that's something.
So, Gastelum, a guy coming off two wins over "aging" competitors, finds himself against one of the best to ever do it? How can he win?
Gastelum has a pathway or two to victory, but he's going to need to act fast. Whittaker's typically most vulnerable in the first round. It takes the Australian a few rounds to get going in his fights, helping to understand his opponent's style and movements and then implement an appropriate game plan to beat them. We saw this when Brunson – not the best of strikers – clipped Whittaker and nearly finished him.
Gastelum's going to need to rush out and make the most of his advantages in the early rounds before Whittaker's cardio and intelligence takes over.
However, Whittaker is insanely durable. Yes, he often gets injured or harmed during fights, but he survives.
That's why we see Whittaker outlasting Gastelum in this one to win.
Bet on Robert Whittaker to win: -229 (Pinnacle)
Anderson Silva vs. Israel Adesanya
Anderson Silva vs. Israel Adesanya is completely bizarre.
Adesanya has quickly become one of the most talented – and talked about – strikers in the UFC since joining last year. Rising to the occasion in all of his appearances so far, Adesanya was 2018's breakout mixed martial artist and finds himself already close to earning a title shot against the winner of Whittaker vs. Gastelum. He ranks amongst the best in the division, yet the UFC decided to pit him against a legend of the sport who hasn't competed in quite some time.
Anderson Silva is an all-time great and a fan-favorite, but that doesn't exactly help you when you're locked inside a cage in 2019. Moreover, if you're wondering how Silva and Adesanya are matched against each other if it's such a 'mismatch,' the UFC has tricked Silva into believing he'll be awarded a title shot if he defeats Adesanya this weekend. It's an offer "The Spider" couldn't refuse.
Best odds for Anderson Silva vs. Israel Adesanya:
People continue to draw similarities between Anderson Silva and Israel Adesanya for many fairly obvious reasons. Stylistically, they look similar in some ways. Yes, they utilize loads of feints, spinning attacks, and unique striking techniques, but there's a huge disparity right now when it comes to the actual attributes of these two.
Adesanya is lightning-fast and uses his excellent anticipation to read his opponent and smoothly measure a safe operating distance inside the cage. His opponents have a difficult time landing their hands on him. Silva's going to need to turn back the clock many, many years if he wants to top Adesanya this weekend in Melbourne. However, there's a fair chance that even the best version of Silva would fall short against "The Stylebender."
Bet on Israel Adesanya to win by decision: +200 (Bovada)
Rani Yahya vs. Ricky Simon
Moreover, this is where the pay-per-view all falls apart. The third-last bout of the evening will see Rani Yahya compete against Ricky Simon in what should be an entertaining fight, albeit one between two competitors that don't demand respect or attention of the four fighters above.
Rani Yahya has been doing some of his best work in the UFC in his last three fights, despite having been with the promotion since January 2011. Yahya has three consecutive stoppage victories to his name against Henry Briones, Russell Doane, and Luke Sanders, helping him to recover after losing to Joe Soto back in March 2017.
Ricky Simon is undefeated in two fights with the UFC and enters UFC 234 with an impressive seven-fight winning streak behind him, dating back to his time in Titan FC and KOTC. His UFC debut was a controversial one, as he finished the fight with a guillotine choke locked in but didn't get a tap from Merab Dvalishvili when the final horn sounded. Strangely, Dvalishvili was deemed unconscious after the horn and Simon was awarded the win.
Best odds for Rani Yahya vs. Ricky Simon:
Rani Yahya's dangerous submission game is the X-factor in this fight. Simon loves to scrap in a fast-pace fight and that might lead to stumbles, takedowns, and trips, eventually resulting in mat time. The longer this one is on the mat, the more Yahya's chances of a finish increase.
We're taking Yahya to win.
Bet on Rani Yahya to win: -105 (Bovada)
Nadia Kassem vs. Montana De La Rosa
Undefeated Nadia Kassem will look to make it two in a row in the UFC when she fights Montana De La Rosa this weekend at UFC 234.
Kassem, an athlete from Sydney, Australia, had finished all four of her first fights outside the UFC via the first-round stoppage and none of them lasted more than 90 seconds. Against Alex Chambers in Sydney, though, Kassem was taken the distance before winning a unanimous decision.
Montana De La Rosa is 2-0 in the UFC after first appearing during The Ultimate Fighter Season 26, where she lost to eventual champion, Nicco Montano. De La Rosa scored submission wins against Christina Marks and Rachael Ostovich, to make it three submission victories in her last three professional fights.
Best odds for Nadia Kassem vs. Montana De La Rosa:
We haven't seen a whole lot from Nadia Kassem through her professional career to date, and there's not a lot to suggest she can hang in there with Montana De La Rosa if this fight hits the mat. There's also not enough evidence that indicates she can keep it upright and out of danger.
De La Rosa is a decent takedown artist who will be looking to get this one to the floor and lock up a submission – that's if a KO/TKO victory doesn't come before it though.
Bet on Montana De La Rosa to win: -242 (Pinnacle)
Jim Crute vs. Sam Alvey
Jim Crute is the latest Australian prospect to crash the UFC's roster. He made a name for himself on Dana White's Tuesday Night Contender Series by smashing Chris Birchler in the first round. That KO/TKO win earned him a spot in the big leagues and he started with a bang against Paul Craig at UFC Fight Night 142, where he earned a kimura submission win.
Crute was originally scheduled to face Ryan Spann this weekend, but a change of circumstances has led to him needing to prepare for Sam Alvey instead.
Sam Alvey is a heavy-hitting southpaw fighter, who was training for a fight with Gadzhimurad Antigulov. He welcomes the challenge here against the Aussie prospect and is certainly excited to compete on his first-ever pay-per-view main card.
Best odds for Jim Crute vs. Sam Alvey:
Crute is also a powerful, lightweight fighter with extremely devastating top game and decent kickboxing ability. When he secures a top position, he rains down heavy ground and pound and has excellent submission ability to top it all off.
Alvey's left-handed cross might cause problems for Crute who was training for Spann, and that combined with his knockout power could be a recipe for disaster for the Australian.
Crute fought to a close fight with Paul Craig, who seemed levels below most other fighters in the division when inside the cage.
This one is a winnable fight for Alvey, and we're taking the underdog in this one.
Bet on Sam Alvey to win: +110 (Bovada)
UFC 234 fight card
UFC 234 begins on ESPN+ from 6:30 pm ET (10:30 pm GMT) on Saturday, February 9.
UFC 234 Main Card on PPV (10:00 pm ET / 2:00 am GMT)
Robert Whittaker vs. Kelvin Gastelum
Anderson Silva vs. Israel Adesanya
Rani Yahya vs. Ricky Simon
Nadia Kassem vs. Montana De La Rosa
Jim Crute vs. Sam Alvey
UFC 234 Preliminary Card on ESPN+ (6:30 pm ET / 10:30 am GMT)
Dong Hyun Ma vs. Devonte Smith
Austin Arnett vs. Shane Young
Kai Kara-France vs. Raulian Paiva
Teruto Ishihara vs. Kyung Ho Kang
Lando Vannata vs. Marcos Rosa
Jalin Turner vs. Callan Potter
Wuliji Buren vs. Jonathan Martinez