An if bet is a series of wagers where the action continues to the next bet only if a condition is met. These can be if win bets or if win/push. A similar wagering option called reverse bets function as if win, push, no action or cancel. To explain in simple terms here is an example of a 2-selection if win/pushwager: Chicago Bears -4 -110 Risk $220 to win $200. If win/push: Then: New England Patriots -7 -110 Risk $220 to win $200. In the above example the Patriots wager only has action if the Bears wager wins or pushes. It is worth noting that even if the Patriot game was played at 1PM and the Bears game at 8PM (or even the following day) you could still make this same wager.
Where to Make If Bets Online
www.5dimes.eu is no question the best website for if betting. They have an option called Rolling If Bets (RIF) where you can create if bets on demand using an already pending wager. This means if your account balance was tied up in pending wagers but you had a $550 to win $500 bet pending on the Lakers who with 5:00 left in the game are winning by 33, you could bet the $1050 return before the game is even settled. To do this: click "Straight and RIF" (as opposed to Bet the Board) from their wagering menu. At many online sportsbooks "if bet" rules are restrictive. Some sites allow only the stake, or only the winnings, from a bet to be rolled forward as opposed to the full return. It is also industry standard that if bets can only be done on point spreads, totals and moneylines. At 5Dimes none of these restrictions apply. You can roll forward any amount up to your full return. You can also do if bets off teasers and parlays, and can even make if bets on props, team totals and any other market they offer.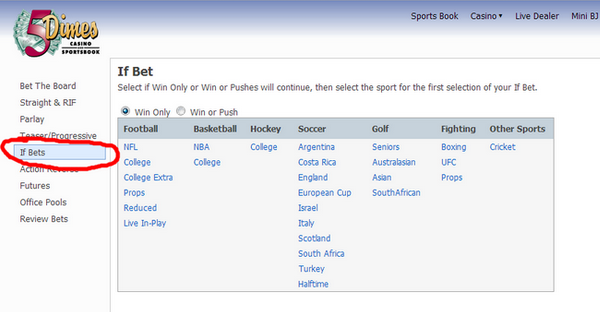 Where to find the if bet section on 5dimes
If Betting Strategy
Understand if betting is mostly a bankroll management tool for those with underfunded accounts. There is no advantage that this form of wagering provides over straight bets and parlay bets. I already provided an example in the section above of a reason to use this form of wagering. That example was making a rolling if bet (RIF) using a pending ticket at www.5dimes.eu. A strategy you could use at any site is say you are 100% sure you want to bet $300 on the Monday night game, but only have $300 in your account. For some reason you have the bankroll but can't deposit. There are Sunday games you might wish to wager too but the Monday night game is most important. You could in this case wager the Monday night game with an if win/push then: (insert various Sunday game wagers).
In years past more strategy was available. Some sportsbooks allowed if bets for larger than the return. For example: $5.00 on -9 and if win then $2500 on over 36.5. This was allowed at some sites for the same game. In this example, we just wagered $5 for the team to beat the 9 point spread. In the case they did beat the -9 spread, we then bet $2500 on the total being over 36.5. In a scenario such as that, when a team beats a 9 point spread, the match total will almost certainly be over 36.5. Our $2500 is almost risk free in this situation as it is only bet, if the team beats the 9 point spread. These are of course correlated and shows how even as late as 2005 some bookies were not very sharp. Today the bookmakers realize the advantage this provides and such wagers are not allowed.
Another time you might use this option is if a site offered fixed odds on parlay bets. If they also allow full return to be used on if bet tickets then you could get true odds parlays using that option in instead. Outside of what's covered, here there are not too many reasons to use if bets. If you' are simply in a mood to gamble you might want to instead use round robin, make parlay wagers or wager long underdogs on the moneylines. That all said, no matter what your goal is using if bets, we at Online Gambling wish you the best of luck.