20/20 has revolutionized cricket. It is now the most attended and most bet on form of the game
Image credit: Associated Press
Cricket is a sport well suited to online betting. The nature of the game creates many wagering opportunities. Online the most popular bet is on match winners, but there are many additional popular betting markets. Some of these include most match sixes, innings runs and session runs. Also, while matches are in-play you can make bets on constantly adjusting match winner odds as well as the results of each ball or each over. With in-play betting, next dismissal and next dismissal method are also popular wagers.
In this article I'll discuss the most popular leagues, tournaments and competitions from India, England and Australia. I'll then conclude with some strategic tips. First I'll discuss cricket betting sites. If you happen to live in the United States, note: apart from the table below, the bookmakers recommended on this page do not accept US players. If you're in the US and want to bet, then 5dimes is probably your best choice.
Table of Contents
We here at onlinegambling.co don't do anything half-assed. As a result, we tend to waffle on a bit more than some of our readers like. So if you wanna just read one particular thing, then we've outlined the contents of this page to make things easier for you.
Where to Bet
Be advised there is only one online bookie who is ideal for all markets. They are based in the UK, have an Australian licence, and also offer betting accounts for Indians in Indian Rupee (INR). They are cricket specialists and service all markets where the game is popular. I'll spend some time in this article discussing them as well as the other leading options. First for those in a hurry the sites below are the bookies I recommend.
USA Cricket Betting Sites
Rank

Sportsbook

Why We Like'em

1

Offers the best coverage of cricket in the USA as well as having reduced juice.

2

Best bonuses and promos for USA bettors as well as offering easy credit card deposits and the fastest withdrawals.

3

Take Visa cards and are now the number one US facing sportsbook for live betting.
In business since 1974 as a UK licensed bookmaker, they now operate online in dozens of languages and currencies. This is a company that is very well off financially. They own approximately 85% of the English Premier franchise, Stoke City FC. Their claim to cricket fame is their live betting offered on all test series, one day internationals, twenty20 competitions and a host of domestic leagues. For most matches they will have 15-20 different betting markets that can all be wagered while the match is taking place.
For example www.betvictor.com covers fewer matches but has many unique markets. Some of their offerings include wagers on who will win the toss, double chance markets, first innings lead and opening partnerships. Another site that might be worth considering is www.paddypower.com. They offer as many, if not more, matches and markets. While PaddyPower is one of the most exciting sites to use, it's important to understand on average has better odds. Speaking of odds, I suggest using multiple Asian bookies, UK Bookmakers, and Australian Betting sites to look around for the best prices. The more sites you use for odds shopping the better your chances are of having success.
Tournament and Leagues
Again as mentioned the most popular countries for cricket betting are India, England and Australia. There are of course many different types of matches ranging from domestic leagues and tournaments to international competitions. Some are played as tests, others are one day internationals (ODIs) and the latest craze is of course Twenty20. In the remainder of this article I'll cover the most popular tournaments and competitions for betting.
Betting on Indian Cricket
India with a population of 1.2 billion people is the most popular cricket betting nation. They are also the defending World Cup champions and host the most profitable and most followed Twenty20 domestic league. In this section I'll provide a quick rundown of domestic cricket played in India.
Ranji Trophy – The Ranji Trophy[1] is India's biggest domestic league with 27 teams competing. These teams are split into four geographical zones before they enter a national quarter final, semi-final and final stage. Mumbai are the most successful team in the Ranji Trophy with 39 league victories in just 43 years.
Irani Trohpy – The Irani Trophy[2] is India's largest domestic one-day league. With the same format as the Ranji Trophy in terms of being split into geographical sectors, the competition comes to a climax with two semi-finals and a final to determine the overall winners.
Indian Premier League – The IPL is the biggest Twenty20 competition in the world. 9 states from around India compete to win the coveted prize but this competition includes an auction style system at the start where each state can bid to buy players from around the world. In excess of $700million was spent in 2012 on players making it the richest competition in world cricket.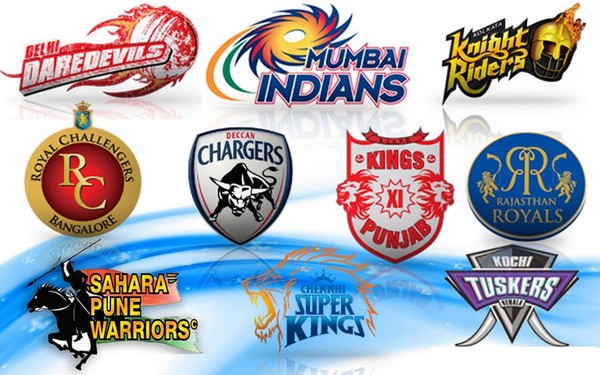 The IPL and 20/20 World Cup are the most watched competitions in the world source: Yahoo Sports
As mentioned they offer betting accounts in Indian rupee (INR) and have great in-play betting markets on all cricket competitions.
Betting on English Cricket
England is the oldest cricket nation. The most recent major victory of their national team was winning the 2010 ICC World Twenty20. They also compete bi-annually in The Ashes which is a Test series played between them and Australia, first started in 1882. This marks the most celebrated rivalry in international cricket. On the domestic side the leagues in England have grown over the past decade building a stronger base. Covered below are the domestic competitions held in England.
County Championship – The County Championship[3] is a four day first-class game played in England. It's the highest standard domestic league that uses this format. The league is split into Division 1 and Division 2 and has a promotion and relegation system in place.
ECB40 – This 40 over shortened format of the English domestic scene is the pinnacle of the one day arena. 21 teams are included in this – 18 first class counties plus three invitational teams – and are split into four groups. Winners of each group enter the semi-finals and finals accordingly.
Friends Life Twenty 20 – The highlight of the one day season is this Twenty20 competition. 18 county teams compete with each side allowed to sign up to 2 overseas players. In terms of crowds and player participation, this format by far exceeds any other.
Betting on Australian Cricket

Australia has a long and very successful cricketing heritage. In addition to the Ashes and international competitions I'll mention next, they have two strong domestic leagues as covered below.
Sheffield Shield – The Sheffield Shield[4] is Australia's pinnacle domestic competition with games running over 4 days. There are 6 states that compete and each team plays each other twice in a home and away double round robin style. The top two teams play off in a final which lasts 5 days to determine the winner.
Big Bash – The Big Bash[5] is basically Australia's equivalent to the India's IPL cricket. The twenty over format of the game contains 8 teams with each team allowed to bring in the best players from around the world. The teams are city based, rather than state based which has allowed cricket fans wider access.
Betting on International Cricket
In addition to domestic competitions there are plenty of other matches played between national teams. This is broken down in the section below.
Test Matches – Test cricket is widely regarded as the pinnacle of the sport. There are currently 10 test playing nations with a test series ranging between two and 5 games. Each game lasts for 5 days and the results can come in the form of a win, lose or draw.
World Cup – The Cricket World Cup is the highlight of the limited overs game. Each game consists of 50 overs per side and is played out over a group, then a knockout stage format. The competition takes place every 4 years at a range of venues.
Twenty 20 World Cup – The Twenty20 World Cup is arguably the most popular competition. Played over 20 overs per side, teams are split into 4 groups before making a Super 8. The top four from this then play out in the semi-finals before the winner progresses to the final. The Twenty20 World Cup is played out every two years.
Betting Strategy
There is no shortage of articles around the web that discuss betting strategy. The majority of these focus on handicapping and remind of the importance of form and the pitch. Let me be honest and give this to you fluff free. Cricket is a massive betting market that attracts many of the best punters in the world. It is far easier to make money on this sport watching for slow moving odds and off market prices than it is to handicap a match.
This is all explained in my article on fading the public. Here I explained how odds sharpen. When it comes to cricket there isn't a sharp book such as soccer betting has with SBOBet and NFL betting has with Pinnacle Sports. The serious punters make their wagers using betting exchanges of which the most popular is www.betfair.com. If you understand how the betting market works and want to chase steam, understand that the steam originates at Betfair.
This means the best way to bet is to shop as many betting websites as you can looking for odds that are better than what Betfair has currently available to be matched. This might sound too simple to be profitable long term, but in reality, it really is a profitable strategy that many market players often use. The biggest tip I can give is to use the market and find odds that are off.
How's That? – The Best Catches of All Time
Are there any great catches missing from that video? Please tell us in the comments below!
Article Sources and References
[1] The ECB County Championship
[2] Ranji Trophy – TimesofIndia.com
[3] The Irani Trophy – ESPN Cric Info
[4] Sheffield Shield – Wikipedia.org
[5] The Australian Big Bash