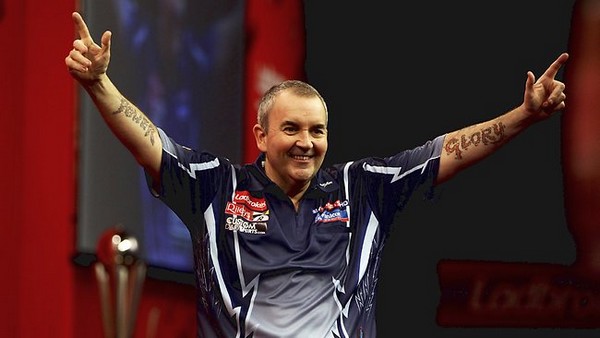 When betting on darts it's hard to pick anyone other than the phenomenal Phil Taylor
Darts is played all over the world both recreationally and professionally. When it comes to professional darts no doubt the UK is the most dominant nation. Whilst this is where most of the televised tournaments are held, there are also top-class tournaments held in Ireland, Germany, Austria and Denmark. Though there are no tournaments held there, players from Holland, Russia and Australia are also very competitive in this sport. In this article I'll cover the various ways to bet darts online, which competitions and tournaments can be wagered on the internet, and then conclude with darts betting strategy.
Sections
The Various Ways to Have a Bet on Darts
The most common way darts is bet online is a wager on which player will win the match. As one player is generally more likely to win this is reflected in the odds. It is important to understand that upsets do happen. In the 2012 PDC World Championship 15-time champion Phil Taylor lost in the second round to Dave Chisnall who was a 10/1 underdog. This is the first time anyone ever beat Taylor outside of the semi-finals. Though upsets of that magnitude are rare, they do take place. More often than not recreational players do back the favourite. When doing so it's important to shop the odds at multiple betting sites such as those listed below.
Fancy a Flutter? Here's the Top 3 Bookies for Darts Betting
Most Popular Darts Betting Websites
Rank

Site

Why We Like'em

1

Sponsors of the premier league for a number of years, they offer excellent odds and markets for darts betting.

2

Provide live coverage of all the major darts events as well as offering the best variety of bets and markets.

3

One of the UK's most popular bookies, Betfred offer some of the best odds for darts competitions.
Understand the websites recommended above were selected for good reason. With these bookmakers there are many additional ways to bet a darts match besides tournament winner. Let me use the 2012 Grand Slam of Darts finals for an example. In this match young-gun sensation Michael van Gerwen of Holland was a 21/50 favourite over his fellow countryman Raymond van Barneveld who the bookmakers had 34/5. At select bookmakers such as 888Sport there were alternate ways to wager this match.
One such option was the set handicap. 888Sport had Michael van Gerwen -4.5 sets at odds 1/1. This provided a way to back the favourite at even money, instead of the risk £50 to win £21 betting him straight-up offered. However to win the set handicap wager it was required he won by 5 legs or greater. This is again an example that upsets do sometimes happen. He lost this match 14:16. If you used fortune telling abilities, or got lucky, and bet 14:16 on the correct score market at 888Sport you would have been paid £900 on the same £50 stake. As you can see at some sites there are multiple ways to bet a darts match.
What I just covered with match winner, set handicap and correct score, these are not the only ways to bet on darts. There are markets on 170-checkout, most 180s, best nine dart combo, highest check out, total sets and much more.
Intense Trivia

Did you know the first ever 9 dart finish in a World Championship was thrown by little known American Paul Lim at the Embassy World Darts Championship in 1990. Lim's story is an interesting one having represented both Singapore and Papua New Guinea before finally representing the United States at international level. The £52,000 prize money he won for throwing the perfect leg was more than double what the eventual champion Phil Taylor would receive.
Another way to bet is on tournament winner. Tournament winner bets are simply wagers on which player will win the tournament. At online bookmaker Skybet.com you can find even more tournament winner markets. They have markets on which nationality the winner will be, whether the winner will be from PDC or BDO, and they even have "to reach the semi-finals" markets.
No matter if you're betting match winner, tournament winner, or unique dart propositions, it is important to shop the odds. Understand, the odds vary greatly between online bookmakers and shopping around before placing bets will lead you to getting the most value.
Note: in the next section I cover the popular leagues and competitions which online bookmakers cover. If you do not find that topic interesting, or are already familiar with it, scroll down to the conclusion of this article where I cover darts betting strategy.
Darts Competitions Covered by Bookmakers
There are many darts leagues and tournaments held around the world. Many, such as the North American Pro League and the World Series of Darts in Las Vegas, are not televised and therefore the bookmakers do not post odds. The actual tournaments and leagues odds are available for, come from one of the two primary organisers of professional darts – PDC and BDO. I'll start with providing an overview of tournaments from the most popular organiser first.
Professional Darts Corporation (PDC)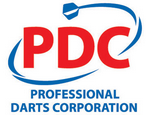 The Professional Darts Corporation (PDC) was established in the United Kingdom in 1992, when several professional players split from the British Darts Organisation (BDO). It then organised a second world championship. While once the breakaway organisation, it is now the top organiser and has many tournaments available for betting for which I provide a short intro summary of each below. Note that all of these can be bet at popular online bookmakers such as 888Sport.
PDC World Championship – This is the most prestigious tournament in professional darts. It began in 1994 over a dispute/breakaway from BDO and has been held every year since. The venue is Alexandra Palace in London, England. The tournament begins in December and runs until early January. It starts with a legs format and moves to sets at the end. The prize fund is a whopping £1,000,000.
Premier League Darts – This league began on Sky Sports in 2005 and is now the world's largest indoor sporting event. This is an annual league featuring 8-players who compete in a double round-robin format across different venues in England from February to May. It uses a legs format and carries a £450,000 prize fund.
World Matchplay – This tournament began in 1994 and has been held every year since in the Empress Ballroom at the Winter Gardens Blackpool in Lancashire, England. It is sponsored by the world's largest betting exchange which is of course www.betfair.com. It is played during the month of July, uses a legs format and carries a £400,000 prize fund.
World Grand Prix – is an annual darts tournament that was founded in 1998 and was hosted its first two years in England. The event then moved to Ireland and since 2000 has been hosted at the Citywest Hotel in Dublin. This uses a sets format as opposed to legs. Also the opening rounds are shorter and can lead to some upsets. There is also a "double in, double out" rule. Understand this is a major tournament with a £350,000 prize pool. Be sure you understand the rules because while Phil Taylor has won this 10 out 15 years, it is still a tournament where upsets do happen and bettors should be prepared for this.
UK Open – This tournament began in 2003 and is a 128-man elimination tournament broadcast in June and held annually. The venue is Reebok Stadium in Bolton, Greater Manchester, England and the prize pool is an impressive £200,000. This tournament has quite an impressive history you can read about in Wikipedia entry: UK Open darts. Also via that same link you can learn why this is nicknamed the FA Cup of Darts.
European Championship – This tournament was founded in 2005 and is a competition between the top 32 players in the PDC Order of Merit. It is hosted at RWE-Sporthalle in Mülheim, Germany using a legs format and carries a £200,000 prize fund. This annual event generally is held late July to early August though those months are not set. The first four times the tournament was won by Phil Taylor before the 2012 tournament was won by Simon Whitlock of Australia.
Championship League Darts – this league was founded in 2008 as the first darts tournament solely broadcast on and funded by Internet distribution. It is held every year in October or September. It follows a format similar to the Premier League but has a unique feature in that it allows players outside of the top 8 a chance to compete. It's venue is Crondon Park GC in Stock, Essex, England and it carries a £189,000 prize fund.
PDC World Cup of Darts – This is a new tournament that was started in 2010 and held again in 2012. It replaces the Jocky Wilson Cup, uses a legs format, and has a £150,000 prize fund. Understand unlike all other competitions listed on this page this is a national tournament. In 2010 it was hosted in England and won by Holland. In 2012 it was hosted in Germany and won by England. No details are known at the time of this article when or where the next PDC World Cup of Darts will be held.
PDC Pro Tour Events
The PDC Pro Tour consists of several tournaments competed in by 128 players holding a tour card. Cards are issued to the top 64 of the PDC Order of Merit, the top 20 non-qualified from the previous year's school, top 2 junior players and top 24 from the current year's qualifying school. The remaining cards are first granted to any non-qualified players who reached the semi-finals of the Women's World Championship, BDO World Championship, and PDC World Youth Championship. A tournament is held at the current year's qualifying school award the final cards.
Bookmakers do not provide odds on all PDC Pro Tour matches. Each installment of the Players Championships and the UK Open Qualifier hold a £34,600 prize fund, are fully professional, but are not covered by bookmakers. The PDC Pro Tour events actually covered by bookies come from the European Tour which includes:
Austrian Darts (Vienna, Austria)
German Darts Championship (Berlin, Germany)
European Darts Open (Düsseldorf, Germany)
German Darts Masters (Stuttgart, Germany)
Dutch Darts Masters (Nuland, Netherlands)
Each of the above European Tour events carries an £82,100 prize fund. With so many competitors these are some of the better darts tournaments to bet online as you can study some of the lower ranked players.
British Darts Organisation (BDO)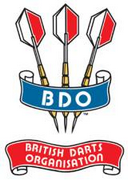 The British Darts Organisation was founded in 1973 and was originally the primary organiser of professional darts. In 1994 there was a breakaway by several professional players that formed the Professional Darts Corporation (PDC) but still the two organisers moved forward co-existing. While PDC now has long been the main organiser the two were competitive up until about 6-years ago. Today more and more players have left BDO for PDC. BDO does however still have three major tournaments covered by online bookmakers. A short summary of each is provided below.
BDO World Championship – is an annual darts tournament using a sets format that began in 1978. It was the only world championship until the PDC began staging its own in 1994. The tournament is now held in January each year at Lakeside Country Club in Frimley Green, Surrey, England. For the 2013 BDO World Championship the prize fund was £283,000. This broke down as Champion: £125,000, Runner-Up: £30,000, Semi-Finalists (2): £11,000, Quarter-Finalists (4): £6,000, Last 16 (8): £4,250 and Last 32 (16): £3,000. A small tip, the opening rounds are announced months in advanced. www.comeon.com is the one bookmaker that takes advantage of that. There you can find odds in November for the opening round of the championship to be held in early January.
BDO World Championship Women – hosted at the same venue and time as the tournament mentioned above this is an annual women's darts championship that was started in 2001. It has been dominated by English player Trina Gullive who won it the first 7 years. Of the tournament's first eleven instalments she won 9 times and finished runner up the other two. The only other players to have won are Russian player Anastasia Dobromyslova who won twice (2008 and 2012) and Francis Hoenselaar of Holland who won in 2009. The 2013 BDO World Championship Women had a £16,000 prize fund awarded as Champion: £12,000, Runner-Up: £2,000, Semi-Finalists (2): £1,000 and Quarter-Finalists (4): £500. While several bookmakers cover the finals, 888Sport is the only that gives it decent coverage and has many markets available for online betting.
World Masters – held annually at Hull City Hall in Kingston upon Hull, Yorkshire England, this is the final tournament on our list of BDO organised darts competitions that can be bet online. It is the longest running competition in the sport, launched in 1974, which was four years before the start of the BDO World Championship. It has been sponsored by Darts board manufacturer Winmau for more than 30 years whose contact was recently extended to 2015. It is held annually in October with the winner prestigiously referred to as the World Master and awarded the Challenge Trophy for one year. In 2012 the prize pool was increased to £70,500. Despite its historical prestige I only know of only five betting sites offering odds on this tournament. Those are 888Sport, BlueSquare, ComeOn, Sportingbet and Betfair which is an online betting exchange.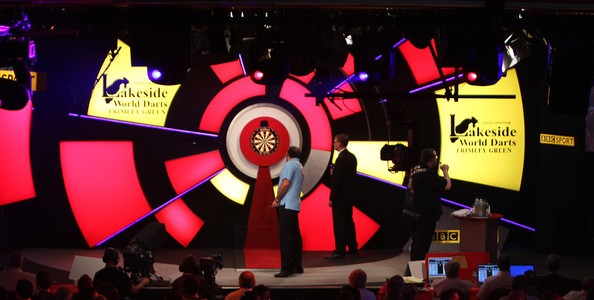 In spite of being seen as the 2nd string of professional darts, the BDO World Championships is a sellout every year with massive crowds flocking to the Lakeside Country Club to watch the darts
Darts Betting Strategy
The extent of darts betting strategy articles found on the net are mostly as simple as saying bet on The Power, Phil Taylor. This man has dominated the sport since he entered it 1990 and his list of accomplishments do speak loudly. His play is near flawless! Whilst chances are betting every match of his career was profitable, born in 1960 he is now into his 50s and is likely to soon lose some of his prowess. Though hard to bet against him, going forward the chances are this probably will be a profitable strategy.
There is a good reason not too much more than this has been written about darts betting strategy. Those making the money betting darts are not doing so betting match winner. The most value lies in what are known as prop betting markets such as highest checkout, most 180's, nine dart finishes and the likes. The reason why is because bookmakers do not take too much action on these markets and use very lazy handicapping to set the odds. You can find considerable value by gathering as much historical data as you can on new players on the scene. The players to focus on are those ranking mid of the pack from the current year's qualifying school. These players are likely to keep a card for at least two seasons. Studying their tendencies and strategy used in matches can provide insight on how to bet the many dart prop bet markets.
If you do bet match winner it's best to look at tournaments where the rules and formats differ. For example the World Grand Prix has a much different structure and rules set than most PDC and BDO competitions. This is one where upsets happen more often in early rounds, and surviving skill players usually finish strong in the end. While the advice I'm giving here is generic, understand I'm competing in the darts market as well.
The tip I'll give you is the bookmakers often use the same odds of high, mid, low when setting markets such as highest checkout and total 180s. Look for matches where a very low number is expected and bet the under, and look for matches where a high occurrence is probable and bet the over. If you spend the time researching historical data, you'll likely spot what I'm referring to here. If I gave this info out for free the bookmakers would adjust and the opportunities will dry up.
So while it will take a little work piecing this together, for the few reading this that do, you'll likely be rewarded for it and then in retrospect be happy I didn't post the exact how to in this article. All this said we at OnlineGambling.co wish you the best of luck betting darts online. As a final tip if you're merely a recreational bettor, the given should always be shopping for the best odds possible. As a wise man known as tech once said "I know far more winning odds shoppers than I do handicappers". Again, best of luck with all of your darts wagers this season and beyond.