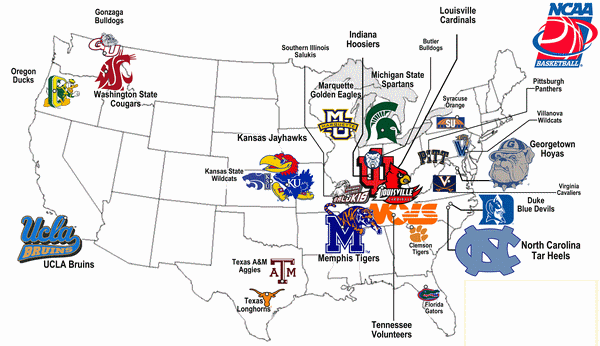 This shows the APs top 25 from 2007, but there are an incredible 341 teams that compete across the country in college basketball
College basketball betting refers to wagering NCAA Division 1 basketball from the United States. This has 341 teams fielded, one each, from American universities, colleges, and military academies. 339 teams are a member of one of the 31 NCAA conferences, while two are independent.
For the regular season most teams play a minimum of 28 games, and can play up to 3 more by advancing in whichever in-season tournament they participate in. When also factoring in their end of the season conference tournament plus NIT or Big Dance, teams finish the season having played 28-40 games each.
This is one of the many reasons college basketball is so intriguing. While the exact number varies by year, last season the Division 1 teams combined to participate in 5,749 games. For comparison purposes, note that the NBA has 1290 to 1335 games per season. The bigger difference is that NBA has only 30 teams to follow and college basketball has a whopping 341.
The fact NCAA basketball involves so many teams/games provides punters an advantage not found in other sports. I'll get to that later in this article when I cover betting strategy. First for the benefit of new players I'll discuss where to bet online, the wagering options, and March Madness brackets.
Betting College Basketball Online
If you're a recreational sports gambler and can only afford to fund one online sportsbook for your NCAA bets, your best choice is the top option on the list below. Because college basketball odds vary between sportsbooks more so than in other sports, it is advised you join at least three online sportsbooks and always shop the prices before making bets. The ones I most recommend are listed below.
Top Betting Sites
Rank

Sportsbook

Why We Like'em

1

Offers NCAA basketball point spreads and totals at risk $1.05 to win $1 instead of the $1.10 to win $1 charged by other betting sites.

2

The first site to post lines for college hoops, has reloads for March Madness and runs the most popular NCAA bracket pool.

3

Has many off market point spreads on underdogs, and a Bracket Buster contest each year.

4

Is competitive with Bookmaker for early lines, and has awesome March Madness promotions.
How to Wager on College Basketball
There are three primary ways college basketball is bet. The simplest form of wagering is not the most common. This is moneyline betting which is a wager on which team will the game. To use an actual example in the 2012-2013 season there was a game where 5Dimes had Kentucky -294 vs. Baylor +254. This means bettors needed to risk $2.94 for each $1.00 of potential win on Kentucky where on Baylor every $1.00 staked would earn $2.54 if Baylor won the game. This form of betting is not too popular because most sports bettors prefer wagering at closer to even money odds.
Point Spread Betting
The more popular way college basketball is wagered is with a point spread. In this game the spread was Kentucky -6.5 / Baylor +6.5. This meant if you were betting on Kentucky they needed to win by 7 points or more otherwise the wager was a loss. Those betting Baylor +6.5 could win by Baylor losing the game by 6 point or less or by Baylor winning the game outright. This is just an example; the actual point spreads differ by game but are clearly listed with the online betting site. This form of wagering uses a handicap that is designed to create a 50/50 wagering opportunity.
Although the odds of a point spread bet winning are most often 50%, the bookmakers do not sell these bets at even money as they need to make a profit. At most online sportsbooks point spread bets are offered at American odds -110. This means your winnings are stake divided by 1.1. For example: $100/1.1=$90.91. In other words, no matter if you choose the favorite that is minus points or the underdog that is plus points a $100 stake will return $190.91 (your $100 stake + $90.91 winnings).
An exception comes from www.5dimes.eu. On game day they offer a check box on their menu titled "reduced". If you select this you'll find point spread bets offered at -105. Here a $100 bet winning returns $95.23 instead of $90.91 elsewhere. That added difference over time can add up significantly.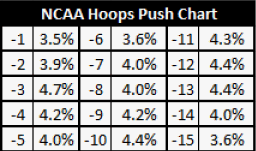 The most important advice I can give to a casual sports bettors is the importance of shopping the odds. Point spread are a 50/50 proposition, but betting at -110 you need to win 52.38% of your wagers to average break even over the long haul. Notice on the push chart I supplied to the left, historically every single point spread has pushed well over the 2.38% difference between the true odds and the odds the bookmaker offers.
I'll tell you back tested and well proven, if in shopping the odds you can find half a point better than the consensus point spread (meaning the point spread most every other site is offering) on all your bets, you'll be almost a break even player even if you are just betting your favorite team blindly. If you always bet with 1 point better, manage you bankroll and never chase, it is near impossible to lose long term. It sincerely does make that much of a difference! This why it is strongly advised you use as many betting sites as possible. I can't possibly stress the importance of shopping point spreads enough.
For more serious bettors you can also find other ways to use this push chart supplied by reading my article on point spread betting, article on buying half-points, and article on basketball teasers. A small tip for advanced bettors www.betonline.ag allows the highest number of points to be purchased at 10 cent each. There are many scenarios where purchasing four half points to bet 2 points better at -150 is +EV for college hoops. Also for anyone new to the fact betting functions like a market read this article and note, www.bovada.lv offers many off-market prices on NCAA underdogs.
Total Betting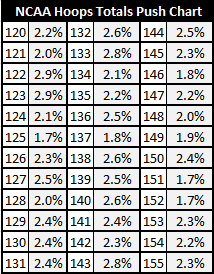 Another popular way to bet NCAA basketball is total betting. In this form of wagering the bookmaker posts a total which represent the odds makers prediction of how many points both teams will combine to score in a game. The wagering options here are simple. You can bet under the total, or over the total. The same as point spreads this is designed to be a 50/50 betting proposition, the bookmakers mostly charge -110, but 5Dimes on game day offers -105 when selecting the reduced tab on their betting menu.
Understand the same advice I mentioned in the previous section about beating point spreads by a half point makes you almost a break even player does not apply to total betting.
If you're serious about beating this market you can read this guide I wrote on total betting and also use the college basketball totals push chart I supplied to the left. Understand however this provided push chart reflects a lot of historical variance. For the most part, college games should score the same total as the bookmaker sets around 2.3% of the time. There is also the issue that while there is likely an efficient betting market for totals on games from the ACC, Big Ten, and Big East, I'd be careful relying on market prices for Metro Atlantic, Horizon League, Missouri Valley and similar conferences that don't attract much betting action.
College Basketball Betting Strategy
Already in this section I've linked to several strategy articles that can be applied to college hoops. The one unique strategy that deserves mention is focusing on smaller conferences.
While in the 1990's this sounded baller, in 2013 it might seem odd to some. I actually know guys that team to scout and follow the Southland conference. They attend every game and keep their own score card of rebounds, shot attempts, free throws and all other data.
What I've learned from them that is amazing, and also applies to even some of the bit larger (though not the biggest) conferences is the stats found on ESPN, Yahoo! Sports etc are often wrong. For many of the games 10 or more rebounds simply don't appear in the stats, the shooting percentages are all wrong too.
If you understand basic handicapping there is advantages to be had focusing on the small conferences. There are 341 teams and betting odds can be found at least somewhere on the majority of the games. There's not a lot of edge to be had handicapping ACC, Big Ten, and Big East the same say there is to be had in the lesser wagered conferences.
I do however have a strategy for betting the popular conferences. When a team ranked in the top 25 is an underdog on the road against unranked opponent, bet against them 100% of the time. This has been a profitable strategy for many years. The bookmakers know they are going to take lots of bets on the ranked team and are still willing to make them an underdog. This is another scenario that seems odd to still work in 2013, but the fact remains to date this is one the most profitable simple betting systems in college sports.
March Madness Betting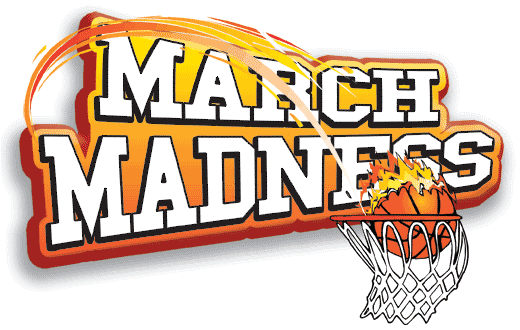 March Madness is one of the most bet on events in the USA
Of course any article on college basketball betting that does not cover March Madness is probably not going to be too popular. This is one time of the year that most all of America becomes sports bettors. Individuals who bet no other time of the year get to filling out their brackets for the season ending tournaments. Heck, even Barack Obama's bracket picks have been national news every year since he has been President of the United States.
In case you're lost at what I'm referring to I'll explain. At the end of the season the 31 conference winners and 37 additional teams awarded at-large berths by an NCAA selection committee participate in a tournament to decide the National Champion. This starts with the teams divided into four regions. They are seeded with #1 being the best, #2 second best etc. The bottom two teams from each region play in the first round to decide which gets the #16 seed. The round of 64 begins the next day.
The round of 64 sees the high seeded teams play low seeded teams. Specifically each region has 1 vs. 16, 2 vs. 15, 3 vs. 14, 4 vs. 13, 5 vs. 12, 6 vs. 11, 7 vs. 10, and 8 vs.9. This is structured in such a way that if the highest seeded teams all win out the sweet 16 round will have 1 vs. 4 and 2 vs. 3 in each region. The elite 8 would have 1 vs. 2. All the #1 seeds would reach the final four. This however never happens as lots of upsets occur in March Madness, which are referred to as bracket busters.
The neat part about the college basketball tournament is it is single elimination and the brackets are fixed. For example, if the 16 seed knocks off the 1 seed (this has never happened before) they will play the same team in the next round that the 1 seed would have played. This creates the opportunity for a wagering competition called bracket pools.
www.bookmaker.eu is one of many online betting sites that offers a paid entry pool ($10 per) that has a massive payout to the winner. There are also free bracket pools hosted by Yahoo! Sports, CBS, and other similar websites. You'll find many employers run them as well which is where the term office pool originates. Local bars are other places to find the same. If you do not already know multiple sources to play a bracket pool perhaps you just moved to America, or sincerely need to get out more. But, if that is the case, head to Bookmaker.eu before the 2013 March Madness tournament begins and grab a couple brackets.
In fact also return here. When the brackets first come out, I'm sure my associates at Online Gambling will post a copy. I'll then walk you through some expert March Madness bracketology to help improve your chances at a big score for the 2013 March Madness tournament.