Live betting, also called in-play or in-running betting, is the process of making bets on a match while it is still in progress. This has become the most popular way football (soccer) is wagered online. There are UK bookmakers offering live streams, Asian bookies offering industry leading odds, and peer to peer betting exchanges where in-play trading can be done similar to stock trades. I'll discuss these bet sources in this article. First, if you are in a hurry to join a site offering in-play betting, the websites below are strongly suggested.
Live Betting from United States
There are only three reputable US bookies that offer live betting interfaces. www.5dimes.eu is a fourth option. They cover all the nationally televised baseball, basketball, football and hockey games and also offer in-play betting on UFC and boxing. The upside is they offer better odds than the other sites listed here. The downsides are live betting at 5Dimes is simply refreshing a screen during commercial breaks and for the most part in-game props are not on offer. The websites that actually feature advanced in-play software with auto-updating odds and many props are those listed below.
Wanna Bet In Play? Look No Further!
Rank

Sportsbook

Why We Like'em

1

Offers main markets but also prop betting on the next pitch, at bat, drive, series or play for all nationally televised US sports.

2

Has the highest in-play betting limits for point spreads, totals and moneylines for all games nationally televised in the US.

3

Offers many sports other US betting sites do not. For example, BOL is one of the only US friendly sites offering in-play tennis bets.
Understand that the above list is exclusive. The only other US sportsbook I know of with auto updating odds on an advanced interface is WSEX which is not a reputable company. The companies above have all been in business over 10-years and have great track records for payouts and dispute resolution. The remainder of this article is written for a non US audience where more options for this form of wagering exist.
Live Sports Streams
One of the features recreational punters most enjoy with online betting is live streams. They stream over 40,000 sports matches per year and each stream is licensed by the specific sport league. This means no ads, malware or other threats to deal with and all streams are of the highest quality.
This comes in handy for prop betting fast paced sports such as tennis, table tennis, badminton, and volleyball where it is possible to make wagers on each and every serve. You can bet next point, next game winner, match winner, races to a certain number of points and can wager many additional markets.
They were established in 1974 originally owning betting shops in the UK branded Provincial Racing. They have since moved their business online and have become the largest internet betting site. They are licensed in the United Kingdom, Gibraltar, Australia and other countries. Their website is available in over a dozen languages and two dozen currencies. They own the English Premier League franchise Stoke City FC. Based in Stoke, they are the UK's seventh largest private employer.
For players betting in GBP this is up to £100 maximum. There are options for most all other currencies too.
To access their live player log into your account and on the very top (toward the right side) click "live streaming". From here you can sort by sports such as badminton, basketball, bowls, darts, handball, ice hockey, snooker, soccer, squash, table tennis, and volleyball. For all matches they stream there are dozens of wagering options, including match winner, totals, and in-running props.
Live Betting Football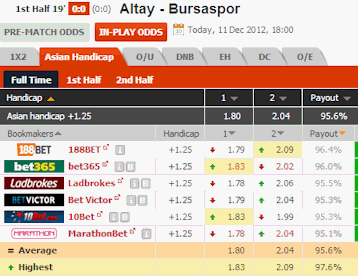 If you are a serious punter focused on football, and by this I mean the version played with one's foot (soccer), you can find more in-play value using Asian bookies. The image shown right comes from the popular odds comparison site Odds Portal. These were the Asian handicap odds 19 minutes into the 2012-2013 Turkish Cup football match Altay v Bursaspor. Notice the odds are sorted by payout percentage and Asian bookie 188bet is on top. Due to the reason that Asian sites operate with lower margins than the European sites, you will find these sites always have the best odds for at least one side of the match.
You don't need to live in Asia to use Asian bookies. www.188bet.com offers UK punters a £25 risk free bet. They have been Premier League shirt sponsors in the past, and this only ended due to Bolton's relegation. They are currently principle sponsors of England's northern premiership rugby union team the Newcastle Falcons, and are official betting partners of football's Aston Villa, Chelsea, Liverpool and Everton. They are licensed in the Isle of Man, which is a British Crown dependency, by the same gambling commission that licenses the largest internet poker site PokerStars.com.
Using Betfair Betting Exchange
Another option for live betting is using betting exchanges, of which www.betfair.com is the most popular. This is peer to peer betting, meaning you place wagers against other users of the exchange rather than with a bookmaker.
Below is a wager I made on a friendly match seconds after GKS Bełchatów netted the game's first goal 3 minutes in.

A screenshot of Betfair's in running betting options for a football match.
On the wagering menu above, the column "back" refers to betting on a team to win. In this example, if you were looking to bet GKS Bełchatów you'll find that $4 on 1.73 odds, $333 on 1.72 odds and $604 on 1.7 odds have already been made available by other users of the exchange. If I want to wager any of those, in this case, it works just the same as betting with a bookie. Enter the bet, and click confirm. Your bet is now pending and the amount on GKS Bełchatów available to other users is reduced by the amount you bet.
If you were not interested in the odds shown, another option was entering a bet on GKS Bełchatów at 1.73 (or higher). By doing this you would end up with an unmatched bet that is added to a queue. When another user clicks lay (which means bet against) on GKS Bełchatów and gives 1.73 or better, if it is your turn in the queue, all or some of your bet becomes matched. Until that time, the bet remains unmatched and can be cancelled with the click of a button.
Back to the match I bet 3 minutes in: come the 44 minute mark GKS Bełchatów was up by two goals. In this image you can see another neat feature of Betfair called the cash out button. Originally I had bet $100 to win $72.00 profit. Now up two goals and approaching half time, the odds have shifted to the point I could lay GKS Bełchatów and lock in $45.41 profit. The cash out button simply does the math for me. This makes my stake instantly available and the guaranteed profit is paid when the match finishes.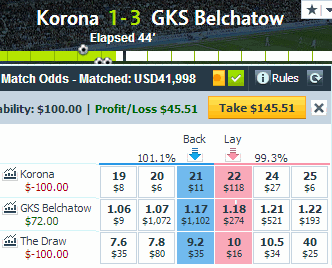 Betfair's interface has an awesome option for hedging a bet in order to guarantee profit.
The beauty of live in-play betting on the Betfair exchange is it is possible to make backs (bet on) and lays (bet against) throughout a match in an attempt to earn a profit before the match is even decided. While doing the same is possible at Bookmakers the odds are always shorter because the bookmakers charge vig. At Betfair all trading is done before vig, so you are getting odds that do include the markup bookmakers charge. Also at bookmakers you need the stake available to bet both sides. At Betfair the same stake can be used twice as the two bets offset. That said, at Betfair there still is vig. This is a small 2-5% commission (depending on lifetime volume). However, this is only paid on your net profit that results from all trading on this market. So in short, trade vig free, and pay commission only on the amount you come out ahead.
Betfair Trading Strategies
There are many different strategies that can be used to gain an advantage trading sports in-play at Betfair. One novice system well discussed is laying the draw (betting against the draw) at the start of a soccer match. When doing this, you are hoping there is a goal scored early because the chances of a draw decrease greatly once the first goal is scored. The plan is to lay the draw at the start and then back the draw for a guaranteed profit after the first goal. For this the cash out button can be used.
The lay the draw strategy has been perfected by a fair number of smart bettors and when done correctly can be profitable. However, any strategy that involves no handicapping is risky. You may find the market prices after scores are not averaging out enough that you are offsetting bore draws (0-0 draws). It is also near guaranteed at some point you will hit a streak of scoreless games
For casual bettors a system I like better involves watching the start of small market football matches. Specifically what I'm looking for is games that meet these criteria:
The match does not involve any team from the 10 most popular European football leagues.
One team is a considerable prematch favorite to win.
The total market reflects the game is likely to go over 2.5 goals
From here I simply watch the first 12-14 minutes of the match and before it reaches the 15 minute mark if the pace is slower than expected I lay over 2.5 goals (bet against).
The most risky part of this strategy is I'm often doing this on matches that have low liquidity. This means cashing out is not always possible. The reason I like this system is a lot of the users betting random matches in-play are just pure gambling on the favorite and the over without watching the match. With hardly any liquidity the smartest punters are mostly kept at bay and don't bother with these matches. A good 80% of the time there will be at least one chance to cash out at some point in the match. In the times there is not it still averages out. So all that it is important is bankroll management here.
Another system is looking for heavy favorites that are known to get off to a slow start. You lay them to start and then back them once they start slow as expected. There are countless simple systems like this that can be employed and I've only discussed football. Tennis betting has many strategies that play on momentum. In-play cricket betting is very popular at Betfair. They get a lot of action from India and Pakistan where punters often are looking to bet on the current favorite. As a result many +EV bets exist on the other side. Tournament winner for golf is another market Betfair excels in. By now you should at least understand the idea and can work on developing your own trading strategies in time.