Beach Volleyball is a rather new sport that was invented in the United States. It has only been relevant on the professional level since the 1980s and has been an Olympic event since 1996. The sport didn't even have a World Cup until the 2013 Beach Volleyball World Cup held January 9-13, 2013 in Brazil. Although still a developing one, it is a fun and exciting sport for betting. There are a number of websites that offer betting odds on beach volleyball matches the best of which are listed below this section.
Of the sites below, Bet365 (no US players) is the most exciting. They live stream many matches right from their website and accept bets on them while the match is in play. For players living in the United States, understand while the US is Brazil's strongest competitor, the sport is not too popular for betting here. That said, www.5dimes.eu is a US friendly sportsbook that does offer odds on the most popular beach volleyball competitions such as the Olympics and finals of Grand Slam events.
In this article I'll provide a quick summary of the major beach volleyball tournaments that online bookies offer betting odds for. I'll then conclude with a bit on how the sport is bet and a few handicapping tips.
FIVB Beach Volleyball SWATCH World Tour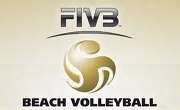 While there are bigger events such as the Olympics and now a World Cup, when it comes to the annual beach volleyball season, no tournaments are more followed than those part of the FIVB Beach Volleyball SWATCH World Tour. This tour started back in 1989 as a competition between only Brazil, Japan and Italy. Now it is massive and features eight Grand Slams, 51 participating countries, 1500 registered athletes and $7.4 million in prize money. This is the series online bookies take the most bets on.
The season runs April to October with the following Grand Slams on the annual schedule:
Shanghai Grand Slam (China)
Bejing Grand Slam (China)
Moscow Grand Slam (Russia)
Smart Grand Slam Rome (Italy)
1to1 Energy Grand Slam (Switzerland)
Smart Grand Slam Berlin 2012 (Germany)
A1 Grand Slam (Austria)
Mazury Orlen Grand Slam (Poland)
Each Grand Slam involves both a men's and women's tournament. In addition to the Grand Slams there are Opens included on the calendar as well. In both men's and women's format is the Brasilia Open (Brazil) that generally kicks off the season. On the men's only side there is the Silesia Open (Poland) and Patria Direct Prague Open (Czech Republic). For the women's only side there is the Olympic Bay Sanya Open (China), Paf Open (Finland) and the Thailand Open which concludes the season and has changed cities several times, most recently from Phuket to Bangsaen.
The difference between Grand Slams and Opens is higher prize money and more points towards the World Tour Points Championship are awarded for the Grand Slams. As you can see from this Wikipedia entry, there are several awards that are highly contested. While the United States has had success on this tour, Brazil is the sports dominate nation. A final note on this topic: www.bet365.com is one of the few online bookies offering betting for all matches of the tour. This includes expected lopsided ones, and even early loser bracket matches. Many other bookies only cover popular matches and the finals.
Domestic Beach Volleyball Tours
Domestic beach volleyball doesn't get a large amount of attention from online betting sites. However, serious punters can often find value following these tours. It is also exciting for locals attending the matches to get a little action down at online betting sites. The two tours most worth mentioning come from Switzerland and Germany.

Coop Beach Tour (CBT) – This is an annual tour that hosts beach volleyball tournaments in several cities across Switzerland. The website is not in English but if need be you can use Google translate to get dates, results, tournament news, player news and more at www.coopbeachtour.ch. The two bookies I know of that offer betting odds on Switzerland CBT beach volleyball are www.bwin.com and www.interwetten.com. Again, no other sites I know of cover this tour.

Smart Beach Tour (SBT) – This is a German beach volleyball tour held annually that is well organized. For that reason you'll find a few more websites offering odds on its matches. www.bet365.com and www.bwin.com have the most coverage of early matches. Other sites covering it include bet-at-home, Interwetten and Tipico. Also for the finals of each tournament you can find odds at Pinnacle Sports as well. You can follow all sorts of SBT news and get the calendar of events at www.smart-beach-tour.de.
European Beach Volleyball
Confédération Européenne de Volley-ball (CEV) is based in Luxembourg and is the regional governing body for volleyball in Europe. They have a section of their website that covers CEV Beach Volleyball in English (refer to the top menu). Here you can find several competitions, not all of which are covered by online sportsbooks. The European Championship and CEV Continental Cup are the most popular for betting.
For any events you find on the CEV website www.bet365.com is the most likely to offer betting odds. The second and third most likely are BWIN and Interwetten. Understand CEV competitions outside of the European Championship are not too popular with punters. That said some of the CEV events Bet365 recently offered odds for all matches of include the Baden Masters and Baden Satellite (Austria), Novi Sad Masters (Serbia), Varna Challenger/Masters (Bulgaria), Vaduz Satellite (Liechtenstein), Umag Satellite (Croatia) and Lausanne Satellite (Switzerland).
Most Prestigious Events
Winning an Olympic gold medal is considered the top award in beach volleyball. Winning a FIVB World Championship and winning the point race on the Swatch FIVB World Tour for many years were considered the second and third greatest accomplishment. The World Cup is still new, debuted in January 2013, and it is unclear where this will fall in the order of greatest accomplishments. While in other sports it is considered the top prize, the World Championship has a much longer history, and winning the point race is the most profitable and the hardest to accomplish. Regardless of where they all align there's no disputing the Olympics is #1. For the Olympics, be sure to check US friendly sportsbook www.5dimes.eu as they have on average the best odds for Olympic Beach Volleyball.
How to Bet Beach Volleyball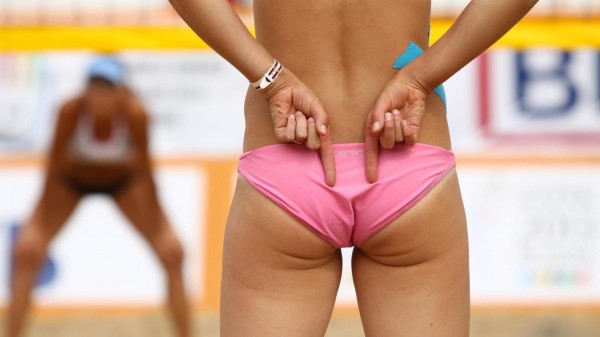 It's no surprise that women's beach volleyball is a popular spectator sport
The most common way beach volleyball is bet is a wager on which team will the match. As one team is often heavily favored over another the odds the bookies offer reflect this. Some of these matches are quite lopsided. For example: early in the 2012 Olympics the men's event had Todd Rogers / Phil Dalhausser from USA matched up against Kentaro Asahi and Katsuhiro Shiratori from Japan. The American team was so heavily favored many betting sites did not even post odds. Of the ones that did, most had Rogers/ Dalhausser at odds 1.01 which is stake 100€ to win just 1€ profit. They of course did win easily, 21-15 and 21-16 to take the match in 2 sets.
Another option for betting beach volleyball is the set handicap. This is offered mostly by Asian bookies such as 188bet, Dafa and SBO (note: Europeans can use Asian bookies too). For this same match we were just discussing: Todd Rogers / Phil Dalhausser were offered at -1.5 sets odds 1.14. This means the same €100 stake returned €14 profit instead of €1. The tradeoff is to win this bet the American team needed to win the first two sets. In this case they did, and betting it this way yielded 14 times more profit.
Yet another way to bet beach volleyball is over/under wagering. This is a bet on the total number of points scored in the match (counting points from all sets played). For the Olympic match we've been discussing, Bet365 had the line set at over 71.5 2.00 odds / under 71.5 1.76 odds. In this case the match scored 73 points and therefore over bettors doubled their stake, while under bettors lost their full stake.
There are several other betting options as well. For major competitions you can find first set betting. This is generally just a wager on which team will win the first set. Sometimes you can find a first set betting market with a point handicap and also a market for over/under betting points scored in the first set.
Note that for less popular competitions you might find it is only possible to bet match winner. This of course is unless the game is streamed at www.bet365.com. For the many matches they stream you can find many live in-play markets. Here you can bet on races to 5, 10, and 15, which team will be leading after 5, 10 and 15 points, the result of each serve, and which team will win the current set. No doubt Bet365 (no US players) is the site most will want to turn to for betting beach volleyball in-play.
Handicapping Tips
Not quite ready to bet? Take in some highlights from womens beach volleyball over the last few years
The only advice I have for betting before a match begins is to shop multiple online bookies and evaluate all options. The odds often vary greatly between betting websites. In the example I mentioned earlier where the American team was odds 1.01 at most every site, BWIN actually had them at 1.02. I almost bet this thinking it was too good to be true, but then searching even further I found PAF had 1.03. Also what I spotted was PAF had odds 1.16 on correct score 2-0. Remember the best odds on set handicap were -1.5 sets at 1.14 odds. The only way to cover a -1.5 set handicap is to win 2-0. So by shopping it listed a different way I was able to find better odds. The key to prematch betting is to shop the odds the best you can and to evaluate all options.
The biggest tip I can give relates to live betting. A great idea is to have a Bet365 account funded with $5.00 or more. When you have an account funded, log-in and click live streaming. This will open a standalone video player with a full schedule of upcoming live streams. The best idea is to pick a few teams and learn them inside and out. What you are mostly looking for is how teams react. When they are up big do they casual finish their opponents off, or do they stay aggressive. When they are frustrated and things are not going their way do they bounce back quickly or not? Where this comes in handy is live betting. The computer setting the odds does not take human factors into consideration. When there's a momentum change it is easy to fall into the trap of betting based on what the eye can see. However, to profit the most having a good memory of how teams have responded in the past helps a great deal.
The final tip I'll give you is live betting can be addictive and even good players get overconfident or sometimes tilt off way more than they can afford to lose. It's very important to keep your head as beach volleyball is a sport where some upsets do occur. All this said, I wish you the best of luck betting beach volleyball online.