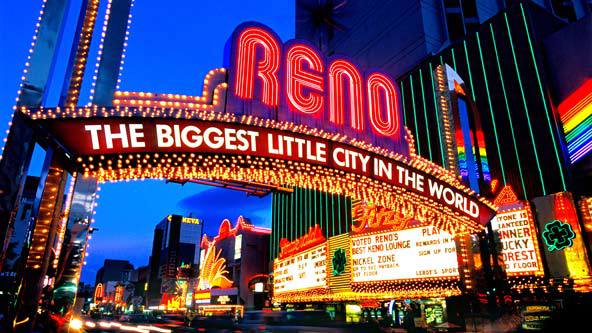 The bright lights of Reno greet visitors to the world's biggest little city
Reno bills itself as "The Biggest Little City in the World," and is the original home of Harrah's Entertainment, the world's largest gambling corporation. Reno's first boom came in the 1930s, both thanks to the legalization of gambling in Nevada, as well as the liberalization of local divorce laws, which made it a popular place to visit to end a marriage!
At one time, Reno was the largest gambling center in the United States; however, it has long since been surpassed by both Las Vegas and Atlantic City. However, it's still a very popular tourism destination, especially for those in Northern California who can much more conveniently visit Reno than Las Vegas. There are also other nearby locations that add to the tourist appeal, such as Lake Tahoe, which is within easy driving distance, and the neighboring city of Sparks, which also houses several casinos.
There are more than a dozen casinos in Reno proper. While they're not as glamorous on the whole as their Las Vegas counterparts, they're also more affordable, and there are plenty of places in Reno to have a great time. For those looking to explore the surrounding area, there are also casinos in both Sparks and Lake Tahoe.
Atlantis Casino
Opened in 1972, the Atlantis Casino is one of the nicer resorts in Reno, featuring over 1,000 guest rooms and the city's only concierge tower. Most rooms have been renovated in the past 10-15 years, and additional expansions to the complex are expected soon. The rooms, especially those in the concierge tower, are among the best in Reno – and you won't have to pay through the nose to stay in them, either.
The casino offers a wide variety of cheap gaming options, with table games starting at minimums as low as $3, though $5 minimums are more common. There are a ton of slot machines and video poker at many denominations, with some excellent full-pay video poker machines at higher limits (a quarter and up).
There's a poker room at the Atlantis with nine tables that deals a variety of Texas Hold'em games, from no-limit to limit and even the occasional spread limit game. There are daily poker tournaments, too. Keep in mind that this isn't a place you can play all night, however; games usually start at around 10 in the morning each day.
Since you're in Nevada, remember that Reno has sports betting too! The Atlantis has a nice sportsbook, though it's a bit on the small side. You can bet on either horse racing or sports, with the room split pretty evenly between the two.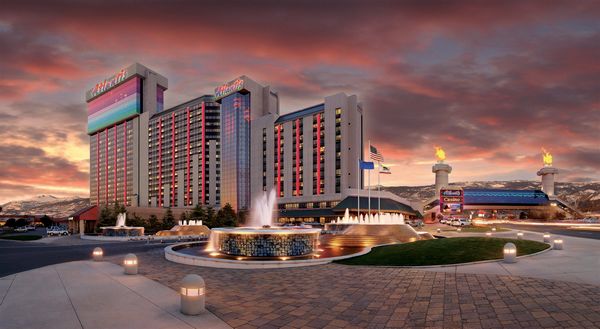 The Atlantis is one of the higher end places to stay and gamble in Reno
Bonanza Casino
This small casino is just that – a casino, with no attached hotel. On the other hand, it's one of the cheapest places to gamble in Reno, with games of craps starting as low as $2, and blackjack at $3. However, those are the only table games they offer, and there are only about ten tables or so of action. There are hundreds of slot machines too, most of which are on the cheap side (nickel and penny slots).
There's a small sportsbook here with a few seats and a couple televisions, though it's really not a place for watching a game; you'll probably just make a bet and then go elsewhere. There's no poker room, but there is a single table that is used each day for a daily poker tournament.
Boomtown Casino
Boomtown Casino is a small, rustic resort near the California border that's home to 318 rooms that are surprisingly well appointed. It's not an upscale hotel by any means, but you'll be comfortable here – if you don't mind being far away from everything else in Reno.
Like most of Reno's casinos, gaming is fairly cheap, with minimums of $5 or less quite common. Blackjack is the most commonly spread game, though there's a variety of other casino favorites offered, too. There's also a good selection of slots and video poker machines available, including some video poker games that offer full pay tables.
The Boomtown poker room is very small, featuring only five tables that almost exclusively spread Texas Hold'em, with the occasional tournament. There's also a small sportsbook (with no betting on horseracing), though it's mostly just a place to make a bet and leave. If you really want to watch a game here, there are a dozen or so seats and a couple of televisions, but there are several places in Reno with bigger sportsbooks.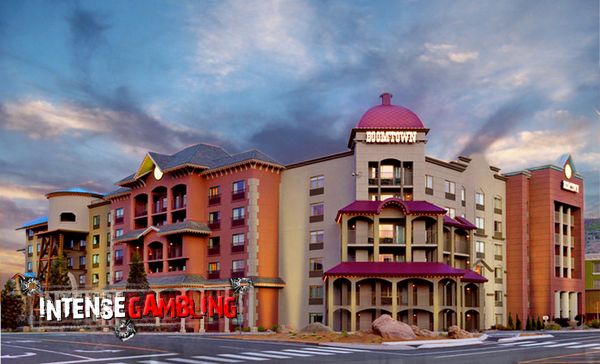 The Boomtown is another small joint full of old school Reno character
Cal-Neva Casino
The Cal Neva Lodge & Casino borders the two states that make up its name. There are just over 200 small rooms that sit in a building across the street from the casino. It's a relatively cheap place to stay, though you're not getting much for your money, either.
In 2010, the casino here was closed, though it was reopened by the end of the year. Minimum bets are pretty typical for the lower-end Reno area casinos, and range from $3-$5. While the slot machine selection is mediocre, Cal-Neva has a reputation for spreading great video poker machines, including a lot with very loose pay tables.
There's a small poker room at the Cal-Neva, with five tables that mostly play limit Texas Hold'em. They also have several tournaments that run each day. There's also a very serviceable sports and race book that has over 50 televisions and 200 seats for watching a game or horse racing.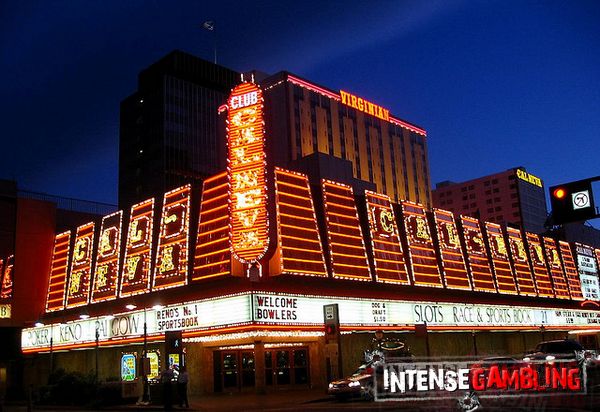 Cal-Neva casino sites right on the border between the states of California and Nevada
Circus Circus Reno Casino
Those familiar with the Las Vegas Strip might expect Circus Circus to provide some of the cheapest gaming and lodging in the area. While the rooms are certainly affordable, they're actually rather nice by Reno's standards. Much like the more well-known Circus Circus, this hotel and casino appeal mainly to families who want something for their children to do while they gamble.
Speaking of gambling, that is one place where Circus Circus is just like its Las Vegas counterpart. Minimum bets on table games sometimes go as low as $1, and there are tons of nickel slots here.
The poker room here is small, but as long as you're not looking for a big game, it's probably adequate. There are only six tables, most of which spread small stakes limit hold'em games.
Occasionally, you'll find Seven Card Stud or a small no-limit game, but these are not common. They also hold daily poker tournaments with small buy-ins.
The sports and race book is located right next to the poker room, and is fairly well-sized compared to most Reno books. It's not the most modern of them, however; the odds and betting options are hand-written, as opposed to the now standard electronic boards. There are around 80 seats in total, and about 25 televisions, so there's a reasonable amount of space for watching a big game.
Eldorado Casino
The Eldorado is one of the more expensive hotel/casinos in Reno, but that's only speaking in relative terms; compared to most resort destinations, it's still quite affordable. The standard rooms here are small for what you'll pay, though there are plenty of deluxe rooms that are more spacious.
The minimum bets are slightly higher there than at many of the casinos we've profiled, but again, they're still fairly low by most standards: you'll usually see most games being played for $5 at a time, with an occasional $10 or higher table as well. There are plenty of slot machines, ranging from pennies through dollar machines.
The poker room at the Eldorado Casino is one of the nicer ones in Reno, with a dozen tables and a couple tournaments that draw large fields. Most of the tables deal Texas Hold'em, both in low-limit and no-limit formats. Omaha games are spread on occasion, too.
You'll find a small sports and race book here too, though it's nothing to write home about. There are around 30 chairs and a dozen or so televisions, but the room isn't really set up with viewing major sporting events in mind.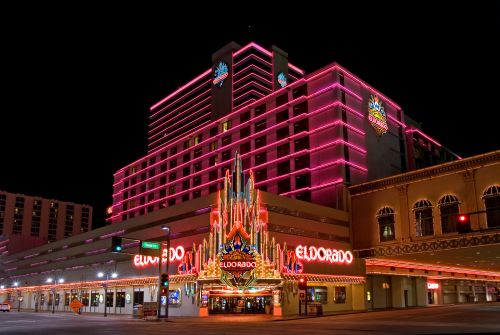 The Eldorado is one of Reno's higher end establishments though is still extremely affordable when compared to Vegas and AC
Gold Dust West Casino
Certainly not one of the more luxurious places to stay in Reno, the Gold Dust West Casino feels more like a motel than a resort destination. Room prices seem in line with many of the other low end hotels in Reno, but considering the combination of small rooms and the tiny casino (more on that in a second), it's hard to call this place a good deal for most tourists.
The casino is more of a slots parlor, as there are no table games available. There's a fair number of slots and video poker machines though, ranging from pennies up to dollar machines. There's a sports and race book here too, though it's small – just a few seats and a handful of televisions – and is mostly devoted to the sports betting side of things.
Grand Sierra Casino
The Grand Sierra Casino is a large resort hotel that includes over 2,000 rooms, a 50-lane bowling alley, shopping and convention centers, a driving range and ten different restaurants. If you're traveling with kids, they'll also love the Fun Quest arcade area which is located below the casino. It is one of the largest resorts in the Reno area, as well as one of the most luxurious. The rooms here aren't cheap, but you won't be paying Vegas Strip prices for them; considering they're larger and come with better amenities than most Reno hotels, they're a good deal.
Most games in the casino start with $5 minimums, which occasionally rise up to the $10 level during busy periods. There are thousands of slot machines, plus a reasonable number of video poker options, including some games with full pay tables.
The poker room here is the typical small-scale affair that's found in most Reno casinos. There are seven tables, which exclusively deal in Texas Hold'em, mostly of the low- stakes no-limit variety. Daily tournaments are also offered.
On the other hand, the Grand Sierra features Reno's biggest sports book, with about 400 seats in total – 300 of which come with individual televisions designed to allow people to watch races as they bet on them. The large size of the room makes it a great place to watch a big event, especially with one very large television that's viewable from anywhere in the room.
Harrah's Reno Casino
Another of the nicest hotels in Reno, Harrah's opened in 1937 but has been renovated as recently as 1999. There are now 950 rooms in the hotel, which are generally small but well-appointed. If you're willing to pay for a suite, however, you'll get some of the best rooms in the city.
Harrah's features one of the most expensive casinos in Reno, but that's not saying much. Most games start at $10 minimums, with some tables going higher during busy periods or for games that attract a higher-end crowd, like baccarat. Slot machines and video poker are available at all denominations, with a high-limit area available for those who really want to gamble.
The poker room is really just an open area with about seven tables, all of which are used to play low-stakes Texas Hold'em. There's also a medium-sized sports and race book that has a couple dozen televisions and around 70 seats.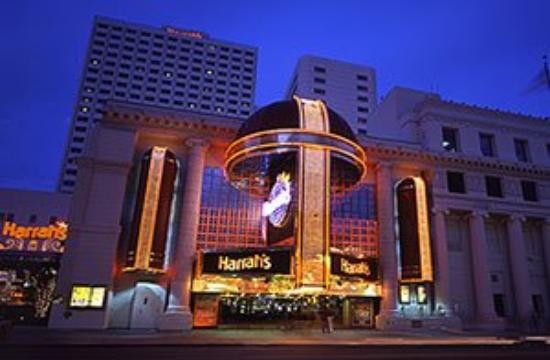 Harrah's is another one of Reno's hotels at the top end of the market
Peppermill Casino
Often regarded as the best hotel/casino in Reno, the Peppermill is also one of the area's largest resorts. The property has been expanded several times since opening in 1971, moving from a small casino to a large resort, with the most recent renovations taking place in 2010. The hotel has a total of 1,600 rooms, including 600 suites. The best rooms can be found in the Tuscany Tower (that's where the suites are found), though they're also among the most expensive rooms in Reno.
The casino is large (80,000 square feet), but features very affordable games. Minimum bets at most of the table games are $5, right in line with what's found throughout Reno. The Peppermill Casino also hosts over 2,000 slot machines, ranging from penny slots all the way up through dollars, with plenty of choices at every denomination.
The poker room isn't bad either, as they spread about a dozen tables – with a few extras available for the occasional tournaments they run. Texas Hold'em is, as always, the game of choice, with no-limit hold'em being played along with small-stakes limit action. Occasionally, you'll even find a mid-stakes limit game running with blinds as high as $10/$20.
The sports book has a reputation for being the best in Reno. There are over 40 televisions and 150 seats, including plenty of seats with individual televisions for horseracing bettors.
Sands Regency Casino
The Sands Regency may make you think it will be another of the luxury hotels that comes with the Sands name, but this is actually a rather average hotel that caters mostly to locals. The hotel opened in 1970, and feels somewhat dated, though the rooms are relatively large for the reasonable prices you'll pay to stay here.
The casino is pretty typical for Reno, with minimums at the table games ranging from $3- $5. There are lots of video poker and slot machines starting at the nickel level, though the games aren't known for being particularly loose.
There is a poker room here, but it barely qualifies; with only three tables, you won't find much action here. What is spread is typically low-stakes limit Texas Hold'em. One
highlight is their morning tournaments, which are among the cheapest in Reno.
The Sands Regency Casino also hosts a sportsbook, which is pretty average for Reno. Only sports bets are taken, but it's not the worst place to watch a game; there are around 50 seats and a dozen televisions.
Silver Legacy Casino
The Silver Legacy Casino is a resort hotel featuring over 1,700 rooms. Opened in 1995, it is one of the newest properties in Reno, and was the city's largest hotel/casino construction project (most of the other large resorts have been built up through expansions on smaller initial designs). However, despite the size, this isn't really a luxury resort; the rooms are fairly small and average, though reasonable prices still make it a good bargain.
With 85,000 square feet of floor space, the Silver Legacy is home to the largest casino in Reno. There are around 75 table games in operation, including a separate Asian gaming area. However, the minimums are still in line with what you'll expect from a Reno casino; most games can be played for $5 or so. There are also well over 2,000 slot machines on two separate floors.
Surprisingly, there's no live poker at the Silver Legacy; instead, they use the automated PokerPro tables that let players play without cards or chips, relying on video terminals instead. The poker room is right next door to the sports and race book, which features over 100 seats and more than 30 televisions. A few seats also have individual TVs for
horseracing.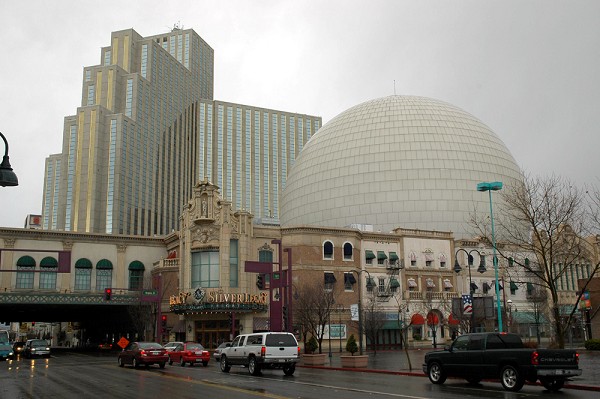 Instantly recognizable by the massive white dome, the Silver Legacy is a great budget option