While most people know of the large casino destinations in the United States – namely, Las Vegas and Atlantic City – many people are completely unaware that legalized gambling has exploded throughout the country in the last few decades. Casinos have popped up in dozens of states, from mega-resorts to small slots parlors attached to racetracks and everything in between. There are now so many casinos in the USA that it can become extremely difficult to keep track of them all.
The following list is not exhaustive, but it does seek to point out the largest and most notable casinos in each state. No matter where in the country you may be, you'll soon find that you're never too far away from a casino when you're in America! We have sorted the best brick and mortar casinos in America alphabetically for your convenience.
Gambling State by State
Alabama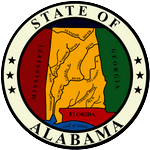 Alabama is home to three Native American casinos, though they may not quite live up to that name. While they offer bingo (their biggest attraction) as well as slot machines, video poker, and many other gambling options, they do not have table games or poker. The three casinos are Wind Creek Casino in Atmore, Creek Casino in Wetumpka, Elmore County, and Creek Casino Montgomery.
The state also had a number of electronic bingo halls that were littered throughout the state. However, these were mostly shut down in 2010 after an anti-gambling push orchestrated by then state governor Bob Riley.[1] Since then, the issue of regulated and licensed electronic bingo has been brought up several times during legislative sessions, but the bill has yet to go before the house.[2]
Alaska
If you're travelling to Alaska, chances are that gambling isn't the first thing on your mind. However, if you do want to get out of the elements after spending time in this beautiful (and very large) state, there are a few options for you. The key word, though, is a few – and in a state this large, that means you can be a long way from the closest casino depending on where you are. And the offerings aren't full casinos, but rather bingo and pull tab outposts that offer just those games, without a full selection for gamblers.
There are proposals being made to allow card rooms to be operated by the state's Native American tribes, but they have yet to clear the state legislature.
Arizona
The state of Arizona is home to 22 Native American casinos, which are spread around the state. The majority are near popular tourist destinations and other highly populated areas. Laws exist that restrict exactly how Native American tribes may operate their casinos; there are minimum allowed payouts by slot machines, keno games, and video poker machines, and maximum numbers of slot machines and table games allowed in the entire state and in any one casino.[3]
There are also betting limits at Arizona's table games, though these are unlikely to impact all but high-stakes gamblers. Recently, the blackjack betting limit was increased to $1,000 (though this may vary by casino), with other table games having slightly lower limits in most cases. Because of betting limits, Arizona casinos are also restricted from offering true no-limit poker games; instead, they offer spread-limit games with very large spreads, such as $2/$5 games with spreads of $5-$150, meaning that the maximum bet at any given time is $150.
The largest number of casinos in Arizona can be found in the area around Phoenix and Scottsdale, including the well known Casino Arizona. Tucson is also home to several casinos, including Casino del Sol and Casino of the Sun, which are, in fact, two different locations both operated by the Pascua Yaqui tribe.
California
California is home to a vast number of full service casinos, as well as numerous "card rooms" that service only poker players. At last count, there were 58 casinos and 90 card rooms spread throughout the state. Most require players to be 21 to enter, though some locations are open to those who are 18 or older.
Most of the most famous names in California gaming are actually card rooms – even if they have the word "casino" in their name! Some of the most popular card rooms include Hollywood Park, Commerce Casino, The Bicycle (known as "The Bike"), and Bay 101. In particular, the Bike and Commerce have the two largest poker rooms in the world.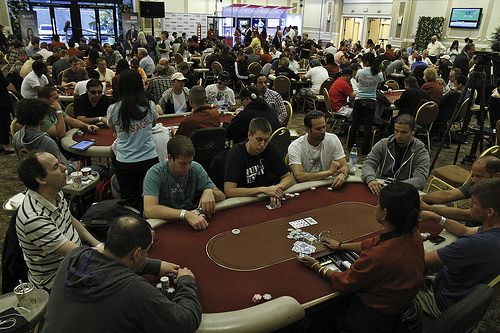 The Bike is a great place to play poker with one of the world's largest dedicated poker rooms
The actual casinos in the state are run by Native American tribes, and can be found everywhere from near the Oregon border to the southernmost portions of the state. The best known casinos in the state include Harrah's Rincon, Morongo, Pala Casino, Pechanga Resort and Twin Pine Casino.
There are some unusual rules that are used in California casinos. For instance, games of chance cannot be determined solely by dice (for instance, in craps), or the ball in a roulette wheel[4].
As you might expect, these laws have not led to the complete abolition of these games, but rather new versions of the games springing up in their place. Craps is often played using two shoes of cards, thus simulating the roll of two dice. Similarly, roulette can be played with a deck of 37 or 38 cards in order to simulate the mechanics of the wheel.
Other than a few strange rules, however, California casinos offer everything you can expect to find at any world-class casino in Las Vegas or elsewhere. In addition, the numerous card rooms make it one of the best places outside of Vegas and Atlantic City to make a living as a poker player.
Colorado
While there is legal gambling in Colorado, there are strict limits on what casinos here can offer their patrons. In fact, these restrictions have recently been greatly liberalized; up until 2008, casinos were not allowed to be open 24-hours a day, and the maximum wager was only $5.
These days, these restrictions have been significantly relaxed, and most casual gamblers will not see much of a difference between Colorado casinos and those offered elsewhere. The wagering limit has been raised to $100[5], and players are welcome to play slot machines, blackjack, craps, roulette and poker.
When it comes to poker, this means that true no-limit cash games are impossible; instead, spread limit games with bets of up to $100 are offered. There are dozens of casinos in Colorado, but they are mostly located in a few approved areas of the state. Along with the tribal reservations in the southwestern portions of the state, as well as in historical districts of the towns of Black Hawk, Central City and Cripple Creek.
Connecticut
Connecticut is home to just two casino resorts (technically, there are three casinos in total[6]), but it has still become an extremely popular destination for gamblers in New England and beyond. This is because it contains the two largest casinos – at least by floor space – in the entire United States, in the competing Foxwoods and Mohegan Sun resorts.
Foxwoods has a slight advantage in size (more than 400,000 square feet), but both casinos are enormous, and offer much more than just gambling to clients. Foxwoods has the world's largest number of slot machines (more than 7,200), a two story arcade, several hotels, a spa and salon, and a brand new bowling alley. The complex also now includes the MGM Grand at Foxwoods, a secondary casino that opened in 2008 and contains its own hotel.
The Mohegan Sun is nearly as large, and also offers extra amenities to draw in non-gambling clientele. Perhaps most impressive is the Mohegan Sun Arena, which hosts many sporting events, and serves as the home court for the Connecticut Sun of the Women's National Basketball Association (WNBA). Both casinos offer everything players need in order to get a full casino experience. Both have large race books that take action from horse and dog racing around the world (plus jai-alai). Foxwoods has the world's third largest poker room (it is branded as the WPT World Poker Room, features 114 tables, and hosts a World Poker Tour event each year), while Mohegan Sun has also recently opened a large poker room of their own that features 42 tables.
Update: September 2012 – Foxwoods is no longer the biggest casino in America. This honor now goes to the Winstar World Casino in Oklahoma who measure in at an enormous 519,000 square feet. Now that's what I call a casino!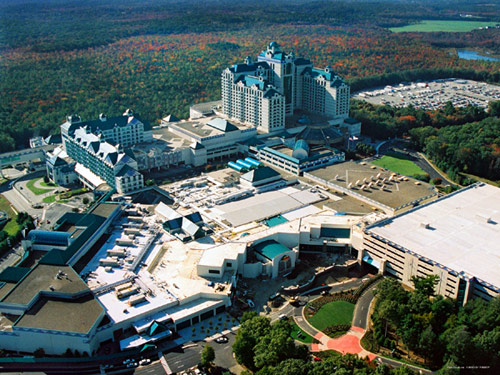 Foxwoods Resort in Connecticut is the largest casino found anywhere in the United States
Delaware
Delaware hasn't historically been a hotbed of casino action, but gambling operations have been increased in the past few years here. There are three so-called "racinos" that combine horse racing with casino gaming. At Dover Downs, NASCAR races are also held at the Dover International Speedway. Similar facilities are at Harrington Raceway & Casino, as well as at Delaware Park Racetrack.
Interestingly, some limited sports betting is also allowed at Delaware Park – namely, bets on NFL parlays. In addition, the Delaware Poker Room in Wilmington spreads ten tables of poker action, though it is not open 24-hours a day.
Delaware was also the second US state to legalize online poker, second only to Nevada.[7]
Florida
Florida has a wide variety of gambling options, ranging from cruise boats to Native American casinos in all regions of the state. There are also a number of racinos, which offer a mix of racing, slots, and sometimes other casino options like table games and/or poker. The Seminole Hard Rock Hotel and Casino in Hollywood, Florida is the largest of the casinos in the state.
Thanks to new changes in state gaming laws, the Hard Rock (and many other Native American casinos, among others) now offers a wide selection of casino games. However, while there are table games, the selections are limited; the land- based casinos in the state do not have craps and roulette, though blackjack and other card games are common at the Seminole casinos.
Since 2010, poker has also undergone some massive changes in Florida, as there are no longer restrictions on buy-ins or tournament entry fees.[8] While buy-ins were previously capped at $100, players can now buy in for any amount, and tournaments can be held at any stakes.
Idaho
Gambling options in Idaho are somewhat limited. There are five Native American casinos run by four different tribes, each in a different county, meaning you'll rarely be far away from a casino no matter where you are. However, the games offered at the casinos might come as a disappointment. There are some slot machines and pull-tab games, with a few of the casinos offering bingo as well. The slots are somewhat limited, as the games are considered "Class II" slots – meaning that players technically compete against each other rather for prizes than against the house.
Worst of all, you won't find poker or table games here.
Illinois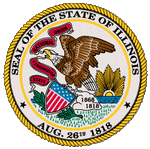 There are currently nine casinos in Illinois. A proposal to expand gaming in the state with the addition of 5 new casinos passed through the House, but was vetoed by Gov. Pat Quinn in March 2013, quashing any hopes of new casinos in Illinois, at least for the time being.
Most of the current casinos are riverboat casinos that operate on the Ohio River, such as Harrah's Metropolis, or those outside of Chicago, such as the Harrah's Joliet. The Par-A-Dice Hotel and Casino is a docked riverboat casino that operates on the Illinois River, while the Grand Victoria Casino Elgin is based in Elgin. These casinos offer slots, poker, and a full compliment of table games, including blackjack, craps and roulette.
Indiana
Indiana gambling is dominated by riverboat casinos, though there are land-based options that including gaming at racetracks like Hoosier Park (though that facility only offers slots, video poker and electronic versions of table games).
The best known casinos here may be the Horseshoe Hammond and the Horseshoe Southern Indiana in Elizabeth; the world's largest riverboat casino. Both contain a full selection of slots, video poker, table games and live poker, with the Horseshoe Hammond featuring the largest poker room in the Midwest.
Iowa Casinos
Iowa has a large number of casinos, most of which offer the full range of casino games (or close to it). For instance, the Isle of Capri casinos feature table games, poker rooms, and lots of slots and video poker machines.
Several major international casino operators have made their mark in Iowa, too. Harrah's Council Bluffs is a riverboat casino that is located right on the Missouri River, and is the largest casino in the Council Bluffs area (which also includes Omaha, Nebraska across the river). Horseshoe has also made their mark in the area with a racino in the Council Bluffs area that includes live greyhound races and simulcasts of horse races, along with slots and table games.
Other notable racinos include Dubuque Greyhound Park and Casino (recently renamed Mystique) and the Prairie Meadows racetrack in Altoona.
Kansas
Kansas is home to five different Native American casinos. Perhaps the most prominent of these is the 7th Street Casino located in downtown Kansas City. This location, operated by the Wyandotte Nation, features over 500 different slot machines. Unfortunately, if you enjoy poker, table games, or other forms of gambling, you're out of luck here – it's slots only.
The other casinos in Kansas include the Prairie Band Casino in Mayetta, the Golden Eagle Casino in Horton, the Sac and Fox Casino in Powhattan, and Casino White Cloud in White Cloud.
Louisiana
Louisiana is well-known as being the capital of riverboat gambling, with several famous riverboats sailing out of New Orleans and Baton Rouge, among other cities. However, there are also several racinos at the state's racetracks, and Harrah's New Orleans is a large land-based casino located just a block away from the river.
The largest riverboat casino sailing out of New Orleans is Boomtown. It features over 1,500 slot machines and more than 30 table games over three floors. It also has a poker room that spreads many different forms of poker, though no-limit action won't be found here.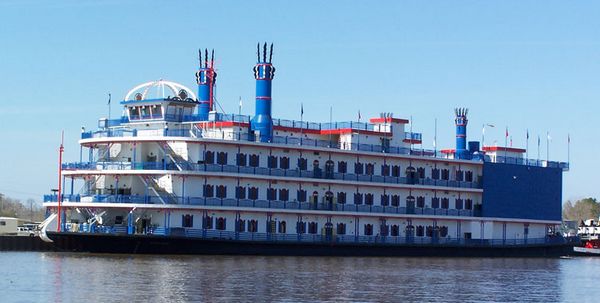 Lousiana is famous for it's riverboat casinos such as the Amelie-Belle pictured above
Maine
At the moment, there are just two gambling options in Maine. The first of these is Hollywood Slots in Bangor. This racino features 1,000 machines ranging from penny slots up through $10 machines. No table games or other gambling options are offered here, though the machines do include some video poker and video roulette games.
The second is the Oxford Casino which opened in the town of Oxford in June 2012. This was built after voters narrowly approved a new casino project to be built in the town. It is a true casino, with both table games and slots on offer. The casino was an instant success and overtook the Hollywood Slots property in terms of profits within it's first two months.[9]
Maryland
Up until 2012, Maryland featured but a handful of slots-only casinos, the Hollywood Casino in Perryville, which features around 1,500 slot machines and one at Ocean Downs in Worcester which has 750 machines.
The Maryland Live casino opened in June 2012 in Hanover, Anne Arundel County with more than 3000 slot machines, as well as electronic table games. The casinos second phase was completed in September 2012 which added an additional 1500+ slots.
However, a massive change came in November 2012 when voters marginally passed the vote for gambling expansion in the state, voting yes on "question 7".[10]. This enabled for the building of a further casino in the state, as well as enabling casinos to add table games, something that had previously been prohibited by the law.
The Evitts and Horseshoe casinos are expected to open in Maryland some time in 2014, with a new property in Prince George's County to be opened some time during or after 2016. The Horseshoe is set to feature a large WSOP branded poker room.
Michigan
Michigan features a wide variety of casino options, including many small casinos. However, there are two areas in particular worth talking about – Detroit, which has three different casinos in the city, and the Soaring Eagle Casino and Resort. The Soaring Eagle is operated by the Saginaw Chippewa Indian Tribe, and is the largest casino in the Midwest. Located near Mt. Pleasant, the casino features not only a large number of slot machines, but also a full suite of table games, bingo, and keno. There's also a reasonably large poker room that features 18 tables and runs regular Texas Hold'em tournaments.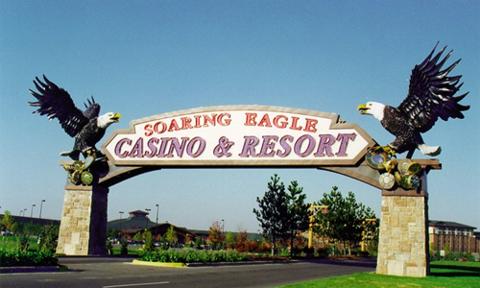 The entrance to Michigan's Soaring Eagle Resort, the biggest casino in the mid-west
In Detroit, there are three large casinos vying for the attention of visitors. The>MGM Grand Detroit is a luxury resort that, until recently, was the first luxury casino in a major American city other than Las Vegas. The casino features 4,000 slots, 90 table games and a sizable poker room that hosts World Poker Tour events. The city is also home to the Motor City Casino, another luxury casino/hotel that houses 2,800 machine games, as well as a wide selection of table games and a large poker room. Finally, the Greektown Casino features much of the same offerings as its competitors, including 2,500 slots and video poker machines, 67 table games, and the largest poker room in Detroit.
Minnesota
There are more than a dozen casinos in Minnesota, all of which are owned by Native American tribes. Several are notable for their size and/or location. If you're in the Twin Cities area (Minneapolis and Saint Paul), you'll want to check out Mystic Lake Casino, which is located about 25 minutes away. There are over 4,000 slot machines here, along with nearly 100 table games, all of which deal blackjack at various limits. Bingo and pull tabs are also available here.
The Treasure Island Resort and Casino in Red Wing is another large casino that features an even wider variety of gaming options. Along with slots and blackjack, there are several other table games on offer (no slots or roulette, however), as well as a poker room that spreads games with limits as high as $30/$60. There's even a bowling alley and a golf course for those who want to get away from gambling for a while.
Finally, the two Grand Casino properties in Mille Lacs and Hinckley are both worth a mention. Each features around 2,000 slot machines and a variety of table games (though Hinckley has about twice as many tables as Mille Lacs). Poker, bingo and pull tabs are also offered at both locations.
Mississippi
Mississippi has several different areas that house significant numbers of casinos in the state. Perhaps most famously is the Gulf Coast area; while many were damaged and closed after Hurricane Katrina, 10 are now reopened, most in their original locations.
There are nearly 20 more casinos residing in the Upper and Lower River Regions, including nine in the unincorporated area of Tunica Resorts in the northern reaches of the state. Tunica Resorts is noteworthy in that – despite not being organized as a city – it ranked third in gambling revenues behind only Las Vegas and Atlantic City for many years. While other areas of the country have since surpassed it because of the spread of legalized gambling, it still ranks among the top ten gambling destinations in America, and is the largest gaming area in the south.
The largest casino in Tunica Resorts – in fact, the largest anywhere between Las Vegas and Atlantic City – is Harrah's Casino Tunica. A true casino, Harrah's features over 2,000 slot machines, one of the largest poker rooms in the region, and about 60 table games. Most of the Gulf Coast casinos are located in the city of Biloxi. The largest of these is the Hard Rock Hotel and Casino.
The Hard Rock actually has an interesting story behind it; it was originally scheduled to be opened on September 1, 2005, only for Hurricane Katrina to hit the coastline in the last days of August. The casino was destroyed, and much of the resort was damaged, resulting in a two year delay before it could finally open. The Hard Rock now features over 1,200 slots, 50 table games, and a poker room with six tables, along with the classic rock memorabilia found at most Hard Rock Hotel locations around the world.
Missouri Casinos
Missouri is home to 13 casinos as of 2013, with the final license being handed out in 2010. Casinos are present in most regions of the state, with several in St. Louis and Kansas City. Most Missouri casinos are located on riverboats, though many of the boats are actually stationary.
There are two large, land-based casinos in St. Louis: Lumière Place and River City Casino, both of which are owned by Pinnacle Entertainment. The two casinos are similar in size, both featuring around 2,000 slot machines and more than 50 table games. Both facilities include a poker room, as well. St. Louis is also home to Harrah's St. Louis, a large riverboat casino that has over 2,800 slots and 90 table games, along with a spacious poker room.
In Kansas City, the largest casino is the Ameristar, a stationary riverboat that also contains a hotel. It is very similar in size to Harrah's St. Louis, featuring around 2,900 machines, close to 100 table games, and a poker room.
The Isle Casino in Cape Girardeau was the last of Missouri's gambling properties to be built opening in late 2012. The casino has close to 1000 slot machines, 28 table games, a number of restaurants and an event center.
Nevada Casinos
Nevada can easily be called the gaming capital of the world, featuring the most recognizable gambling destination in America in Las Vegas, as well as the city of Reno, which is also among the largest gambling cities in the United States. Las Vegas is the home of many of the world's most luxurious resorts – particularly on the famous Las Vegas Strip – while Reno has a number of other attractions, including nearby Lake Tahoe. Trying to summarize the casino options in Nevada is too much for one small section here, so we've broken up the action here into two separate articles: one for Las Vegas Casinos, and another for the casinos in Reno.
New Jersey Casinos
New Jersey stepped into the gambling spotlight with the introduction of legalized gambling in Atlantic City in 1976. This allowed the city to become the dominant force in legal gambling in the eastern United States. Today, Atlantic City is the second largest casino destination in America, trailing only Las Vegas. For more information on the many different casinos in this seaside resort city, check out our feature article on Atlantic City casinos!
New Mexico Casinos
New Mexico is home to nearly 30 different casinos and racinos, many of which are owned by Native American tribes. Most are rather small, and many do not offer any table games, but there are a few casinos that offer a decent selection of games. The Sunland Park Racetrack and Casino is the largest of the racinos in the state, featuring over 700 machine games along with thoroughbred and quarter horse racing. While the slot machines were a popular addition, that's all you'll find here – there are no table games or other gambling attractions, unless you also enjoy betting on horseracing. There are a couple of Native American casinos that do offer some limited table games. For instance, the Fire Rock Navajo Casino in Churchrock has – in addition to 700 slot machines – a roulette table and seven blackjack tables. There's also a small poker room. A similar story can be told about the Wild Horse Casino in Dulce, operated by the Jicarilla Apache Nation. Though it is smaller in scale than Fire Rock, it has most of the same attractions: 184 slot machines, two blackjack tables, a roulette table, and a poker room.
New York Casinos
New York does not have any of the huge casino resorts you might expect from the Empire State, but it does have an excellent variety of gambling options spread throughout the state. If you're in New York City, there are several cruise ships that offer gambling which leave from Manhattan. For those who are happy watching races and playing slot machines, there are numerous racinos throughout the state. And there are a handful of full service casinos in the upstate region, some of which are quite large. The most notable racino in the area may be Empire City Casino at Yonkers Raceway. Yonkers is only a short drive or train ride north of New York City, and features both harness racing and over 5,000 slot machines, making it one of the larger slots-only facilities in the country. Those looking for a more complete casino experience will have to look upstate, where a small number of Native American casinos offer a full selection of gaming options. Two in particular stand out as notable. Turning Stone Resort and Casino in Verona features 2,400 machines, 80 table games, and a large poker room; in addition, the resort contains a golf course that has been utilized by the PGA Tour, along with an indoor golfing dome. Alternately, the Seneca Niagara Casino and Hotel makes for a perfect place to stay if you're looking to do some gambling while visiting Niagara Falls. The casino contains 4,200 slot machines and 99 table games, and the hotel – which has 594 rooms – is the largest in the state outside of Manhattan.
North Carolina Casinos
There are plenty of reasons to visit North Carolina, but gambling probably shouldn't be one of them. Currently, there is just one Native American casino in the state: the Harrah's Cherokee, which is owned by the Cherokee Indians but operated by Harrah's. The gaming offered at Harrah's Cherokee is somewhat different than most of what you'll find elsewhere in the country. The gaming compact between the Cherokee Tribe and the state allows only for games of skill, which means that all games in the casino have at least a modicum of skill-based play in them. In addition, there are no traditional table games allowed. That said, the casino manages to do a lot with what they've been allowed to offer. All slot machines offer the option to lock any desired reels in place after the first spin, thus giving the player the chance to effect the odds by skillfully selecting the proper reels to keep before a second (and final) spin. Video poker is offered as normal, while blackjack and baccarat are played using video terminals. Some "normal" slot machines are available that can only be played using rewards points, so that they may operate as "second chance" games. Even poker is available, though only using the automated PokerPro tables that do not feature live dealers.
Oklahoma Casinos
Although Oklahoma is not a large state, there are over 45 different casinos (including a couple of racinos) here, which can be found all across the state. With that many competitors in a relatively small area, it may not be surprising to hear that most of these locations are not particularly large. In addition, the selection of games available is limited by state law, meaning you won't find all the games you're used to seeing in most major casinos. One notable exception is the Riverwind Casino in Goldsby, which is operated by the Chickasaw Nation. In addition to nearly 2,300 slot machines, there are 32 blackjack tables and a 23-table poker room. Also deserving of mention is the Hard Rock Hotel and Casino in Tulsa, which features over 2,300 slots, both blackjack and Three Card Poker as table game options, and an impressive 30-table poker room.
Oregon Casinos
In Oregon, gambling is provided solely by the state's Native American tribal groups. In total, there are nine different tribal casinos in Oregon. The largest of these casinos is the Spirit Mountain Casino in Grand Ronde, which is operated by the Confederated Tribes of the Grand Ronde Community. Along with 2,000 slot machines, Spirit Mountain is also home to a variety of table games, bingo, keno, and a poker room which contains 17 tables.
Pennsylvania Casinos
In recent years, Pennsylvania has increasingly opened its arms for casino gambling, opening several racinos at horse tracks around the state along with a handful of fully-fledged casinos. Some of these casinos took root in areas that were already popular tourism destinations, such as the Mount Airy Casino Resort, which was founded on the site of the former Mount Airy Lodge. Recently, the big news out of Pennsylvania is the opening of SugarHouse Casino in Philadelphia – making it the largest city in the United States to host a casino. In addition to 3,000 slot machines, SugarHouse offers a variety of table games like blackjack, craps, roulette and baccarat.
South Dakota Casinos
South Dakota has no shortage of casinos, and they're all located in one convenient area: the city of Deadwood. In 1989, Deadwood became the first area outside of Nevada and Atlantic City to legalize gambling in the United States, which served as an experiment to see whether the gaming industry could be used to help a city recover from difficult economic issues. In the case of Deadwood, at least, the casino industry has been successful at helping to revitalize the local economy. Around 20 different casinos are located in the city, varying in size and the scope of their gaming options. The largest is Mineral Palace Hotel and Gaming, which features 350 slot machines along with blackjack and Three Card Poker.
Texas Casinos
Given the size and scope of the state of Texas, one might expect to find a lot of gambling here. After all, this is the state that lent its name to hold'em, and many Texas gamblers are legendary. However, there's actually very little in the way of casinos in Texas. In fact, there are currently only two options for gamblers who visit the Lone Star State. The Kickapoo Lucky Eagle Casino in Eagle Pass features over 1,800 electronic games (mostly slots), as well as daily bingo action and a live poker room – but no traditional table games. If you enjoy cruise ships and want to get some gaming action in, the Texas Treasure Casino Cruises that leave out of Port Aransas are another option. The ship, which sails six days a week (excepting Mondays), features over 500 slot machines, 24 table games (including blackjack, roulette, and craps), live poker, and a 100-seat bingo hall.
Washington Casinos
With over 30 casinos, Washington has no shortage of gaming options for local gamblers, with both privately owned and Native American casinos common. The Seattle area is particularly blessed with several large casinos in the area. For instance, the Emerald Queen Casinos (operated by the Puyallup Tribe) in Tacoma and Fife are among the largest in the state. The Fife location has nearly 1,500 machine games along with keno and table games. The Tacoma (or I-5) facility features 2,000 slots and 56 table games, including blackjack, craps and roulette. Other large casinos include the Muckleshoot Indian Casino in Auburn (which also features a video parlor), and the Tulalip Resort Casino in Marysville.
West Virginia Casinos
There are five casinos in West Virginia, four of which are attached to racetracks. The fifth is located at The Greenbrier, a luxury resort in White Sulphur Springs that was built over 150 years ago. The Casino Club at the Greenbrier is only accessible to guests staying at the resort or members of their sporting clubs or event attendees, making it a semi-private affair. The largest casino/racetrack in the state is Mountaineer Casino, Racetrack and Resort in Chester. The casino features 3,200 slots, as well as 50 table games that include blackjack, craps, and roulette. Mountaineer also features the largest poker room in the state.
Wisconsin Casinos
Wisconsin features a large number of small, privately owned casinos – over 20 in all – located both in major cities and in rural areas. However, despite the small size of most of the casinos in Wisconsin, a wide variety of slots, table games and other gambling options are offered. The largest of these is the Ho-Chunk Casino in Wisconsin Dells, owned and operated by the Ho-Chunk tribe. Along with over 2,200 slot machines, the Ho-Chunk Casino also features a 600-seat bingo hall, table games (including blackjack, craps, roulette and baccarat), and a poker room.
Wyoming Casinos
There may not be a ton of gambling activity in Wyoming, but there are three casinos worth a mention. First up, the Wind River Casino in Riverton has over 750 different machine games (mostly slots), along with a handful of table game options: blackjack, three card poker, and Ultimate Texas Hold'em (not to be confused with the actual poker game). Next up is the Little Wind Casino in Ethete, which carries the same variety of games, though on a smaller scale. There are only around 170 machines here, and blackjack was just recently introduced to the mix. Both the Wind River and Little Wind Casinos are operated by the Northern Arapaho Tribe, which also owns the smaller 789 Smoke Shop & Casino in Riverton. Finally, the Shoshone Rose Casino in Fort Washakie is owned and operated by the Eastern Shoshone Tribe. This is the smallest of the Wyoming casinos, featuring just 150 slot machines and no table games.
Sources and References
[1] Why Alabama needed an anti-gambling force – Al.com
[2] Alabama's Electronic Bingo Amendment – Ballotopedia
[3] Gaming in Arizona – Arizona State Government site
[4] California State gambling laws – Gambling-Law-US.com
[5] Colorado to allow increase of gambling limits -Denver Post
[6] Casinos in Connecticut – Wikipedia
[7] Delaware legalizes online poker – PokerFuse
[8] New poker laws come into effect in Florida – CardPlayer Magazine Online
[9] Oxford Casino sets record profits in first 2 months – Bangor Daily News
[10] Maryland votes yes on question 7 – WBAL.com