Want to play slots online? View our online slots section now!
By far the most popular attraction in the casino world, slot machines take up more floor space in most casinos than all other gaming options combined! This is because they're easy to play and offer huge jackpots to players, both of which make them extremely popular, especially among players who aren't all that familiar with the more complex rules of table games.
Of course, the casinos tend to like slot machines too, because they're the biggest moneymakers. That's why it's important to find the best casinos for slots, no matter what town you might be in.
In Las Vegas, most of the best games are found in the downtown and off-Strip area, while the flashier Strip casinos carry games with higher house edges. This is generally true when it comes to slot machines, too. The looser slots are usually in downtown casinos; meanwhile, Strip properties rely on all their extras and amenities to get people in the doors, and aren't quite as generous once you start playing.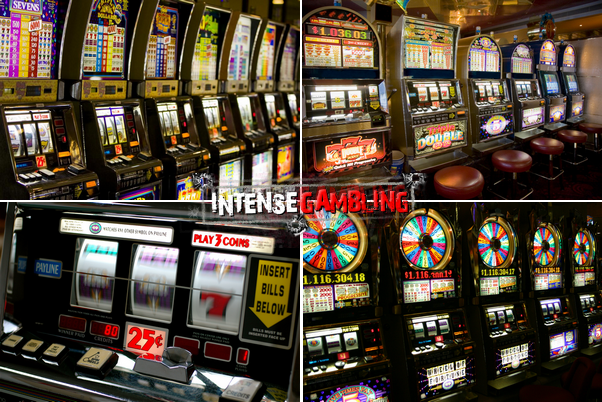 Slot machines in Vegas comes in all shapes, forms and sizes and cater for players on all budgets
However, there are exceptions to this rule, and good slots can be found anywhere you look in Las Vegas. Here's our list of the best Vegas Casinos for Slots!
Palms Casino Slots
The Palms is mostly known for being an upscale casino/resort, but they also carry a reputation for featuring some of the loosest slots in the city. In fact, a study done in 2001-2002 by Michael Shackleford actually found that the Palms had the best return on nickel slots – 93.42% – of any casino in all of Las Vegas[1], by a pretty significant margin! We definitely recommend the Palms for anyone looking to get the most bang for their slots buck.
Stratosphere Casino Slots
If you want to stay on the strip and can exercise a bit of caution in the games you play, take a look at the slot machine offerings in the Stratosphere. The overall selection doesn't rank among the loosest around, but we like that they have quite a few dollar slots that advertise exactly how much payback you'll be getting from the machines. In fact, some of their slots have an advertised payout of 98%! That's hard to beat at the dollar level, making the Stratosphere one of the best Vegas slots casinos on the Strip.
Gold Coast Casino Slots
Located off the strip, the Gold Coast is another casino that performed quite well in the study we mentioned earlier. Not only does the Gold Coast have some of the loosest slots in Las Vegas, but they also have a ton to choose from, especially at the nickel level, making this a fine destination for slots fanatics.
Sahara Casino Slots
The Sahara is another Strip casino that doesn't cater to the upscale market, meaning that their rooms are affordable, the cost of gaming is low, and the games tend to be a bit looser than the ones in the swankier joints up the road a bit. In fact, along with Slots-A-Fun, the Sahara has what are probably the loosest slots you'll find anywhere on the Strip, offering reasonable paybacks event down at the nickel and penny levels, which makes it a great choice for those who want a fair slots experience without running up a big bill if they lose.
Slots-A-Fun Casino Slots
This tiny Strip casino may not even show up on your radar, but if you're looking for cheap gaming and loose slots, you should stop by. Located right next to Circus Circus, Slots-A-Fun has some of the lowest betting limits anywhere in Vegas, and their slots offer excellent payback when compared to most of their Strip counterparts. However, it is expected that Slots-A-Fun will soon be rebranded and become a part of Circus Circus; whether the excellent slots gaming here will continue after that process ends is yet to be seen.
Honorable Mentions
While the five casinos we've listed above all feature excellent slots, they're far from the only good slots casinos in all of Las Vegas. We've listed a few more to check out below; these all have reputations as being great choices for slots players, with loose machines and plenty of options for gamblers to choose from.
On The Strip Casinos
Downtown Casinos
El Cortez
Main Street Station
Off-Strip Casinos
Boulder Station
Fitzgeralds
Worst Vegas Casino for Slots
Finally, where's the worst place in Las Vegas to take a chance on the slot machines? Well, in some categories, this isn't an easy pick, but most people who have been to Vegas at least once will know the answer to this one. Stay away from the slot machines at McCarran Airport; you've probably suspected they're just there to lure in unsuspecting tourists who can't wait to leave the airport before gambling, and you'd be right. They're generally regarded as the tightest slots anywhere in the Las Vegas area.
Sources
[1] Palms Slots leave you smiling by RGTOnline.com