Craps is another one of those iconic casino games that looks a lot more complicated than it actually is. When you first step up to the table, there seems to be money flying everywhere, and it's hard to tell exactly what the players are betting on.
But in reality, craps isn't so tough to understand. A quick lesson can have you playing in minutes; most of the important bets are easy to wrap your head around, such as the pass line bet. Once you've mastered those, you can start playing around with some of the more exotic gambles on the table if you like (though the best odds are nearly always found by playing the pass line and taking the odds behind it). Before you know it, you'll be screaming along with the rest of the table and enjoying one of the most social of all casino games.
In Las Vegas, picking the right craps casino for you will come down to two major factors: the odds you're allowed to take behind the pass line, and (for many players) the minimum bet you're allowed to make. If you find a casino that gives you the option of placing heavy odds with a tiny minimum bet, you've found craps heaven!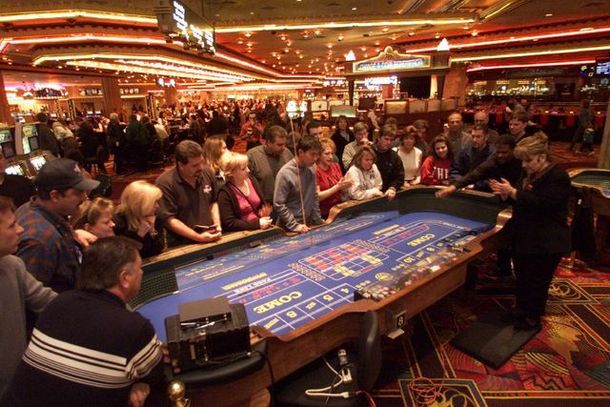 Craps is without a doubt the most fun game in Vegas with whoopin' and hollerin' par for the course
We've put together a list of some of our favorite craps games in town. Here are the places that made the great as our best Vegas casinos for craps.
Main Street Station Craps
In the downtown area, Main Street Station is the clear choice as the best craps casino. You can lay up to 20x odds behind your pass line bets, an amount that's exceptionally high by downtown standards. In fact, you won't find any other casinos offering more than 10x here! Minimums also start at $5, meaning you won't have to spend a lot of money to have a great time at the table.
Casino Royale Craps
While Casino Royale is often overlooked on the Strip, it's definitely one of the best spots in Vegas for craps players. In general, they offer 20x odds to players, which would already make them one of the best deals in town. However, one table here will let you lay an incredible 100x behind your pass line bets, which – if you can stomach putting that much money on the line – cuts the house edge down to almost nothing! If you want to play craps for some serious cash without giving the casino any significant advantage, Casino Royale must be at the top of your list. The only downside is that the craps area here is very small, featuring just two tables.
Sam's Town Craps
If you're happy to venture off the Strip, you'll enjoy playing craps at Sam's Town out on the Boulder Highway. There are only three tables to play on, but they offer 20x odds and $5 minimums, making these games an excellent value. They also offer a few prop bets that you won't find anywhere else, which can add some variety if you're tired of the dozens of other bets offered on the craps table. All-in-all, this is a solid craps option that's in a quieter part of Vegas for those who want to get away from the bright lights of the Strip or Downtown areas.
Stratosphere Craps
That giant tower at the north end of the Strip isn't just there for show! The Stratosphere has three standard craps tables, plus one "crapless craps" game that should probably be avoided, as the house edge there is actually higher than in normal craps. The odds are not as exciting as some of our other top picks – 10x behind the pass line, which is still very good for a Strip casino – but the overall quality of the casino and hotel make this a fun place to play.
Eastside Cannery Craps
The Eastside Cannery is mostly a non-descript off-Strip casino, appealing mostly to the local gambling crowd. That said, if you want to play one of the best craps games in Vegas, you're going to want to head out here for a visit! There are only two craps tables, but they offer incredible 100x odds, and minimums are sometimes as low as $3 (though $5 seems more common). Other than the small size (and the lackluster gaming options outside of the incredible craps games), there's really nothing that should stop you from coming here to play craps.
Honorable Mentions
Looking for even more craps games that offer big odds or other perks? We've put together a list of some other casinos that have craps tables worth checking out.
The Strip
Downtown Casinos
Binion's
El Cortez
Golden Gate
The Plaza
Off-Strip Casinos
Boulder Station
Joker's Wild
Santa Fe Station
Silverton