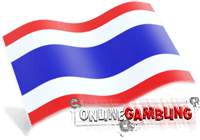 Thailand (ประเทศไทย), commonly called "The Land Of Smiles", is a large and multi-cultural kingdom. You can find anything in Thailand, from Buddhist temples to exotic wildlife and spectacular islands. Alongside a fascinating history and a unique culture, Thailand is one of the only Asian countries to never be colonized by an empire – a testament to the proud nation!
Best Online Casinos For Players In Thailand
Online Casinos That Accept Thailand Players!
Rank

Casino

Why We Like 'Em

1

Thai language options & Thai Baht currency accepted. Over 300 games & multiple bonus offers like sign up and loyalty bonuses

2

Accept Thai Baht currency & available in Thai language. Wide selection of casino games. Great software.

3

Thailand friendly with great game selection including latest slots & live casino games. Good sign up and loyalty bonuses.
Is Gambling In Thailand Legal According To Law?
Besides Thailand's government sponsored public lottery, and betting at either of the two horse racing tracks in Bangkok (the Royal Bangkok Sports Club and the Royal Turf Club), gambling is not a legal activity in Thailand. Although gambling is punishable by a jail term of up to a year and a fine of ฿1000 (one thousand thailand baht/THB), gambling is an extremely common activity in Thailand and is an accepted part of society. You see students playing thai-style rummy on plastic tables at their doorsteps just as often as you see young men and women playing online poker in an internet cafe.
Thailand Gambling Act (1935 or B.E.2478)
Gambling law in Thailand is regulated by the Gambling Act of B.E. 2478, which determines the following about gambling in Thailand:
Permission is forbidden to organize, to play or to gamble in games specified in List A annexed to this Act or similar games or any other bad games which the responsible Minister has issued a Ministerial Regulation naming as additional items of prohibition.
On 'List A', annexed to the act, are gambling games and activities including betting in connection with street games such as gum tud (guessing how many seeds are in both hands) and several Thai dice games. Also included is betting on contests between animals in which they are treated cruelly or tortured. An example of this would be cockfighting in which spurs or other sharp instruments are attached to the cocks' legs. Similarly, dog fighting is illegal. Certain casino games, such as roulette and slot machines are also included.
Online Gambling In Thailand
Online gambling, which includes sports betting is prohibited in Thailand, as stated in the act (Thailand Gambling Act B.E.2478) and explanations given above. Most gambling websites are blocked by government run internet censorship software installed on the ISP level in Thailand, along with 34,000+ other types of web sites that are blocked for reasons such as "copyright infringement". A lot of gambling websites that normally accept Thai players are instead redirected to w3.mict.go.th. Despite these restrictions, there are still many who gamble online in Thailand, and OnlineGambling.co will provide you the information you need to bet and gamble, no matter where you are located.
Best Online Bookmakers For Sports Betting In Thailand
Best Sports Betting Bookmakers For Thailand Players
Rank

Sportsbook

Why We Like 'Em

1

Accept Thai Baht currency & available in Thai language. Wide selection of sports. Great software.

2

Thai language options & Thai Baht currency accepted. Good sign up and loyalty bonuses.

3

Thailand friendly – offer Thai language options & Thai Baht currency options. Huge range of markets to bet on.
Can I Deposit Money Onto Sports Betting Websites From My Thai Bank Account?
Thailand based bank accounts and the debit & credit cards associated with them are renowned for blocking payments to online gambling websites. For example, the Be1st Visa Electron issued by Bangkok Bank does not work at online gambling sites, neither do the following banks and the cards associated with them:
Bank of Thailand
Bank of Ayudhya
Siam Commercial Bank
Kasikorn Bank
Bangkok Bank
Krung Thai Bank
CIMB Thai Bank
Siam City Bank
TMB Bank
UOB Bank
Kiatnakin Bank
Using Entropay in Thailand For Online Gambling Websites
As you can not use Thai bank accounts and debit cards to deposit and withdraw money to international online gambling websites, we reccomend using Entropay, a virtual VISA/Mastercard that allows you to easily deposit and withdraw cash to a semi-bank account/credit card that is accepted by all major gambling websites, including the sites listed on this website.
You can open up an Entropay account in USD, EUR, or GBP (we suggest using USD) and fund your virtual Card with your Thai debit/credit card. You'll then need to register your card with Verified by Visa, or Mastercard Securecode, and once your account is funded you can use the Entropay Virtual Card to deposit at the betting and casino sites suggested above.
The real beauty of using Entropay is that you can keep you're gambling activities online confidential. Your bank will only see that you deposited or received money from Entropay. You do not have to worry about deposits and withdrawals showing up on your monthly bank statement, something that could have negative legal (gambling is illegal in Thailand after all) and social implications.