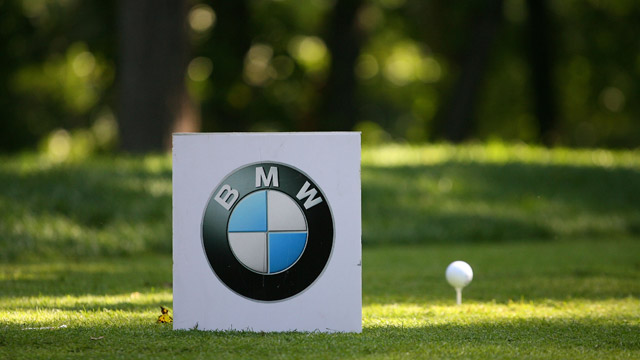 With Rory McIlroy struggling to find form we like Woods, Scott and Stenson as potential bets for this years BMW Championship
After the four majors are over and done with, PGA Tour professionals have something else that is relatively prestigious to shoot for – that of FedEx Cup champion. A critical event along that road is taking place from Thursday through Sunday at Conway Farms Golf Club in Lake Forest, Illinois (outside Chicago). For those golf bettors who are interested in following along on television, Golf Channel will provide the coverage for the first two days, with NBC stepping in for Saturday and Sunday. If you are new to golf betting, then you should navigate to our golf betting guide.
The defending champion, Rory McIlroy, is priced at 22 to 1 (+2200), U.S. Open champion Justin Rose, who won the event two years ago, is 18 to 1 (+1800). Brandt Snedeker, who won the FedEx Cup last year, is 40 to 1. Adam Scott, Masters champion and a Player of the Year candidate, who won The Barclays (the first leg of the FedEx Cup playoffs) is 13 to 1 (+1300). And Henrik Stenson, another hot hand who took home $1.44 million last week at the Deutsche Bank Championship, is 12 to 1 (+1200).
At 5Dimes, these are the players who are priced at 30 to 1 or better: Use the odds converter if you need to.
Adam Scott (13 to 1)
Dustin Johnson (25 to 1)
Henrik Stenson (12 to 1)
Jason Day (30 to 1)
Jason Dufner (22 to 1)
Jordan Spieth (25 to 1)
Justin Rose (18 to 1)
Keegan Bradley (35 to 1)
Luke Donald (35 to 1)
Matt Kuchar (20 to 1)
Phil Mickelson (15 to 1)
Rory McIlroy (22 to 1)
Steve Stricker (18 to 1)
Tiger Woods (13 to 2)
Webb Simpson (35 to 1)
There are seventy players in the field, and the BMW Championship is part of the process for determining the winner of the FedEx Cup, which is conducted using a points system. After the Deutsche Bank, which along with The Barclays is part of the FedEx Cup Playoffs, the number of eligible players was whittled down to the 70 who will tee off Thursday, and after the BMW is concluded that number will be further reduced to 30, and those are the competitors who will play in the Tour Championship, which is where the FedEx Cup winner will ultimately be decided because each player will be sitting in a position where he has a mathematical chance.
And oh, a $10 million bonus will be awarded.
Right now, only eleven players are guaranteed spots for next week, so there will be a lot of "jockeying" as the BMW gets underway.
Surely it is no big surprise to anyone that Tiger Woods is the tournament favorite at 13 to 2, or +650 at 5Dimes. Even though the site of this event changes, he has nonetheless had plenty of success in the event. In fact, Woods won this event three times when it was known as the Western Open. Since it took on BMW as a sponsor, he has won it twice – in 2007 and 2009.
The reason that all 30 players will have a chance to win the FedEx Cup when they play the Tour Championship is that the points will be reset in such a way as to make that possible. However, there is a perk for those who go into that event in Atlanta next week among the top five point getters – any of them will be guaranteed the FedEx Cup title if they win that tournament.
It really is like one big major.
Right now three players stand far above the rest in terms of points – Woods, Scott and Stenson. Some calamity would most likely have to happen to all three for one of them not to win the Cup. So there will be, essentially, 67 players looking for at least a top three finish in order to give themselves a real opportunity come next week. Any player who is currently among the top twenty in points has the ability to assume the #1 spot with a win this weekend.
Woods was right there at The Barclays (tied for 2nd) but disappointed with 65th place last week in Boston. Scott and Stenson are riding on a little momentum, having won those tourneys. And Rose, the 18 to 1 shot, has a chance to make a move here because of his superior ball-striking ability. Want a longshot possibility? How about Graham DeLaet, the Canadian birdie machine (fifth on tour in that category) who missed the cut in the PGA Championship, but then tied for second in The Barclays and grabbed third place in the Deustche Bank, but still finds himself 34th in the points standings. He goes to Lake Forest priced at 40 to 1.
Looking for a unique angle? Well, there aren't many tour pros who have played this course, because it has never been home to a PGA Tour event. But there is someone who is VERY familiar with it. Luke Donald (35 to 1 at 5Dimes) is actually a dues-paying member, so he is likely to know the course inside and out, even though it has been spruced up quite a bit for this PGA event. In 54th place in the points standings, Donald will have to do something rather dramatic to get himself back in real contention; in fact, in all likelihood he'll have be a top five finisher on his "home" course.
Tee off with 5Dimes for the best in golf wagering action!