F1 Comes to the U.S., and No Surprise – Record-Seeking Vettel is Favored
There is a nice "cult" following for Formula One in the United States; indeed the market is fed by the NBC Sports Network, which televises the races live. However, the starting times are often too early on a Sunday morning for most of America to see it, and NASCAR has such a foothold in the U.S. motor racing landscape that it is hard to get people across the country interested in F1 action. In plain English, while F1 is a very big deal almost everywhere else, it isn't the case in the U.S. of A.
The folks from F1 are taking steps to change that, and started last year with the return of Grand Prix action to the States after a four-year hiatus.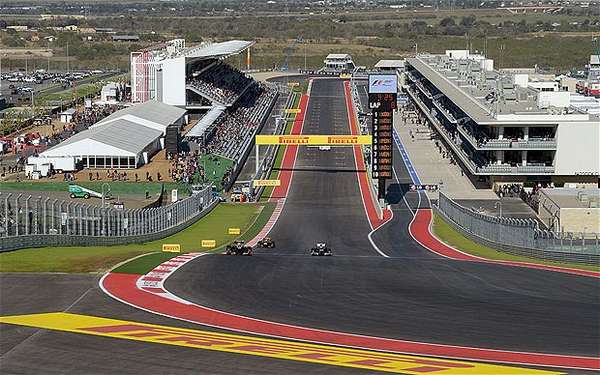 After a hugely successful race in 2012, the F1 circuit heads to the USA as the season draws to a close
The United States Grand Prix debuted in Austin, TX last year, and will be run for the second time on Sunday, November 17. The current location assures that the event, and the sport itself, will not serve as a "red-headed stepchild," the way it was when the race was run in Indianapolis previously, at a venue that is synonymous with a different form of auto racing (IndyCar) and a different event over and above anything else (the Indianapolis 500). This particular venue exists specifically for this event. And we are relatively certain that no other race promoter on the calendar gives cowboy hats to the top three finishers on the podium.
Maybe someday the competitors on the Formula One circuit will become household names in the United States. As it is, the average person on the street would not know a Michael Schumacher or Sebastian Vettel, as legendary as they might be. But F1 betting fans in America know exactly who they are, and they couldn't be more excited.
Here are the Formula One odds, as they are posted at Bovada.lv, on winning the United States Grand Prix. Remember to check out the OnlineGambling odds converter tool if you aren't familiar with the American odds format.
Sebastian Vettel -350
Mark Webber +500
Lewis Hamilton +1800
Fernando Alonso +2000
Romain Grosjean +2000
Nico Rosberg +2200
Kimi Raikkonen +2500
Felipe Massa +15000
Jenson Button +25000
Sergio Perez +25000
Nico Hulkenberg +50000
Paul di Resta +75000
Adrian Sutil +75000
Daniel Ricciardo +150000
Jean-Eric Vergne +150000
Pastor Maldonado +200000
Esteban Gutierrez +200000
Valtteri Bottas +250000
Giedo van der Garde +500000
Max Chilton +500000
Charles Pic +500000
Jules Bianchi +500000
The idea of a Grand Prix in the United States is not all that unusual, but it has not had a lot of staying power, at least in any individual location. There have been Grands Prix in the U.S., most notably in Watkins Glen and Indianapolis, but the Austin course, known as the "Circuit of the Americas" is relatively new.
The drivers are not all that used to this track and the surface, because most of them have traversed it only once under actual race conditions. It is here to stay, though, with the event being in the second year of a ten-year contract with Formula One.
It is no surprise that these F1 odds more or less coincide with the odds on being the fastest qualifier, since starting first gives a driver a tremendous advantage in a race if he knows how to handle it properly.
Will that qualifier be Lewis Hamilton? The British ex-champion obviously likes the U.S. courses; in fact, he has won the last two races that have been held on American soil. Hamilton took the flag in the last outing at the Indianapolis Motor Speedway, and then won last year's race in Austin. He yielded the pole to Sebastian Vettel, who won all three parts of qualifying and was also fastest in practice sessions. But at the finish, it was Hamilton who had Vettel in his rearview mirror, having passed him for the lead with fourteen laps to go. No one fretted for Vettel, who won last year's world title, because with the second-place result he was able to clinch the Constructor's championship for Red Bull Racing.
Nonetheless, with everyone else except the newly-crowned repeat champion in "plus" figures on the odds list, Hamilton has to be considered a great possibility to provide value at +1800 in the Bet365 F1 odds.
Romain Grosjean looms as a driver who might have to be taken seriously here. Since his return to Formula One racing with Lotus at the start of last season, he has competed in 36 races without a win or a pole. But he finished fifth in qualifying and seventh in the race at Austin last year and he would be a threat to get to the podium. Grosjean is priced at +2000 in the Formula One odds for this race.
Of course, there is really one name that can be discussed when exploring betting favorites for ANY race in F1 these days. That is Vettel, who not only wrapped up his fourth straight world title in India, but has also won seven consecutive individual races. Vettel (-350) has won eleven of the 17 races on the schedule, and has been kept off the podium only three times – with fourth-place finishes in China and Spain and a retirement in the British Grand Prix. When he was racing with Sauber in 2007 he ran at Indy in the Grand Prix and finished eighth. Then there was last year's runner-up result. So you can say with any and all justification that this is one of just two races he has not won. That doesn't seem to matter; he goes off as the -350 favorite in the United States Grand Prix betting odds at Bet365.
Even though he has to do no more to be a world champion and the anchor of the championship team, for Vettel there are other things to shoot for, such as all-time records. He is, at the moment, one of only three drivers to have won seven consecutive events (the others are Michael Schumacher and Alberto Ascan). But he can set himself apart by winning his eighth straight.
That would seem to be enough incentive for anyone – mere mortal or not.
Get the best selection of Formula One betting odds available by opening up an account at Bet365!