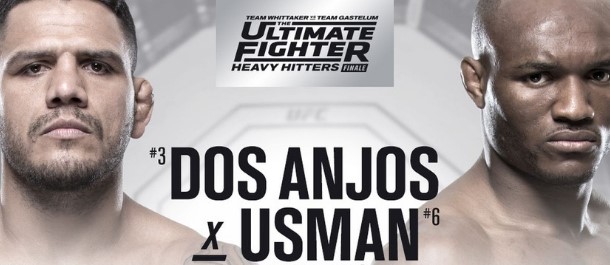 The first of two brilliant UFC events this weekend is the TUF 28 Finale in Las Vegas, Nevada.
This event will wrap up what has been yet another exciting season of The Ultimate Fighter. The event will also feature many intriguing bouts from a variety of weight classes in the UFC.
Headlining the action is an outstanding main event that will see Rafael Dos Anjos battle with Kamaru Usman in a significant welterweight fight.
The TUF 28 Finale begins on Friday, November 30, and we're here to break down all of the main card and bring you the best odds and bets for this event.
Rafael Dos Anjos vs. Kamaru Usman
Rafael Dos Anjos and Kamaru Usman find themselves just outside the range of a welterweight title shot. A win here will help one fighter earn another big-name fight while the other might be forced to work their way back up the rankings yet again.
Best odds for Rafael Dos Anjos vs. Kamaru Usman:
Dos Anjos vs. Usman is everything a fight fan could want.
A former UFC lightweight champion, Dos Anjos has looked terrific since moving up to welterweight. Managing a winning streak of three, Dos Anjos scored notable wins over Tarec Saffiedine, Neil Magny and then Robbie Lawler. Those performances were more than enough to grant him a fight for the UFC Interim Welterweight Championship earlier this year.
However, Dos Anjos would experience his first defeat since his days at lightweight and ended up falling short to Colby Covington in a five-round affair. Dos Anjos was tested by Covington's extreme pressure and grappling-focused gameplan.
Many believe he could be in for a similar experience against Kamaru Usman this weekend.
Undefeated in his last 12 fights, Usman has lived up to his name by becoming a nightmare for the UFC's welterweight division. He's now in the best position of his mixed martial arts career and a win Dos Anjos might be all that stands between him and a title shot.
Let's not write off Rafael Dos Anjos' chances just yet. Covington brought an extreme level of intensity to the cage against Dos Anjos and overwhelmed him with pressure and forward movement.
Can Usman bring this level of pace and pressure? Maybe not at the same level that Covington did.
Yes, Usman will most likely have his moments in the grappling exchanges by pinning Dos Anjos to the mat for periods and pushing him against the cage, but we also need to consider that "RDA" will have more time in this contest to do the things that make him so dangerous. From a distance, we can only expect Dos Anjos to piece up Usman.
Will it be enough? At these odds, it makes for a terrific bet.
Bet on Rafael Dos Anjos to win
Pedro Munhoz vs. Bryan Caraway
Also on the main card is a bantamweight matchup between Pedro Munhoz and Bryan Caraway.
Best odds for Pedro Munhoz vs. Bryan Caraway:
With three losses already in the UFC, it's easy to forget that Pedro Munhoz is a rare talent in the bantamweight division. He only recently had his four-fight winning streak snapped by a split decision loss to John Dodson. That defeat was his second split decision loss in the UFC, with another coming against highly-rated Jimmie Rivera earlier in his career. The other defeat? One to Raphael Assuncao, as well. Munhoz has time and time again proved that he is only just under the top-tier of fighters in the division and bounced back in a big way with a win over Brett Johns at UFC 227.
He'll be up against Bryan Caraway, a fighter who is difficult to evaluate at times. On some nights, he can hang in there with the best of them, and he managed to earn a split decision victory over Aljamain Sterling just two fights ago. However, then he lost a split decision at UFC 222 against Cody Stamann and lost all momentum in his climb through the ranks. This feels like a must-win for Caraway.
Ultimately, this is a fight in which Pedro Munzho should shine. Expect a unanimous decision victory.
Bet on Pedro Munhoz to win
Edmen Shahbazyan vs. Darren Stewart
After an impressive first-round finish on Dana White's Tuesday Night Contender Series, Edmen Shabazyan now finds himself in the UFC for the first time.
He'll be up against Darren Stewart this weekend.
Best odds for Edmen Shahbazyan vs. Darren Stewart:
Undefeated as a professional, Shahbazyan has accumulated an impressive seven-fight winning streak to start his career. Mainly competing in the CXF promotion, Shahbazyan has scored five of his first six wins over fighters with an even or losing record. However, when he met his biggest match to date in the name of Antonio Jones at the Contender Series, Shahbazyan proved that he belongs with the best in the world by scoring an outstanding ground and pound KO/TKO win after just 40 seconds.
Darren "The Dentist" Stewart is an underrated beast fighting out of London, England. With power in his hands and a chin to go with it, Stewart has overturned a three-fight losing streak at the start of his time with the UFC to go on and score two big KO/TKO wins over the likes of Eric Spicely and Charles Byrd.
Shahbazyan is going to come out with a very aggressive approach from the very first seconds of the fight. With seven first-round wins to his name, the 20-year-old has not yet seen a second round. He and Stewart will likely exchange heavy shots in the pocket, and it's only a matter of time before one man goes down.
The public seems to be buying into the hype of the youngster with him coming in as a favorite. We're going to lean the other way, though, and back Darren Stewart to come out on top.
Bet on Darren Stewart to win
Ji Yeon Kim vs. Antonina Shevchenko
Ji Yeon Kim steps in to replace Ashlee Evans-Smith against Antonina Shevchenko in the very first fight of TUF 28 Finale main card.
Best odds for Ji Yeon Kim vs. Antonina Shevchenko:
Antonina Shevchenko has finally made it to the UFC to join her sister, Valentina Shevchenko, after an outstanding victory at Dana White's Tuesday Night Contender Series. This Shevchenko sister made her MMA debut all the way back in 2003 but took an extended break from the sport to focus on her career as a striker.
That's where she'll be most dangerous in the UFC. An experienced Muay Thai fighter, just like Valentina, Antonina will likely get the better of most of her opponents in the UFC.
Ji Yeon Kim steps into the cage this weekend on a two-fight winning streak in the UFC, having bounced back from an earlier defeat in her promotional debut. Both of her wins came via the way of split decision against Justine Kish and Melinda Fabian.
Looking to play spoiler to Shevchenko's UFC arrival will be Kim, 29, a South Korean fighter who has won two-straight under the UFC banner.
While Shevchenko might come up short against experienced grapplers in the future, Ji Yeon Kim is more likely to stand in front of her and strike. That could be a recipe for disaster, and that's enough reason for us to take Antonina Shevchenko in this fight.
Bet on Antonina Shevchenko to win
The Ultimate Fighter 28 Finale fight card
The Ultimate Fighter 28 Finale begins on UFC Fight Pass from 7:00 pm ET (11:00 pm GMT) on Friday, November 30.
FS1 Main Card (10:00 pm ET / 2:00 am GMT)
Rafael Dos Anjos vs. Kamaru Usman
TBD vs. TBD
TBD vs. TBD
Pedro Munhoz vs. Bryan Caraway
Darren Stewart vs. Edmen Shahbazyan
Ji Yeon Kim vs. Antonina Shevchenko
UFC Fight Pass Early Prelims (7:00 pm ET / 11:00 pm GMT)
Rick Glenn vs. Kevin Aguilar
Joseph Benavidez vs. Alex Perez
Roosevelt Roberts vs. Darrell Horcher
Tim Means vs. Ricky Rainey
Raoni Barcelos Chris Gutierrez