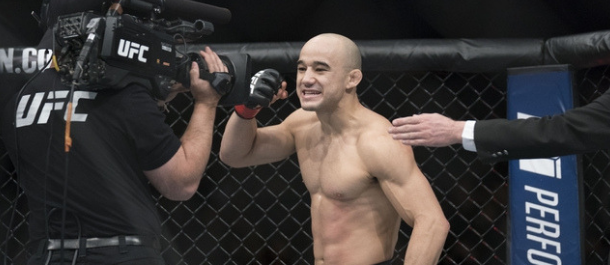 The UFC will head back to Fortaleza, Brazil, this weekend for a fantastic Brazilian-focused fight card with many legends and rising stars.
In the main event of UFC Fight Night 144, Raphael Assuncao and Marlon Moraes will meet for the second time. The winner of this high stakes bantamweight fight will emerge as the next contender for the UFC Bantamweight Championship. TJ Dillashaw currently holds that title.
The co-main event will feature featherweight legend Jose Aldo, who will be defending his spot in the 145-pound division against the fast-rising Renato Moicano.
Join us as we preview the fights at UFC Fight Night 144 and provide our best bets for the event.
Raphael Assuncao vs. Marlon Moraes
Raphael Assuncao has never quite been in a position to demand a title shot, but he definitely will be if he wins this fight against Marlon Moraes.
Assuncao has been a dominant force in the UFC's bantamweight division, dropping just one fight in the last eight years; that defeat was to current champion, TJ Dillashaw. Since losing to Dillashaw at UFC 200, Assuncao has worked his way to four more impressive wins against the likes of Aljamain Sterling, Marlon Moraes, Matthew Lopez, and Rob Font. Despite looking like the top contender in the division, the UFC instead decided to book him against Moraes once more.
Moreover, from Moraes' perspective, it all makes sense.
Moraes lost his UFC debut to Assuncao but has since dominated Jimmie Rivera and Aljamain Sterling, scoring tremendous knockout victories inside the first round. Those wins came after a competitive battle with John Dodson in which he earned a split decision win.
Moraes has displayed amazing power, technique and timing in his last two fights. He was a known fight-finisher during his time at World Series of Fighting and has only now translated this ability to the UFC, where he has scored consecutive finishes against highly-rated bantamweight opponents.
The winner of this matchup will go on to face Dillashaw for the bantamweight title.
Best odds for Raphael Assuncao vs. Marlon Moraes:
Assuncao's first meeting with Moraes was a very competitive battle from start to finish. The veteran took many of Moraes' best shots – some of which were enough to put away Rivera and Sterling – and managed to stay in the fight and use a calculated strategy to score the split decision win.
It was incredibly close, though, and the rounds could have gone either way.
Assuncao is typically a counter striker but has recently become more aggressive, perhaps with the belief he needs to be more entertaining to become favorable in the eyes of the UFC brass?  Moraes is a devastating counter striker and can land bombs on Assuncao when given a chance – the last fight is evidence. Moraes picked up steam in the final round of their first meeting and there's an argument to be made that he'll carry that momentum into the next rounds of their rivalry.
Look for Moraes to come away with a win in this main event.
Bet on Marlon Moraes to win: -169 (Pinnacle)
Jose Aldo vs. Renato Moicano
Believe it or not, Jose Aldo will be competing in a three-round co-main event this weekend.
The once long-reigning featherweight champion of the UFC is now desperately attempting to regain his right to another shot at the belt he once held. After first losing his title to Max Holloway in June 2016, he would then fail to reclaim it in an immediate rematch not that long after. Fortunately for the Brazilian veteran, he would then bounce back with a devastating body punch stoppage against Jeremy Stephens at UFC on FOX 30. With a convincing win here against Moicano, Aldo finds himself in a peculiar position just outside the range of another shot at Holloway.
Renato Moicano is a man on a mission. Currently tearing through the 145-pound weight class, the 29-year-old Brazilian is 5-1 in the UFC. His only defeat in the UFC so far – and his professional career – was to former title challenger Brian Ortega at UFC 214. Moicano was winning the fight convincingly before giving up his neck in the middle of round three.
Best odds for Jose Aldo vs. Renato Moicano:
Many are quick to believe that Jose Aldo is over the hill and could be outworked by a younger, more athletic opponent. While that might hold some truth, Aldo has made an effort to hide his weaknesses by adapting his strategy to focus more on his boxing and less upon his kicking prowess. At close range, Aldo's defensive ability combined with expert timing and power has made him a dangerous boxer – Stephens learned this the hard way by eating a powerful left hook to the body.
Moicano is a bright prospect with the capability of beating up many top-tier boxers in the division. This was proved by his win over Calvin Kattar recently. However, Moicano does have more defensive holes than his adversary in this contest, and we can only expect Aldo to piece him up when given a chance.
If Moicano blocks high with his traditional high-arm guard, watch Aldo go low to the body with heavy punches. Don't write off Aldo just yet.
Bet on Jose Aldo to win: +110 (Pinnacle)
Demian Maia vs. Lyman Good
One of the most dominant grapplers in the history of the UFC, Demian Maia now finds himself needing to snap a terrible three-fight losing streak. After seven consecutive wins skyrocketed him to a title shot in the UFC's welterweight division on short notice, Maia was dominated by Tyron Woodley for five rounds after failing to secure a takedown. The Brazilian Jiu-Jitsu expert was then matched against the two next-best wrestlers in the division, Colby Covington and Kamaru Usman where he was outworked yet again. Maia has racked up 12 career wins by submission and 10 decision victories in his professional career.
Lyman Good is now 2-1 in the UFC after securing a dominant first-round victory against Ben Saunders at UFC 230. Saunders, who is also a submission happy grappler, was knocked out in just 1:32 by a combination of punches from the 33-year-old "Cyborg." Good has 10 KO/TKO victories on his record and seven wins by way of decision.
Best odds for Demian Maia vs. Lyman Good:
It feels like Demian Maia has nothing more to give, but this is probably when he is most dangerous.
Maia's striking is less than good, but it almost entirely exists as a way to set up his takedown. If the takedown isn't there (see fights with Woodley, Usman, and Covington), his striking is helpless against the relentless attack of his opponent.
This fight ultimately comes down to whether Maia can secure the takedown.
If he can, we haven't seen enough from Good to suggest that he can defend the submission onslaught and inevitable rear-naked choke from Maia. If he can't, there's an almost equal chance that Good lights him up on the feet and earns a stoppage.
Maia's takedowns are surprisingly decent, but we're inclined not to believe so because of recent performances. He'll take down Good and earn a submission, and it might not take long.
Bet on Demian Maia to win: -175 (Bovada)
Charles Oliveira vs. David Teymur
Despite fighting just minutes before someone who is regarded as the best grappler in the UFC, Charles Oliveira is the UFC record holder for most submission wins in the organization. With 17 submission victories to his name from 25 professional wins, Oliveira is a brilliant fight-finisher who has only managed two decision wins in his career. The Brazilian jiu-jitsu ace will be looking to extend his record by submitting David Teymur this weekend in Fortaleza.
Teymur is up there with the most underrated of all fighters in the UFC's lightweight division. Undefeated in the UFC so far, the 29-year-old Swede has three decision wins and two KO/TKO victories in the promotion so far. There's arguably no better test right now for Teymur than the always-dangerous Oliveira.
Best odds for Charles Oliveira vs. David Teymur:
Whereas the earlier mentioned Demian Maia relies heavily on a takedown for his success, you could say that Charles Oliveira relies on a submission win more so.
Deadly in the opening stages of a fight, Oliveira attempts to wrap up his opponent and lock in a fight-ending submission. If he is unable, however, he often finds himself discouraged and up against all the odds.
David Teymur has 82% takedown defense so far in the UFC and seemingly has the defensive wrestling ability to nullify Oliveira's grappling. As long as this one stays standing, Teymur should cruise to a victory.
Bet on David Teymur to win: +102 (Pinnacle)
Johnny Walker vs. Justin Ledet
Also on the main card is an exciting battle between Johnny Walker and Justin Ledet.
Ledet will step in as a moderate underdog at odds of +180 at Pinnacle and represents the better value bet in this matchup. Walker's claim to fame is a quick knockout finish of Khalil Rountree. Ledet is a durable fighter who may be able to withstand Walker's heavy hands. If Ledet can stay out of the Thai clinch, it should be one of the best bets of the night.
Bet on Justin Ledet to win: +180 (Pinnacle)
UFC Fight Night 144 fight card
The UFC Fight Night 144 main card begins on ESPN+ from 8:00 pm ET (1:00 am GMT) on Saturday, February 2.
UFC Fight Night 144 on ESPN+ (8:00 pm ET / 1:00 am GMT)
Raphael Assuncao vs. Marlon Moraes
Jose Aldo vs. Renato Moicano
Demian Maia vs. Lyman Good
Charles Oliveira vs. David Teymur
Johnny Walker vs. Justin Ledet
Livinha Souza vs. Sarah Frota
Preliminary Card on ESPN+ (4:30 pm ET / 9:30 am GMT)
Markus Perez vs. Anthony Hernandez
Mara Romero Borella vs. Taila Santos
Thiago Alves vs. Max Griffin
Junior Albini vs. Jairzinho Rozenstruik
Ricardo Ramos vs. Said Nurmagomedov
Rogerio Bontorin vs. Magomed Bibulatov
Geraldo de Freitas vs. Felipe Colares