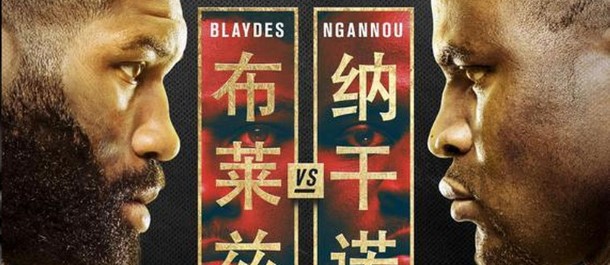 It's all happening this weekend in Beijing, China.
The UFC is set to host another thrilling event for the Chinese fans after first visiting Shanghai in November last year. UFC Fight Night 141 will be headlined a big-time heavyweight rematch between Curtis Blaydes and Francis Ngannou.
The event is scheduled for Saturday, November 24, in China and the main card will air live on UFC Fight Pass at 6:30 a.m. on Sunday.
Also on the card is a stack of Chinese talent including breakout star Song Yadong and the proven Li Jingliang who will both feature on the main card.
As always, we're here to research the best odds and bring you all of the best bets for UFC Fight Night 141.
Let's get started.
Curtis Blaydes vs. Francis Ngannou
It's amazing how quickly things change in mixed martial arts.
Just two years ago, Francis Ngannou scored a decisive victory against Curtis Blaydes before surging up the rankings and earning himself a UFC Heavyweight Championship bout against Stipe Miocic.
After failing in his title challenge, Ngannou then lost to Derrick Lewis in what was considered one of the most boring fights in UFC history at UFC 226.
And for Curtis Blaydes, his only career defeat came on that day against Ngannou. He has since managed to win five more bouts – including big wins over Alistair Overeem, Mark Hunt, and Alexey Oleynik – to move into a prime position in the heavyweight rankings. With a win here, he'll likely be challenging for the UFC Heavyweight Championship sooner than later.
Best odds for Curtis Blaydes vs. Francis Ngannou:
Francis Ngannou is on a seemingly endless downward spiral, and Curtis Blaydes is trending nothing but upward – so it'd make sense to bet on Blaydes here, right?
Well, there's a lot more to it than that; mainly because the bookmakers have released Ngannou as a considerable underdog. That's a whole lot of value for a guy who previously beat his opponent.
So, what do we need to understand before UFC Fight Night 141?
Curtis Blaydes has improved a lot, but there are still several ways in which he hasn't shown much improvement at all. For example, despite his improved feinting, movement, and offensive toolset, Blaydes still gets tagged far too often. That's not a desired trait to have in the heavyweight division by any means. When Mark Hunt and Alistair Overeem landed hard shots on Blaydes, he continued keeping on and eventually worked his way to victory despite the initial dangers.
Moreover, where is Francis Ngannou at mentally? Sure, he's a phenom with explosive power and athleticism, but that can only carry a fighter so far in 2018. Against Derrick Lewis, Ngannou looked like a shadow of his former self and admitted to feeling the lingering effect of fear that carried over from his beating from Stipe Miocic in January.
Despite likely landing his shots on Blaydes at times, we can only expect that Blaydes will continue to walk forward and secure his takedowns. It should be enough to win him a convincing decision if he doesn't find a way to end it earlier.
Take Blaydes in what should be one of the most intriguing matchups in recent heavyweight memory.
Bet on Curtis Blaydes to win: -210 (Bovada)
Alistair Overeem vs. Sergey Pavlovich
Sergey Pavlovich's first fight in the UFC will be a tough one.
Moving on from his time at Fight Nights Global, where he was the heavyweight champion, Pavlovich will now test his abilities with the best in the UFC. He'll be facing Alistair Overeem in a fight that could boost him right up the rankings with a win.
Overeem, who will be stepping into the cage after two knockout defeats to Curtis Blaydes and Francis Ngannou is desperately in need of a victory. To bounce back, Overeem has made a move to Team Elevation, where he is now training with the aforementioned Curtis Blaydes. It's now time to see whether this move will help Overeem reclaim the past form that saw him win both the Strikeforce and DREAM titles.
Best odds for Alistair Overeem vs. Sergey Pavlovich:
There's no reason to write Alistair Overeem off just yet, but this seems like an arduous task for the heavyweight veteran. Sergey Pavlovich is a big and strong opponent and almost exactly the type that has caused problems for Overeem recently.
The most significant talking point heading into this matchup is that Overeem's chin isn't as sturdy as it needs to be when facing a powerful opponent like Pavlovich. It might just take a couple of solid punches for Overeem to go crashing into the mat.
However, if we're speaking about this fight from a technical standpoint, and not of a size, strength and power perspective, Pavlovich is seemingly miles behind Overeem.
Pavlovich parries wide and flinches at almost any offensive movement from his opponent. We're expecting Overeem to feint and keep Pavlovich reacting before eventually crushing him with some heavy shots.
Bet on Alistair Overeem to win: +116 (Pinnacle)
Song Yadong vs. Vince Morales
Vince Morales steps into the stacked UFC bantamweight division and will take on Song Yadong in his first-ever fight with the UFC.
Song Yadong is one of China's many rising mixed martial arts talents. While they might not have the high levels of popularity in the United States or elsewhere in the world just yet, the UFC is doing their best to give these guys and girls the spotlight they deserve.
Undefeated in his last five fights, the 20-year-old from China will be looking to continue his climb through the bantamweight division by scoring yet another stoppage victory in the UFC.
Vince Morales replaces Frankie Saenz in this main card matchup. Now 8-2 as a professional mixed martial artist, Morales recently missed his chance to enter the UFC when he was defeated Domingo Pilarte during Dana White's Contender Series earlier this year.
Best odds for Song Yadong vs. Vince Morales:
Even on short notice, Vince Morales seems like excellent value at first glance. In the lead-up to this fight, he has spoken time and time again about how he is entirely aware that he will be considered an underdog in this fight but that he is ready to shock the world and come home with an upset victory.
Morales is a fast-paced, high-volume striker who might always be in contention for one of the UFC's $50,000 bonuses for Performance of the Night or Fight of the Night as long as he stays standing. He's exciting and explosive and is an excellent addition to the UFC's roster.
But Song Yadong could already be on another level.
A natural fight finisher, Yadong has managed to stop each of his two opponents in the UFC so far. He's also considerably more well-rounded that Morales – who lacks the same takedown defense and grappling ability – and has more ways to win in Beijing.
The best and safest bet for this fight is to take Song Yadong to win.
Song Yadong to win: -350 (Bovada)
Li Jingliang vs. David Zawada
After Elizeu Zaleski withdrew from his bout with Li Jingliang due to injury, David Zawada stepped in to fill the spot.
David Zawada had his five-fight winning streak snapped by Danny Roberts at UFC Fight Night 134, where he made his debut with the promotion. He'll be hoping to avoid defeat in his first two bouts with the UFC when he enters the cage in Beijing this weekend.
Li Jingliang has somewhat of a cult following in the UFC. The Chinese fighter has won five of his last six bouts and returned to form against Daichi Abe at UFC Fight Night 132 by winning a unanimous decision. That victory moved him back into the winning column after Jake Matthews defeated him at UFC 221.
Best odds for Li Jingliang vs. David Zawada:
The hype around Li Jingliang has slowed down a little since losing to Jake Matthews not that long ago. It was never blown out of proportion, but many were confusing Jingliang's excitement factor with supreme fighting skills and abilities. He's very powerful for the division, but there are many opportunities for an opponent to exploit.
David Zawada might be the type of opponent to do so. He's relatively explosive, fights with a fast-pace and is always coming forward. Zawada somehow manages to throw everything with power all while staying relatively sound defensively. Although he lost his UFC debut to Danny Roberts, he was incredibly close to securing a D'Arce choke in the third round and looked the part throughout the entire fight.
This should be a well-matched, even fight. We'll be taking the underdog, David Zawada to score the victory.
Bet on David Zawada to win: +127 (Pinnacle)
UFC Fight Night 141 fight card
UFC Fight Night 141 begins on UFC Fight Pass from 3:00 am ET (7:00 am GMT) on Sunday, November 25.
UFC Fight Pass Main Card (6:30 am ET / 10:30 am GMT)
Curtis Blaydes vs. Francis Ngannou
Alistair Overeem vs. Sergey Pavlovich
Song Yadong vs. Vince Morales
Li Jingliang vs. David Zawada
UFC Fight Pass Prelims (3:30 am ET / 7:00 am GMT)
Song Kenan vs. Alex Morono
Hu Yaozong vs. Rashad Coulter
Wu Yanan vs. Lauren Mueller
Weili Zhang vs. Jessica Aguilar
Yan Xiaonan vs. Syuri Kondo