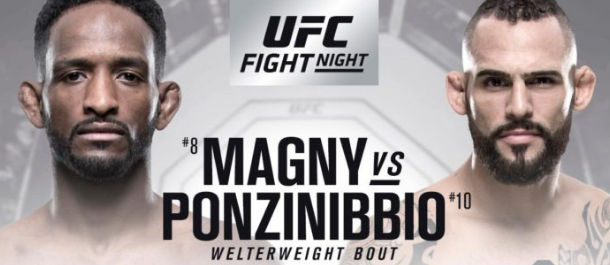 The UFC heads to Buenos Aires, Argentina, this weekend for a UFC Fight Night event headlined by Neil Magny and Santiago Ponzinibbio.
Magny, who is ranked #8 in the welterweight division, will defend his spot from the rising Ponzinibbio (rank #10).
There are also several more interesting battles on the main card, including Ricardo Lamas vs. Darren Elkins, the return of Cynthia Calvillo, and Khalil Rountree's next fight after stopping Gokhan Saki.
UFC Fight Night 140 will take place at the Estadio Mary Terán de Weisson on November 17, 2018.
We've done all the research and analysis for you before this event begins.
Here are our best bets.
Neil Magny vs. Santiago Ponzinibbio
Neil Magny vs. Santiago Ponzinibbio would be a great co-main event in 2018.
Unfortunately, for the sake of the fans in Argentina, it's the main event of UFC Fight Night 140.
Magny enters this main event on an impressive two-fight winning streak, the first since early 2016. In December 2017 he scored a unanimous decision victory over Carlos Condit after entering the fight as a slight underdog. He then backed it up with a convincing win over Craig White at UFC Fight Night 130 in May this year.
Ponzinibbio is on quite a roll right now. Undefeated since June 2016, the Argentinian has now won six consecutive fights and dismantled tough competition such as Gunnar Nelson and Mike Perry along the way.
Many feel that Ponzinibbio is destined for a top-5 spot in the UFC's official welterweight rankings.
Best odds for Neil Magny vs. Santiago Ponzinibbio:
At first, these odds seem a little wide.
Magny is a proven competitor with wins over Kelvin Gastelum, Johny Hendricks, and Condit in the last couple of years. However, there's a fair argument to be made that he caught Hendricks and Condit in their worse years. Those two, along with a win over short-notice replacement opponent White, make up for all of Condit's most recent three victories.
But let's not take too much away from Magny. He's dangerous wherever the fight ends up and is particularly good at bodying around opponents inside the clinch while landing vicious knees and other strikes.
Ponzinibbio is a dangerous guy who is always ready to unload the tremendous power in his hands. With his arms out wide and circling left to right, Ponzinibbio eventually waits for his chance to commence a powerful combination of wild punches.
This style has worked for him time and time again, even against opponents with a similar style to Magny.
Ponzinibbio is a deserving favorite, but the line seems a little too wide. Even more generous is the odds for Magny to win inside the distance. We'll be counting on the underdog bet to come through big.
Bet on Neil Magny to win inside the distance: +650 (Bovada)
Ricardo Lamas vs. Darren Elkins
Believe it or not, Darren Elkins' impressive six-fight winning streak came to an end.
He'll be looking to redeem himself and get back in the winning column immediately against Ricardo Lamas in Argentina.
Best odds for Ricardo Lamas vs. Darren Elkins
Through his 25-fight career, Ricardo Lamas has never dropped two fights in a row until now. Josh Emmett starched lamas in December 2017 in what was viewed as a considerable upset at the time. In his next outing, he was matched against the tough Mirsad Bektic and dropped a split decision. While many might consider Lamas to be way past the days that saw him climb to a title shot against Jose Aldo in 2014, that's not necessarily true.
Darren "The Damage" Elkins lives up to his name, but it's mostly because he's on the receiving end of the damage. Fans will recall Elkins being beaten up by Bektic for two rounds before eventually scoring a third-round finish in what was an epic comeback victory. It all came to an end, though, when Alex Volkanovski crushed Elkins with overwhelming pressure and grappling dominance at UFC Fight Night 133.
Elkins is the better fighter by a wide margin, and we expect him to secure a victory inside the distance.
Bet on Ricardo Lamas to win -223 (Pinnacle)
Khalil Rountree Jr. vs. Johnny Walker
Fresh after scoring the biggest knockout of his career, Khalil Rountree finds himself in a strange matchup against UFC newcomer, Johnny Walker.
Best odds for Khalil Rountree Jr. vs. Johnny Walker:
After capturing the attention of fans during The Ultimate Fighter 23, Rountree earned himself a spot in the UFC. However, he suffered defeat in his first two fights inside the UFC's Octagon – against Andrew Sanchez and Tyson Pedro – and was in desperate need of turning things around. Well, he has.
Now, Rountree is on a remarkable three-fight winning streak that is capped off by a stunning first-round knockout of Gokhan Saki back at UFC 226. With heavy hands and decent boxing technique, Rountree is a problem on the feet.
Johnny Walker now enters the UFC after impressing on Dana White's Contender Series 2018. With a three-round unanimous decision over Luis Henrique da Silva, Walker is the latest of light heavyweight fighters to join the ranks and will do so with a six-fight winning streak behind him.
Walker is a huge dude with surprisingly decent clinch technique, devastating elbows, and serviceable ground game. He'll be a fascinating test for Rountree, but we see nothing other than Rountree getting the finish in the first round.
Bet on Khalil Rountree to win by KO/TKO: -130 at (Bovada)
Cezar Ferreira vs. Ian Heinisch
Ian Heinsich will be making his UFC debut this weekend on short notice.
He'll be up against Cezar Ferreira, a six-year veteran of the UFC who is currently riding a two-fight winning streak.
Best odds for Cezar Ferreira vs. Ian Heinisch
Ian Heinisch impressed on Dana White's Contender Series and was one of four victorious fighters to earn a call-up to the UFC that day earlier this year. The 30-year-old smashed Justin Sumter with devastating elbows from top position to secure the finish. That win marked his third in a row and came just one fight after claiming the LFA interim middleweight championship in May this year.
Cezar Ferreira has won five of his last six bouts and most recently locked in an arm-triangle choke finish against Karl Roberson in May. Ferreira's last defeat was February last year when he lost to the surprisingly tricky Elias Theodorou in a three-round bout.
Ferreira is a deserving betting favorite in this contest. Heinisch has shown a tendency just to storm forward and throw a devastating overhand right. If it lands, Ferreira might go out. However, that's a big if. Take the favorite.
Bet on Cezar Ferreira to win: -150 (Bovada)
Guido Cannetti vs. Marlon Vera
Guido Cannetti and Marlon Vera will both be attempting to extend their winning streak to two this weekend at UFC Fight Night 140.
Best odds for Guido Cannetti vs. Marlon Vera
Guido Cannetti will step inside the cage for the third time this year after he was forced to sit out for over two years following a failed drug test by USADA.
Marlon Vera has since lost some momentum after his spectacular finishes over Brian Kelleher and Brad Pickett back in 2017. He most recently returned to form against Wuliji Buren at UFC 227.
Cannetti is a crafty kickboxer with lots of power in his strikes. There's not much confidence on either side of this fight, so we'll be backing the underdog to be victorious as a +EV play.
Bet on: +265 (Pinnacle)
Cynthia Calvillo vs. Poliana Botelho
Poliana Botelho will look to make it three in a row in the UFC against returning Cynthia Calvillo.
Best odds for Cynthia Calvillo vs. Poliana Botelho:
Since joining the UFC late last year, Botelho has managed big victories over Pearl Gonzalez and then Syuri Kondo. The Kondo victory was a stunning 33-second KO/TKO finish via a nasty body kick and punches.
Calvillo will be back in action for the first time since December 2017 after USADA suspended her for a violation. She looked to be a rising star in the division, with three-straight wins to her name, but most recently dropped a unanimous decision to Carla Esparza at UFC 219.
Botelho is ridiculously strong for this women's division. Backed by good striking and a serviceable grappling game, Botelho makes for an excellent play at UFC Fight Night 140.
Bet on Poliana Botelho: -135 (Bovada)
UFC Fight Night 140 fight card
UFC Fight Night 140 begins on UFC Fight Pass from 7:00 pm ET (11:00 pm GMT) on Saturday, November 17.
FS1 Main Card (10:00 pm ET / 2:00 am GMT)
Neil Magny vs. Santiago Ponzinibbio
Ricardo Lamas vs. Darren Elkins
Khalil Rountree vs. Johnny Walker
Cezar Ferreira vs. Ian Heinisch
Guido Cannetti vs. Marlon Vera
Cynthia Calvillo vs. Poliana Botelho
FS1 Prelims (8:00 pm ET / 12:00 am GMT)
Michel Prazeres vs. Bartosz Fabinski
Alexandre Pantoja vs. Ulka Sasaki
Humberto Bandenay vs. Austin Arnett
Laureano Staropoli vs. Hector Aldana
UFC Fight Pass Early Prelims (7:00 pm ET / 11:00 pm GMT)
Devin Powell vs. Jesus Pinedo
Nad Narimani vs. Andrson dos Santos