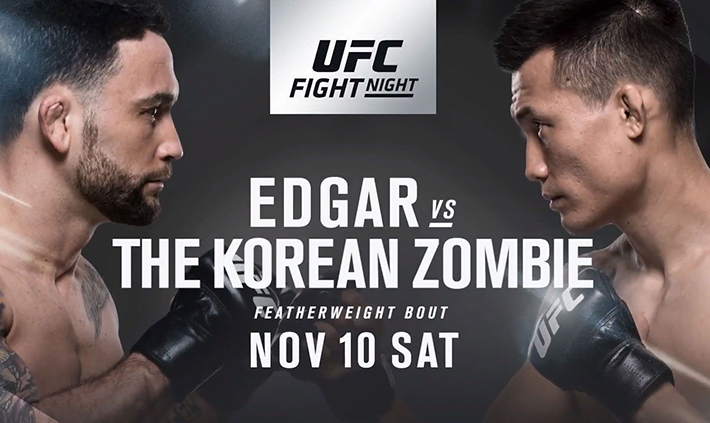 Happy anniversary!
The UFC is celebrating its 25th year of existence this weekend in Denver, Colorado, almost exactly 25 years after it all began in the same exact place.
Although it's not a pay-per-view card, the UFC isn't skimping out with this Fight Night event and have brought along many fan-favorite fighters to compete on the main card.
As always, we're here to preview all of the action and bring you the best bets and odds.
Let's go!
Chan Sung Jung vs. Yair Rodriguez
Chan Sung Jung, better known as "The Korean Zombie," will make his long-awaited return to the cage for this main event. He hasn't competed since defeating Dennis Bermudez with a powerful right uppercut in February 2017.
Yair Rodriguez hasn't been active, either. Rodriguez had seemingly disappeared after being dominated by Frankie Edgar in May last year.
As a result, there are lots of questions to be asked of each fighter.
Best odds for Chan Sung Jung vs. Yair Rodriguez
Chan Sung Jung is unsurprisingly the betting favorite. With crisp boxing technique and relentless pressure and pace, "The Korean Zombie" can prove a handful for even the most skilled of featherweight fighters.
Those attributes are exactly what could cause trouble for his opponent this weekend.
Walking forward and always pushing his opponent backward, Jung is likely to overwhelm Rodriguez and disallow him from planting his feet and launching his explosive and creative kicking techniques. If he is constantly forced to move, shuffle, and reset, Rodriguez will have a challenging time playing his long-range striking game against Jung.
But if Jung is unable to pressure Rodriguez, expect Rodriguez's taekwondo skills to take over in this bout. Rodriguez's attacks are not just innovative, they're reasonably powerful as well.
This fight isn't expected to last the distance and we can see "The Korean Zombie" scoring a second or third round knockout finish of his opponent here in Denver.
Bet on Chan Sung Jung to win -140 at Bovada
Donald Cerrone vs. Mike Perry
Donald Cerrone vs. Mike Perry could very well be one of the best fights of the year.Cerrone and Perry are both known for putting on a show, and with a touch of bad blood behind the scenes thanks to Cerrone's fallout with the Jackson Wink gym, it's likely this one will be a ferocious battle.
Cerrone enters the cage having lost four of his last five fights, the worst stretch of his entire career.
Perry is now back in the winning column after seeing a bloody split decision in his favor against Paul Felder recently.
Best odds for Donald Cerrone vs. Mike Perry 
Mike Perry is the favorite as the public and bookmakers seem to think his power will be too overwhelming for the aging "Cowboy."
That's a fair take.
But an improved realization is that "Cowboy" has looked reasonable in his last two outings, against Yancy Medeiros and Leon Edwards, and isn't as over the hill as he may seem at first glance.
Stylistically, Cerrone has all the advantages here as he should be able to piece up Perry with all kinds of strikes. Even then, his best advantage is on the mat. If he can get Perry to the ground and keep him there, it's likely we'll see a vintage submission from Cerrone.
He will need to be careful of Perry's power, though.
Bet on Donald Cerrone: +175 at Bovada
Raquel Pennington vs. Germaine De Randamie
It's a little strange when a fight between two of the top contenders in a division goes under the radar. That's exactly what's happening here with Raquel Pennington vs. Germaine De Randamie.
Raquel Pennington will step in after being defeated by current champion Amanda Nunes in her recent quest for the bantamweight title. As such, the longest winning streak of her career (four fights) came to an end.
Germaine De Randamie is a different story. "GDR" won her last bout, which was a title fight against Holly Holm, and claimed the UFC Women's Featherweight Championship. After declining to fight challenger Cris Cyborg, De Randamie was soon stripped of her title.
Best odds for Raquel Pennington vs. Germaine De Randamie
Raquel Pennington might be getting too much love from the public and sportsbooks because her odds are lower than expected.
Pennington is certainly a tough fighter and presents a difficult challenge, particularly with her wrestling and body lock style takedowns, but she is relatively one-dimensional on the feet.
This is how Germaine De Randamie will steal this fight. "GDR" is superb while standing and has supreme kickboxing ability (an undefeated career as a kickboxer). If she keeps this fight at distance, which is likely, Germaine might easily pick apart Pennington in the same way that Amanda Nunes did for almost five rounds.
This isn't the best of matchups for Pennington, to say the least.
Bet on Germaine De Randamie to win: -175 (Bovada)
Maycee Barber vs. Hannah Cifers
Maycee Barber and Hannah Cifers will both be making their UFC debut this weekend at UFC Fight Night 139.
But this is a fight that almost nobody is excited about.
That's not to say there's no reason to be excited, it's just that these two ladies are not familiar faces to the casual (or even many hardcore) fans of the UFC.
Best odds for Maycee Barber vs. Hannah Cifers 
Maycee Barber will step into the cage after doing enough to impress Dana White and the UFC team on Dana White's Tuesday Night Contender Series earlier this year. Barber picked up a late stoppage and earned a UFC contract for her efforts.
For her first fight with the promotion, the 20-year-old will be up against another newcomer in Hannah Cifers.
Cifers was apparently on the UFC's radar already, even before she was called up to be a short notice replacement for Maia Stevenson in this bout. She has a Muay Thai background and is renowned for her punching power – something extremely hard to find in these female divisions.
If Cifers can manage to catch Barber with a right hand, it could be the end of the fight. We're not usually the type to back a female by KO/TKO as the percentages are typically much lower, but this one is a decent pick because of Barber's defensive lapses.
Bet on: Hannah Cifers to win by KO/TKO: +330 at Bovada
Michael Trizano vs. Luis Pena
Michael Trizano and Luis Pena will open up the UFC Fight Night 139 main card in a battle between two new additions to the UFC roster.
Pena and Trizano featured on a recent season of The Ultimate Fighter and both were victorious at the TUF 27 Finale event just a few months back. 
Best odds for Michael Trizano vs. Luis Pena
Both fighters will enter this fight undefeated but only one can leave with their perfect record intact.
Pena is a potential star in the making. Nicknamed "Violent Bob Ross," Pena's curly hair stands out nearly as much as his excellent striking form and technique and relatively well-rounded skillset. He's also decent enough when the fight hits the mat, too, and scored a guillotine choke in his most recent fight.
Trizano is 7-0 and recently worked his way to a split decision over Joe Giannetti, another highly rated prospect to come out of that season of The Ultimate Fighter.
Bet on Luis Pena to win: -190 at Pinnacle
UFC Fight Night 139 fight card
UFC Fight Night 139 begins on UFC Fight Pass from 6:30 pm ET (10:30 pm GMT) on Saturday, November 10.
Pay-per-view (10:00 pm ET / 2:00 am GMT)
Chan Sung Jung vs. Yair Rodriguez
Donald Cerrone vs. Mike Perry
Raquel Pennington vs. Germaine De Randamie
Joseph Benavidez vs. Ray Borg
Maycee Barber vs. Hannah Cifers
Michael Trizano vs. Luis Pena
FS1 Prelims (8:00 pm ET / 12:00 am GMT)
Ashley Yoder vs. Amanda Cooper
Chas Skelly vs. Bobby Moffett
Beneil Dariush vs. Thiago Moises
Devonte Smith vs. Julian Erosa
UFC Fight Pass Early Prelims (6:30 pm ET / 10:30 pm GMT)
Davi Ramos vs. John Gunther
Joseph Morales vs. Eric Shelton
Mark De La Rosa vs. Joby Sanchez