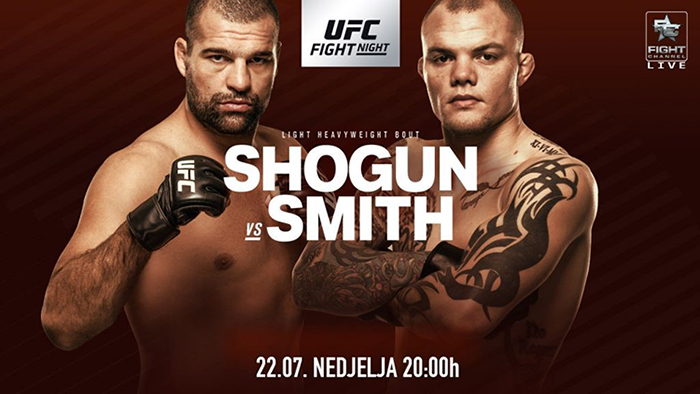 Mauricio Rua vs. Anthony Smith
Ahead of this main event in Germany, Mauricio "Shogun" Rua will be stepping inside the cage as a moderate underdog (+200) against Smith (-230).
After Volkan Oezdemir was pulled from this bout with Mauricio Rua just a few weeks ago, Anthony Smith was deemed the man most suitable to step up and challenge "Shogun" without much preparation.
The contest, which doesn't scream importance, actually holds major implications for Rua, who might throw himself into the mix for a shot at Daniel Cormier and the UFC's Light Heavyweight Championship if he manages to score a win here in Germany. As for Smith, it might just mean he gains the respect he deserves as a tough contender in the division after recently moving up from middleweight and defeating Rashad Evans in the first round.
There's a real chance that Mauricio Rua can withstand Smith's pressure and beat him up in the second round.
Prediction: Mauricio Rua to win inside the distance
Bet: Mauricio Rua to win [+200]
Glover Teixeira vs. Corey Anderson
Glover Teixeira is the man that many expect to win this one and he sits at -190, while Corey Anderson is valued at +183.
Moments before that main event, there'll be another fascinating light heavyweight battle as Glover Teixeira steps into the Octagon with Corey Anderson.
Teixeira has long been regarded as one of the most feared and heavy-hitting strikers in the 205lbs division in the UFC. He's tough, somewhat durable for his size, and has shown an ability to get guys out of there with strikes early or take them the distance and have his hand raised. After being flattened by Anthony "Rumble" Johnson in 2016, Teixeira returned to form with a win over Jared Cannonier. But then, his rise came to another end when he was on the wrong end of an Alexander Gustafsson masterclass. Most recently, he scored a big win over Misha Cirkunov and now wants to put his name back in contention with a win against Anderson.
Anderson, much like Teixeira himself lately, has been in this strange position inside the division in which he is defeating the mid-tier and lower-tier guys, but can't score wins over anyone ranked inside the top five. He lost to Jimi Manuwa and Ovince Saint Preux in 2017 but managed to snap that losing streak earlier this year when he faced Patrick Cummins at UFC Fight Night 128. Without a doubt, this would be the biggest win of Anderson's career if he gets over the line vs. Teixeira in Germany.
Prediction: Glover Teixeira inside the distance
Bet: Glover Teixeira to win (-190)
Vitor Miranda vs. Abu Azaitar
Abu Azaitar is considered the favorite (-184) while Vitor Miranda can be found at odds of (+160).
Vitor Miranda's been for a while now, and that's saying it politely. At the age of 40, Miranda is still stepping into the UFC's Octagon and competing against up-and-coming monsters in the middleweight division. Most recently, his record fell to 3-3 in the UFC after losing a unanimous decision to Marvin Vettori at UFC Fight Night 112. His three win streak of KO/TKO victories has come to a close since 2016 and without another spectacular win this weekend in Germany, Miranda might be on the verge of an ending to his career in the UFC.
Abu Azaitar will be stepping into the UFC's Octagon for the very first time this weekend. With a record of 13-2-1, Azaitar has done most of his best work at WSOF. He's riding an eight-win streak that started way back in 2013. Come this weekend, Azaitar will have the full support of the German crowd at Barclaycard Arena. Azaitar is stocky and powerful, and he'll attempt all sorts of looping punches.
Prediction: Vitor Miranda by unanimous decision
Bet: Vitor Miranda to win (+160)
Marcin Tybura vs. Stefan Struve
Marcin Tybura has everyone behind him in this contest and he is a -218 favorite while Stefan Struve and his plentiful experience is +205.
Here's a brilliant battle between two very skilled heavyweight fighters. Marcin Tybura will step into the cage for the first time since losing to Derrick Lewis earlier this year. That defeat was Tybura's second consecutive shortcoming and a quick end to the hype behind him as one of the newest title contenders in the heavyweight division. Before then, Tybura had managed wins over Andrei Arlovski, Luis Henrique, and Viktor Pesta.
And then there's Stefan Struve, who was beginning to look much better than he had done in previous years. However, much like Tybura, he's now on a two-fight skid thanks to losing to Alexander Volkov and Andrei Arlovski. Struve, known as "Skyscraper" stands at 7'0" (214cm) and is freakishly large, even for the biggest category in the UFC.
Prediction: Marcin Tybura to win inside the distance
Bet: Marcin Tybura to win (-218)
Nasrat Haqparast vs. Marc Diakiese
Nasrat Haqparast is a moderate underdog in this lightweight bout at +185, and Marc Diakiese is the favorite at -190.
While most of this card is filled with aging veterans or people at the very top of their game (or past), this lightweight bout is sure to be an action-packed contest between two fighters with high ceilings. By that, we mean that while they are still developing, they can reach major heights and their potential is seemingly unlimited.
Nasrat Haqparast has just stepped foot inside the UFC's cage one time so far, but he made quite the appearance. He battled with experienced veteran Marcin Held and took him to a relatively close decision late in 2017. Nasrat has excellent boxing ability and has rounded out his game with the team at Tristar in Canada.
And Marc "Bonecrusher" Diakiese was previously storming through the division but recently ran into a series of defeats at the hands of Drakkar Klose and Daniel Hooker. The Klose fight was a relatively even contest, but Diakiese was outworked by the pressure of his opponent. And then, against Dan Hooker, Diakiese was submitted by the rising lightweight star in the third round.
Prediction: Nasrat Haqparast to win by unanimous decision
Bet: Nasrat Haqparast to win (+185)
Danny Roberts vs. David Zawada
There's a large margin between these two fighters as Danny Roberts is -320 and David Zawada is +336.
After Alan Jouban was removed from UFC Fight Night 134 with a neck injury in the lead-up to this fight, David Zawada will now step in and replace Jouban in a fight with Danny Roberts.
Zawada, a German fighter with a 16-3 record, will be making his UFC debut in front of his fans in Germany.  At the age of 28, Zawada has managed five consecutive victories through KSW, GMC, and Respect FC. He's somewhat of a brawler and is known for trading heavy hands with opponents.
Roberts will be returning for the first time since defeating Oliver Enkamp with a brilliant KO/TKO finish at UFC Fight Night 127 earlier this year. The win was a much needed one for Roberts who has been swapping between wins and losses since 2016.
Prediction: David Zawada inside the distance
Bet: David Zawada to win (+336)
UFC Fight Night 134 fight card
UFC Fight Night 134 begins on UFC Fight Pass from 10:30 am ET (2:30 pm GMT) on Sunday, July 22.
FS1 Main Card (2:00 pm ET / 6:00 pm GMT)
Mauricio Rua [+211] vs. Anthony Smith [-210]
Glover Teixeira [-181] vs. Corey Anderson [+165]
Vitor Miranda [+150] vs. Abu Azaitar [-151]
Marcin Tybura [-218] vs. Stefan Struve [+205]
Marc Diakiese [-190] vs. Nasrat Haqparast [+185]
Danny Roberts [-320] vs. David Zawada [+336]
FS1 Prelims (12:00 pm ET / 4:00 pm GMT)
Nick Nein vs. Damir Hadzovic
Emil Meek vs. Bartosz Fabinski
Khalid Taha vs. Nad Harimani
Justin Ledet vs. Aleksandar Rakic
UFC Fight Pass Early Prelims (10:30 am ET / 2:30 pm GMT)
Davey Grant vs. Manny Bermudez
Jeremy Kimball vs. Darko Stosic
Damian Stasiak vs. Pingyuan Liu