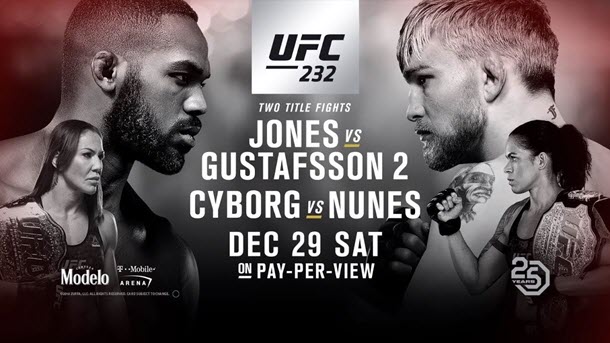 The UFC travels to Los Angeles on late notice this weekend for an epic end-of-year pay-per-view event.
UFC 232's main event is a highly anticipated rematch between Jon Jones and Alexander Gustafsson. And although that fight is certain to draw all of the attention in the build-up to the event, we can assure you that the rest of the card is definitely worth your time.
Let's get into it.
Jon Jones vs. Alexander Gustafsson
Jon Jones and Alexander Gustafsson first threw down all the way back in 2013.
At the time, Gustafsson was an underrated light heavyweight fighter from Sweden who entered the fight as a significant betting underdog and was primarily given no chance against one of the greatest fighters the sport has ever seen.
By the end of their 25-minute war, Gustafsson had gained tremendous levels of respect from audiences worldwide as he pushed Jones to the limit like no one else before him. It was proven that Jones had weaknesses after all and Gustfasson had exposed them for the world to see.
Despite a tight and competitive unanimous decision victory for Jones, fans have been hanging on to the hope of a rematch between these two fighters ever since then.
At UFC 232, it will all be decided.
Best odds for Jon Jones vs. Alexander Gustafsson:
The odds have tightened up significantly since the first time, but Jones is still the heavy favorite here at UFC 232.
The first time around, it was Gustafsson's boxing ability that proved to be the difference maker for him. Landing straight punches to the head and stiff shots to the body, Gustafsson won two of the five rounds. This time, Jones has made an effort to tighten up his boxing defense while also improving his punching ability.
However, we predict that the deciding factor in this fight, once again, is Jones' leg kicks. With Gustafsson walking forward to land hands on Jones, we're expecting Jones to connect cleanly with his feared oblique kick that pushes toward the lead knee. If he can land this with the same success he did in the first fight; a depleted Gustafsson will eventually give in when the later rounds come around.
Bet on Jon Jones to win: -285 (Bovada)
Cristiane "Cyborg" Justino vs. Amanda Nunes
Not to be forgotten, the co-main event of UFC 232 is a headline-worthy fight between two of the greatest female mixed martial artists in the history of the sport.
Amanda Nunes, the UFC's 135-pound champion, will be stepping up to face the reigning featherweight champion (145-pounds), who is better known as Cris Cyborg.
Best odds for Cristiane "Cyborg" Justino vs. Amanda Nunes:
Cyborg hasn't found a worthy competitor in the UFC – or anywhere else for that matter – in the last couple of years. A powerful and skilled striker, Cyborg has destroyed her opponents with ease. Whether it's a tactful effort against Holly Holm over five rounds or a destructive beatdown like against Yana Kunitskaya, Cyborg has always found a way to win.
Moreover, Amanda Nunes has been dominating everyone in her path, as well. Rising to fame by smashing Ronda Rousey in less than a minute, Nunes has since defended her title twice more and looks to be almost unbeatable in the bantamweight division.
Still, despite her success against bantamweight fighters such as Valentina Shevchenko and Raquel Pennington, Cris Cyborg is a notable step upward. Nunes' counter-striking approach might not be best suited to a matchup with Cyborg. Cyborg's constant forward pressure and heavy hands will test Nunes' otherwise excellent chin and durability.
We respect her desire to move up and challenge the champion – and she's definitely the most worthy competitor out there today – but Cyborg is on an entirely different level right now.
Bet on Cris Cyborg win: -241 (Pinnacle)
Carlos Condit vs. Michael Chiesa
Carlos Condit needs to snap a terrible losing streak and will have his chance to do so against former lightweight contender Michael Chiesa this weekend.
Chiesa is coming off two consecutive losses to Anthony Pettis and Kevin Lee and has now decided to move up 15-pounds to the welterweight division. Without the need to dehydrate and cut weight to make the 155-pound category, Chiesa plans on being stronger and more competitive in this new division.
There's arguably no more significant test for him for his welterweight debut than former title challenger, Carlos Condit. Despite losing all four of his most recent bouts, Condit hasn't looked entirely out of place. Sure, a quick submission defeat to Demian Maia wasn't ideal, and neither was being outclassed by Neil Magny. But a tough fight with Robbie Lawler and a near-finish in the first round against "Cowboy" Oliveira suggest that Condit isn't done just yet. He's declining, but there's still some to give.
Best odds for Carlos Condit vs. Michael Chiesa:
Condit excels in a matchup that stays standing. Despite what many fans believe, Chiesa might not be the right guy to test his takedown defense at this stage. We're expecting a fast and scrappy fight and this should swing the odds in Condit's favor more than a slow and grinding grappling match.
If Chiesa gets Condit down, his rear-naked choke will probably end up sinking in sooner than later. However, we're banking on Condit's ability to stay upright and outpower Chiesa for three rounds at UFC 232.
At these odds, it makes for a great bet.
Bet on Carlos Condit to win: +150 (Bovada)
Ilir Latifi vs. Corey Anderson
Another light heavyweight clash that features on the UFC 232 main card will see Ilir Latifi up against Corey Anderson.
Both fighters are enjoying a decent patch of form and have managed to each string two consecutive wins together.
For Latifi, he's becoming somewhat of a streak-breaker having just ended Tyson Pedro's unbeaten career and then managing to snap Ovince Saint Preux's resurgence.
Anderson has been up against older, proven talent and came away with unanimous decision wins.
Best odds for Ilir Latifi vs. Corey Anderson:
Latifi, a heavy-hitting wrestler, has proven to be too dangerous for most opponents when the fight hits the mat. With incredible strength and size, Latifi is a monster in top position and a difficult man to overcome.
Anderson is relatively well-rounded but has been exploited on the feet, highlighting a low-standard of defense. That's precisely the area we're counting on Latifi to expose at UFC 232.
Bet on Ilir Latifi to win: -141 (Pinnacle)
Chad Mendes vs. Alexander Volkanovski
Chad Mendes vs. Alex Volkanovski is a featherweight battle that may have title implications for the winner.
Having torn through the 145-pound division since his arrival, Volkanovski called out Mendes after defeating Darren Elkins and has now got his chance to prove he is worthy of a top rank in the division.
Mendes is a former title challenger who has been inside the UFC's octagon with some of the best featherweight fighters to ever do it.
Best odds for Chad Mendes vs. Alexander Volkanovski:
Volkanovski is a unique talent inside the UFC's featherweight division. He brings almost unparalleled levels of strength for this small weight class with him and uses this to dominate his opponents on the mat.
However, it could be an entirely different story against Mendes, who has elite level wrestling. Volkanovski is confident in his wrestling ability as well and has managed to defeat Jeremy Kennedy and Darren Elkins, but Mendes is another level.
Volkanovski is in with a chance, but these odds are way too good to pass up on for those betting on Chad Mendes.
Bet on Chad Mendes to win: -155 (Bovada)
Andrei Arlovski vs. Walt Harris
Getting the main card started is a heavyweight fight between Andrei Arlovski and Walt Harris.
Arlovski's somewhat of a career resurgence has come to an end after losing two consecutive fights. He'll now be looking to bounce back against Harris, who has had mixed results of his own lately.
Best odds for Andrei Arlovski vs. Walt Harris:
Although Arlovski is losing more than winning lately, the majority of his defeats have been against top-tier talent in the heavyweight division. His chin hasn't completely packed it in yet, either, and he's managed to stay strong against proven finishers such as Tai Tuivasa despite taking some cracking shots.
However, he lacks the required athleticism and power to get over the line against Walt Harris at UFC 232. Harris is explosive and has an impactful right-hand shot that could be enough to end Arlovski's night.
These odds seem generous for Harris, a rising contender in the division.
Bet on Walt Harris to win: -165 (Bovada)
UFC 232 fight card
UFC 232 begins on UFC Fight Pass from 6:30 pm ET (10:30 pm GMT) on Saturday, December 29.
UFC 232 Pay-Per-View Main Card (10:00 pm ET / 2:00 am GMT)
Jon Jones vs. Alexander Gustafsson
Cristiane "Cyborg" Justino vs. Amanda Nunes
Carlos Condit vs. Michael Chiesa
Ilir Latifi vs. Corey Anderson
Chad Mendes vs. Alex Volkanovski
Andrei Arlovski vs. Walt Harris
FS1 Prelims (8:00 pm ET / 12:00 am GMT)
Cat Zingano vs. Megan Anderson
Douglas Silva de Andrade vs. Petr Yan
BJ Penn vs. Ryan Hall
Nathaniel Wood vs. Andre Ewell
UFC Fight Pass Early Prelims (6:30 pm ET / 10:30 pm GMT)
Uriah Hall vs. Bevon Lewis
Curtis Millender vs. Siyar Bahadurzada
Brian Kelleher vs. Montel Jackson