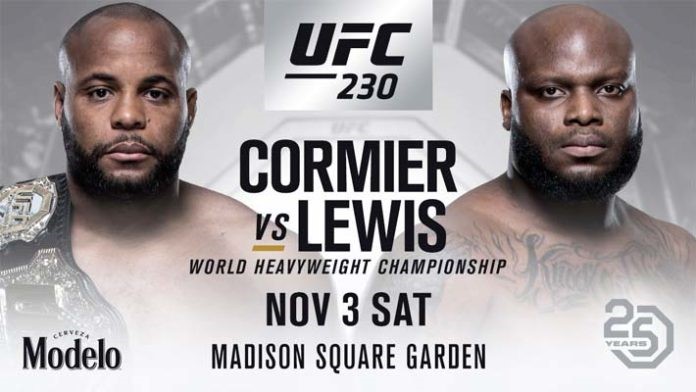 After months of scrambling to put together an exciting main event for the UFC's return to pay-per-view at UFC 230, the world's leading mixed martial arts promotion landed on a UFC Heavyweight Championship bout between Daniel Cormier and Derrick Lewis.
This all came together under four weeks ago, a couple of days after Lewis impressed those watching the Khabib Nurmagomedov vs. Conor McGregor fight card in Las Vegas.
UFC 230 will take place in the legendary Madison Square Garden on Saturday, November 3.
We're here to bring you all of the best bets for this event.
Daniel Cormier vs. Derrick Lewis
Daniel Cormier vs. Derrick Lewis is a heavyweight title fight that absolutely no one could have predicted this time last year.
With Cormier doing work in the light heavyweight division and Lewis recovering from a defeat to Mark Hunt in New Zealand, both looked highly unlikely of competing at the top of the heavyweight division.
However, ultimately, that defeat to Hunt was Lewis' only downfall in his last ten fights. With an impressive string of performances, he's now more than earned his shot at the champion.
Moreover, Cormier never seemed likely to return to the 265-pound category that his teammate Cain Velasquez had previously reigned over. But "DC" stepped up and knocked out Stipe Miocic inside the first round to become the heavyweight champion. Even then, he wasn't expected to return to the cage this soon.
Best odds for Daniel Cormier vs. Derrick Lewis
This fight holds everything for a fan of mixed martial arts. Although "DC" is expected to roll through the challenger with ease, there's always the chance that Lewis lands his famed knockout blow and walks out of Madison Square Garden with the belt strapped over his shoulder.
However, we'll be siding with the champion, Daniel Cormier, who should wear down Lewis in the second and third round before eventually securing a finish.
Bet on Daniel Cormier to win in Round 3: +700 (Bovada)
Chris Weidman vs. Ronaldo "Jacare" Souza
It's not the co-main event that we were all excited for, but Chris Weidman vs. Ronaldo "Jacare" Souza is still an excellent fight between two superb middleweight fighters.
Weidman will be attempting to make it two in a row as he looks to build from a victory against current title challenger Kelvin Gastelum in July last year.
Moreover, "Jacare" will be looking to create some momentum for the first time in a while after dropping two of his last three contests.
Best odds for Chris Weidman vs. Ronaldo "Jacare" Souza
It's no secret that "Jacare" is aging and doesn't have the same athleticism and power that he once had. This was best displayed against Robert Whittaker in April last year when he struggled to secure a takedown and eventually was overrun by the current champion in round two. There's also the fact that he's quick to gas out and fatigue dramatically as the fight progresses.
But so does Chris Weidman. Despite three consecutive defeats to some of the division's very best not that long ago, Weidman enters this one as a favorite for a good reason. His fast pace at the beginning of the fight combined with masterful wrestling should be enough to get him over the line against Souza.
Bet on Chris Weidman to win: -185 (Bovada)
David Branch vs. Jared Cannonier
As "Jacare" shifted up to the co-main event slot against Chris Weidman, David Branch was handed a new opponent.
Fortunately, Jared Cannonier – who was preparing for a fight in Argentina in two weeks – stepped in and replaced Souza in this high-level matchup.
Best odds for David Branch vs. Jared Cannonier
David Branch is criminally underrated, and he might always be until he wins a UFC championship.
With just one defeat (against Luke Rockhold) in his last 13 fights, Branch has enjoyed tremendous success in WSOF and a decent start to his UFC career. This opportunity against Cannonier is not one that will push him up the rankings, but it is one that can definitely earn him a shot at the top-tier of the middleweight division, especially if he does it in style.
Jared Cannonier will be looking to snap a two-fight losing streak when he makes the drop down to middleweight this weekend at UFC 230. Formerly competing as a light heavyweight and even competing at heavyweight for a little while, Cannonier is shredding weight for this fight and taking it on short notice.
That's a tough situation for any fighter, let alone when you're coming up against David Branch.
While the odds seem to be siding with Branch by decision, we're going to lean on Branch to win inside the distance.
Bet on Total Rounds – Under 2.5: +110 at (Pinnacle)
Karl Roberson vs. Jack Marshman
With fights falling from the card left, right, and center, Karl Roberson and Jack Marshman have been called up to compete on UFC 230's main card.
Best odds for Karl Roberson vs. Jack Marshman
Karl Roberson has been an exciting addition to the UFC's roster since joining the promotion last year. His string of five first-round stoppages came to an end when he faced Cezar Ferreira in May this year when he was submitted in the first round. An excellent kickboxer, Roberson might want to keep this one standing and outwork the relatively one-dimensional Jack Marshman.
Marshman is almost solely focused on fighting with his hands. Bringing his boxing experience with him to the cage, Marshman is always capable of landing heavy and finishing the fight. While this has worked for him for the better part of his career, there will come a time and place when his boxing-focused approach will fail against the more well-rounded mixed martial artists.
This might not be it. Even in his most recent loss to Thiago Santos, he landed his heavy shots at times but was unable to secure the finish.
At these odds, it's worth taking a punt on Marshman to secure a finish.
Bet on Jack Marshman: +245 (Pinnacle)
Derek Brunson vs. Israel Adesanya
One of the most highly anticipated fights of the night will get the main card started when Derek Brunson stands across from Israel Adesanya.
Best odds for Derek Brunson vs. Israel Adesanya
The hard-hitting Derek Brunson will be looking to return to form at UFC 230. Brunson has dropped three of his last five fights and most recently was starched by "Jacare" at UFC on FOX 27. That defeat snapped a two-fight winning streak that involved big KO/TKO wins against Daniel Kelly and Lyoto Machida that occurred just after a "robbery" defeat against Anderson Silva.
Israel Adesanya will be ready to shine and impress all of the fans watching the pay-per-view this weekend. His flashy striking style isn't just for appearance; it's equally as devastating. With superb accuracy, timing, and reflexes, Adesanya brilliantly controls the tempo of striking and navigates his pathway to victory while standing.
There's a risk, of course, that he might get stuck underneath Brunson for minutes at a time and that's certainly a dangerous proposition. Ultimately, though, we can see Adesanya cruising to a unanimous decision victory.
Fortunately, there are great odds for this prediction, too.
Bet on Israel Adesanya to win by decision: +300 (Bovada)
UFC 230 fight card
UFC 230 begins on UFC Fight Pass from 6:15 pm ET (10:15 pm GMT) on Saturday, November 3.
Pay-per-view (10:00 pm ET / 2:00 am GMT)
Daniel Cormier vs. Derrick Lewis
Chris Weidman vs. Jacare Souza
David Branch vs. Jared Cannonier
Karl Roberson vs. Jack Marshman
Derek Brunson vs. Israel Adesanya
FS1 Prelims (8:00 pm ET / 12:00 am GMT)
Jason Knight vs. Jordan Rinaldi
Sijara Eubanks vs. Roxanne Modafferi
Julio Arce vs. Sheymon Moraes
Lyman Good vs. Ben Saunders
UFC Fight Pass Early Prelims (6:15 pm ET / 12:15 pm GMT)
Matt Frevola vs. Lando Vannata
Shane Burgos vs. Kurt Holobaugh
Brian Kelleher vs. Montel Jackson
Adam Wieczorek vs. Marcos Rogerio De Lima