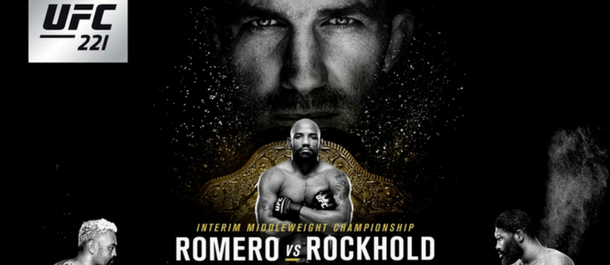 Perth, Australia, will host the UFC's second pay-per-view event of 2018.
The organization had hoped to showcase the UFC Middleweight Champion, Robert Whitaker, in front of his fans in Australia, but a list of injuries has forced Whittaker to withdraw. In his place, Luke Rockhold and Yoel Romero will now do battle for the UFC Interim Middleweight Champion and the winner will likely receive a shot at Whittaker sometime in 2018.
While the absence of Whittaker certainly impacts the Australian fans, the main event bout between Rockhold and Romero is truly world-class. Rockhold and Romero are two of the most physically superior athletes in mixed martial arts. Rockhold uses his strength and power combined with excellent technique to apply incredibly heavy top pressure to his opponent when the fight hits the ground. Romero, a former Olympic wrestler, is incredibly explosive and only narrowly lost to Whittaker in 2017.
Rockhold steps into this fight after defeating David Branch at UFC Fight Night 116. Rockhold showed some concerns while standing, but managed to get the fight to the ground before ground and pounding Branch into submission. For Romero, this will be his first fight since losing a unanimous decision to Robert Whittaker at UFC 213. Whittaker is the only man to have defeated Romero in the UFC.
Prediction: Yoel Romero by KO/TKO – Round 2
In the co-main event, Mark Hunt will take on Curtis Blaydes in a battle between two heavy-hitting heavyweight fighters. Hunt showed his wealth of experience and knowledge at UFC Fight Night 110 when he cruised past Derrick Lewis before securing a KO/TKO victory in the fourth round. The win helped him bounce back from two consecutive defeats and was his first win since he defeated Frank Mir at UFC Fight Night 85 in March 2016. Hunt is renowned for his walk-off KO's.
Curtis Blaydes has jumped up the UFC's heavyweight rankings after two consecutive victories. Since he lost to Francis Ngannou in April 2016, Blaydes has won three contests and been involved in one no contest. Blaydes is an excellent wrestler with heavy hands to go with his grappling ability.
Prediction: Mark Hunt by KO/TKO – Round 3
Moments before that co-main event, Tai Tuivasa will face Cyril Asker in another heavyweight matchup. Tuivasa bounced onto the scene after knocking out Rashad Coulter in 4:35 at UFC Fight Night 125 in November last year. His successful UFC debut also marked the eight victory in his undefeated career so far. Tuivasa will meet Cyril Asker, who is a relatively low-standard heavyweight in the UFC. Asker has traded wins and losses since joining the UFC in April 2016 and how has a 2-2 record in the organization. Most recently, he picked up a submission victory over Yaozong Hu in China.
Prediction: Tai Tuivasa by KO/TKO – Round 1
Jingliang Li, who is one of the rising stars of the UFC, will take on hometown favorite Jake Matthews in a welterweight bout. Li is riding a four-fight winning streak that includes a big win over Zak Ottow at UFC Fight Night 122 in Shanghai in November. The last time "The Leech" lost was in August 2015, when he was submitted by Keita Nakamura in Japan. He'll be up against Jake Matthews who is experiencing somewhat of a bad stretch. Matthews lost to Kevin Lee and Andrew Holbrook before just scraping through for a split decision victory against Bojan Velickovic at UFC Fight Night 121 in November.
Prediction: Jingliang Li by unanimous decision
And to get the main card started, Tyson Pedro will look to rebound from his first-ever loss as he competes against Saparbek Safarov. Pedro was one of the fastest-rising stars in the light heavyweight division until he ran into Ilir Latifi at UFC 215. Latifi used his experience to slow the fight down and grind out a unanimous decision against Pedro. Safarov entered the UFC after managing an 8-0 professional career in Europe. However, he lost his debut in the organization in a "Fight of the Night" with Gian Villante at UFC Fight Night 102.
Prediction: Tyson Pedro by KO/TKO – Round 2
UFC 221 fight card
UFC 221 begins on UFC Fight Pass from 6:30 pm ET (11:30 pm GMT) on Saturday, February 10.
Main Card
Pay-per-view (10:00 pm ET / 3:00 am GMT)
Yoel Romero [+125] vs. Luke Rockhold [-135]
Mark Hunt [+140] vs. Curtis Blaydes [-160]
Tai Tuivasa [-330] vs. Cyril Asker [+270]
Jake Matthews [+180] vs. Li Jingliang [-220]
Tyson Pedro [-260] vs. Saparbek Safarov [+220]
FS1 (8:00 pm ET / 1:00 am GMT)
Damien Brown vs. Dong Hyun Kim
Rob Wilkinson vs. Israel Adesanya
Alexander Volkanovski vs. Jeremy Kennedy
Jussier Formiga vs. Ben Nguyen
Fight Pass Prelims
UFC Fight Pass (6:00 pm ET / 11:30 am GMT)
Ross Pearson vs. Mizuto Hirota
Haruto Ishihara vs. Jose Quinonez
Luke Jumeau vs. Daichi Abe