The Super Bowl is the biggest annual event in American sport and, such is the increasing popularity of American football outside the land of Uncle Sam, the National Football League title decider attracts millions of international viewers.
Super Bowl XLVII – the National Football League uses Roman numerals to identify each edition of its championship game – will take place between American Football Conference winner Baltimore and National Football Conference winner San Francisco in New Orleans on Sunday 3 February 2013.
Both the Ravens and the 49ers boasts unblemished Super Bowl records – Baltimore is one from one having beaten New York's Giants 34-7 in Super Bowl XXXV, while San Francisco is five from five having taken out Super Bowl XVI, Super Bowl XIX, Super Bowl XXIII, Super Bowl XXIV and Super Bowl XXIX – so one of the participants is going to blot its copybook.
National Football Conference representatives have won 25 of the previous 46 Super Bowls, including each of the last three, while the Steelers (six wins), the Cowboys (five wins) and the 49ers (five wins) are the most successful teams in the illustrious history of the major event.
Underdog Ravens should be favourites
Many Super Bowl XLVII betting markets have been open since Baltimore and San Francisco beat New England and Atlanta respectively to earn the right to fight for the Vince Lombardi Trophy at the Mercedes-Benz Superdome.
Some bookmakers opened up with Baltimore as the five-point Super Bowl XLVII underdog but that line is ancient history following a sustained assault by what are known in the betting business as sharps. The match is likely to start with the Ravens receiving around three and a half points.
That does not seem right. Baltimore is battle hardened and full of confidence after defeating Denver and New England in back-to-back road games, restricting the super-offensive Patriots to only one touchdown and just 13 points. At least New England quarterback Tom Brady had Gisele Bundchen's beautiful shoulders to cry on after his shock loss.
It is difficult to line up the form of Baltimore and San Francisco but not impossible. Both the Ravens and the 49ers have played the Patriots on the road and the Giants at home this season and, on both counts, the Ravens come out on top – by eight points against the Patriots and, get this, by 42 points versus the Giants. Yes, one is using a small sample but it does suggest that the Super Bowl XLVII market is incorrect in favouring San Francisco over Baltimore.
Then there are the Ray Lewis and Harbaugh factors. Lewis is going to retire after Super Bowl XLVII and call time on a brilliant career that will surely see him inducted into the National Football League Hall of Fame at the first possible opportunity. Baltimore is determined to send out the 13-time Pro Bowl pick as a winner. The Lewis story has been a thread throughout the miraculous recent run of the Ravens.
Super Bowl XLVII has been tagged the Harbaugh Bowl because brother John and Jim are the head coaches of Baltimore and San Francisco. Advantage, Ravens. Jim says that he is not half the coach that his brother is. Take him at his word.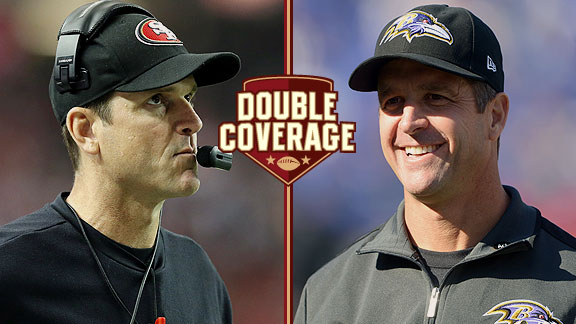 This years Superbowl has been dubbed the Harbaugh Bowl
Flacco positioned for MVP Award
The highlight of any Super Bowl for many punters are the wide range of proposition bets that bookmakers frame to assist with their marketing. There are hundreds of Super Bowl XLVII exotics from which to choose, including the always extremely popular Most Valuable Player Award.
Lewis is bidding to become the sixth man to win the Super Bowl Most Valuable Player Award on multiple occasions and the first non-quarterback to achieve the feat. It really is a quarterback's benefit, with 25 of the previous 46 Super Bowls having a quarterback as the man of the match.
If one fancies Baltimore to beat San Francisco in Super Bowl XLVII then Ravens quarterback Joe Flacco is the most obvious Most Valuable Player selection. With eight touchdown passes and zero interceptions, Flacco has a chance to tie or break three-time Super Bowl champion Joe Montana's record for most touchdowns without throwing an interception during a single post season. Every other quarterback who has finished a post season throwing at least eight TDs with no interceptions has won not only the Vince Lombardi Trophy but also the Most Valuable Player Award. Flacco is trading at odds of around 3-1 to become the fourth consecutive quarterback winner of the Super Bowl Most Valuable Player Award following on from Drew Brees in Super Bowl XLIV, Aaron Rodgers in Super Bowl XLV and Eli Manning in Super Bowl XLVI.
Tuck in to longest field goal prop
Perhaps the best of the Super Bowl XLVII proposition bets from a pure punting prospective is Baltimore to score the longest field goal at odds of around 8-11. Ravens kicker Justin Tucker has fluffed only three field goals this season, while his record from more than 50 yards is a perfect four from four. On the other hand, 49ers kicker David Akers has not even had a crack at a field goal measuring more than 40 yards during the play-offs. San Francisco officials are extremely worried about Akers and rightly so. Akers was just 9-19 from more than 40 yards during the regular season. Akers is a real liability.