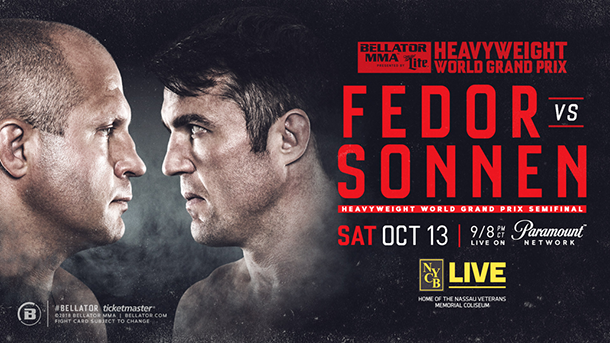 Bellator 208, the second of two big-time Bellator events taking place this weekend, will see Fedor Emelianenko and Chael Sonnen battle it out to advance in the Bellator World Heavyweight Grand Prix. Scheduled for Saturday, October 13, just one day after Matt Mitrione and Ryan Bader headline Bellator 207, Bellator 208 will also feature several brilliant fights between established talent in the promotion.
Fedor Emelianenko vs. Chael Sonnen
Fedor Emelianenko and Chael Sonnen are going to compete in a heavyweight bout in Bellator in 2018. It sounds ridiculous, and it kind of is, but there's a lot to love about this matchup. Emelianenko advanced to the second round after defeating finishing Frank Mir inside the first minute of his first-round matchup, and Sonnen made his way to the semifinals by outworking Quinton Jackson through three rounds.
Best odds for Fedor Emelianenko vs. Chael Sonnen:
Let's begin by saying that it seems like whenever you back against one of these two fighters, they go on to win the bout with ease. It happened to many bettors who picked Quinton Jackson to be too big and strong for Sonnen in the first round, and many people though Mir would be too much for Fedor. Yet, here we are.
Fedor's legacy lives on as not just the greatest heavyweight to ever compete in mixed martial arts but arguably one of the best mixed martial artists of any weight class in the history of the sport. Gone are the days of his ridiculous 29-fight winning streak, but Fedor is still an incredibly dangerous fighter with crafty fighting ability on the feet and on the mat, too.
Moreover, then there's Chael Sonnen, whose athletic ability might not be what it once was, but his intelligence and understanding of the fight game is still as good as ever. After losing to Tito Ortiz in his Bellator debut, he went on to defeat Wanderlei Silva and Quinton Jackson via unanimous decision.
Pace and pressure is the key for Chael Sonnen in this matchup. He'll need to avoid trading shots with the super-powerful Fedor Emelianenko, but if he can get this fight to the mat and control the flow of the fight with his excellent top pressure, he might do enough to win on the scorecards. Sonnen makes for a great underdog bet.
Bet on Chael Sonnen to win at odds of +223 with Pinnacle
Benson Henderson vs. Saad Awad
Benson Henderson is on the last fight of his Bellator contract and will be looking to end his current run by making a statement in front of the fans at Bellator 208. Henderson will face Saad Awad, who is on an impressive four-fight winning streak.
Best odds for Benson Henderson vs. Saad Awad:
Long-time fans of mixed martial arts remember Benson Henderson as a wrecking ball who has beaten the likes of Frankie Edgar, Donald Cerrone, Nate Diaz, Jorge Masvidal, and many other top lightweights in the UFC. Since moving to Bellator, we haven't seen the Henderson of old, and he has overwhelmingly struggled to get consistent results. Recently, however, Henderson did snap a losing streak and returned to winning ways.
As mentioned earlier, Saad Awad's four-fight winning streak is exactly the type of momentum that Henderson is in desperate need of. Awad's heavy punches and fight-finishing power has helped him secure victories after losing to some of the top contenders in Bellator's lightweight division.
Benson Henderson should be too good for Saad Awad in this fight. Awad is dangerous, but is a little too vulnerable to strikes and Henderson should make him pay at close and long range.
Bet on Benson Henderson to win -450 with Bovada
Alexander Shlemenko vs. Anatoly Tokov
Alexander Shlemenko will return to Bellator again to face Anatoly Tokov, who is flying under the radar despite winning 19 of his last 20 fights.
Best odds for Alexander Shlemenko vs. Anatoly Tokov:
A former champion of Bellator, Shlemenko is arguably on the worst stretch of his career. It's only two consecutive defeats, so it might not seem like much, but he dropped a fight recently that was he expected to win against Bruno Silva at M-1 Challenge. That defeat made it two in a row for Shlemenko who last lost to Gegard Mousasi in the Bellator cage.
It's not going to be easy for Shlemenko to snap this streak, either, as he'll be facing Anatoly Tokov who has likely forgotten the feeling of losing. Tokov joined Bellator in February 2017 and won his debut with the promotion but was forced to sit out after tearing his ACL. He returned to the cage in a big way by defeating Vladimir Filipovic via submission in less than one minute at Bellator 200.
Who could honestly confidently back Alexander Shlemenko after what we saw from him at M-1 Challenge in his last fight? He looked disinterested, and his power wasn't there. Tokov will be ready for Shlemenko's tricky spinning attacks and eventually take over the contest.
Bet on Anatoly Tokov to win at odds of -102 with Bovada
Cheick Kongo vs. Timothy Johnson
Cheick Kongo will test Timothy Johnson in his first fight with Bellator after his back-and-forth seven-fight stint with the UFC.
Best odds for Cheick Kongo vs. Timothy Johnson:
Cheick Kongo has won all of his last six fights (!!!) and is now on the best run of his entire mixed martial arts career. As always, we never really know what version of Kongo we are going to get on fight night, but he has managed to outlast so many of Bellator's heavyweight fighters in a row. This will be a different test, though, considering that Timothy Johnson is a decent fighter who is crossing over from the UFC. While competing with the UFC, Johnson managed several major victories – including one over Marcin Tybura – but was never able to string two wins together.
The odds for this fight have been all over the place. Some bettors picked up Timothy Johnson at generous underdog odds, but those days have been and gone. Kongo is now a moderate underdog and will make for an excellent bet here at Bellator 208.
Bet on Cheick Kongo to win at odds of +113 with Bovada
Henry Corrales vs. Andy Main
Henry Corrales and Andy Main will get the Bellator 208's main card started.
Best odds for Henry Corrales vs. Andy Main:
Things change quickly in mixed martial arts, and there is arguably no greater evidence of that than the way that Henry Corrales has turned his Bellator career around. After losing his first three fights with the promotion, Corrales has since picked up three major victories.
He'll be facing Andy Main, who is mostly known for his appearance on The Ultimate Fighter Season 12. Since then, however, he's crafted a stable career as a mixed martial artist and will now enter Bellator after winning eight of his last nine fights.
This is Corrales' opportunity to shine against a Bellator newcomer. Look for Corrales to keep his streak alive.
Bet on Henry Corrales to win at odds of -550 with Bovada
Best Bets for Bellator 208
We've analyzed all of the matchups at Bellator 208, and we are confident in our list of best bets below:
Bellator 208 Fight Card
The Bellator 208 main card begins on Paramount Network from 9:00 pm ET (1:00 am GMT) on Saturday, October 13.
Bellator 208 Main Card – Paramount Network (9:00 pm ET / 1:00 am GMT)
Fedor Emelianenko vs. Chael Sonnen
Benson Henderson vs. Saad Awad
Alexander Shlemenko vs. Anatoly Tokov
Cheick Kongo vs. Timothy Johnson
Henry Corrales vs. Andy Main
Bellator 208 Preliminary Card (6:30 pm ET / 10:30 pm GMT)
Tommy Espinosa vs. Suhrob Aidarbekov
Frank Buenafuente vs. James Gonzalez
Jeremy Puglia vs. Eric Olsen
Mike DiOrio vs. Andrews Rodriguez
Zarrukh Adashev vs. Christian Medina
Ryan Castro vs. Dennis Buzukia
Jerome Mickle vs. Nick Fiore
Robson Gracie Jr. vs. Jamal Pottinger
Jennifer Chieng vs. Jessica Ruiz
Shaquan Moore vs. David Meshkhoradze