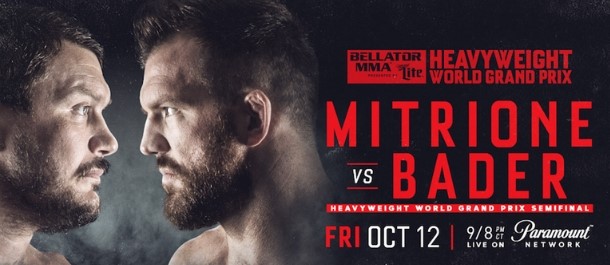 There's no time to rest for fans of mixed martial arts. Just days after the most significant event in UFC history that saw Khabib Nurmagomedov defeat Conor McGregor (and an intense post-fight brawl), Bellator will be hosting not one but two epic events.
Bellator 207 is the first of the two and will take place at the Mohegan Sun Arena in Uncasville, Connecticut on Friday, October 12.
Matt Mitrione vs. Ryan Bader
The Bellator World Heavyweight Grand Prix continues this weekend when Matt Mitrione meets Ryan Bader in the first semifinal of the major tournament. Mitrione advanced to the second round after defeating Roy Nelson by majority decision, and Bader made his way here after knocking out "King Mo" in less than 20 seconds.
Best odds for Matt Mitrione vs. Ryan Bader:
Matt Mitrione could have (and arguably should have) been Bellator's heavyweight champion already if it wasn't for the grand prix. Mitrione has looked outstanding since transitioning to Bellator and remains undefeated in the promotion after four fights. While his biggest win was his knockout victory over Fedor Emelianenko on the grand stage of Bellator NYC last year, some of his best work was against Roy Nelson at Bellator 194 in the first round of this tournament. Despite a narrow decision and being dominated by Nelson for minutes at a time, Mitrione's stand-up looked better than ever, and he was piecing up the veteran with stiff straight punches, excellent body shots, and heavy leg kicks. Ultimately, his work while standing was enough to win over two of the three judges.
Ryan Bader has also looked exceptional since joining the ranks at Bellator, and it's difficult to decipher whether it's because he has improved dramatically or only because he is facing lesser-skilled competition – it's likely a combination of both. Since leaving the UFC, Bader has defeated Phil Davis, Linton Vassell, and Muhammad Lawal, and now reigns as the light heavyweight champion of the promotion. If he goes on to win the tournament, he'll also become the first-ever simultaneous two-division champion in Bellator.
Bader's wrestling is the X-factor in this matchup, and there's no doubting the significance of his advantage in this department. Mitrione was continually grounded by Nelson in his last fight and was beaten so severely on the mat in round three that one judge awarded Nelson with a 10-8 in the final round. Of course, Mitrione's striking is as dangerous as ever, but it's too hard to pick against Bader and his grappling in this main event.
Bet on Ryan Bader to win at odds of -275 with (Bovada)
Roy Nelson vs. Sergei Kharitonov
Roy Nelson's levels of frustration couldn't be any higher. After losing what he believes is a controversial decision against Matt Mitrione in the first round of the Bellator World Heavyweight Grand Prix, he'll now compete in the co-main event while Mitrione has the chance to advance in the tournament. Nelson will face the returning Sergei Kharitonov, who has compiled an impressive four-fight winning streak since losing to Javy Ayala in November 2016.
Best odds for Roy Nelson vs. Sergei Kharitonov:
You never really know what you're going to get from Roy Nelson. At the age of 42, we've almost seen it all from "Big Country," but he's managed to drop several incredibly important fights in recent years. Nelson's greatest problem seems to be a vast discrepancy in the way that he scores a fight compared to the way the actual judges score the bout. Against Mitrione, Nelson secured critical takedowns in round one and two but did little work from the dominant position and therefore was unable to steal the rounds. Of course, this problem is quickly forgotten when he lands one of his super-powerful punches and finishes the fight via knockout.
Sergei Kharitonov's Bellator debut couldn't have gone any worse than it did. After managing an impressive five-fight winning streak, Kharitonov was knocked out by Javy Ayal in only 16 seconds at Bellator 163. Despite bouncing back with a win over Chase Gormley not long after, Kharitonov has since competed in China and Russia and again worked his way into another winning streak of four.
Nelson lost to Mitrione solely because he was outmatched on the feet. He won't be out of his league in this one.
Bet on Roy Nelson to win at odds of -350 with (Bovada)
Lorenz Larkin vs. Ion Pascu
Lorenz Larkin has been asked to deal with yet another opponent change for Bellator 207.
Larkin was initially scheduled to fight Yaroslav Amosov, but an injury forced Amosov to withdraw and Erick Silva to step in. However, Silva also became injured recently, and it is now Ion Pascu who will meet Lorenz Larkin at Bellator 207 this weekend.
Best odds for Lorenz Larkin vs. Ion Pascu:
When Lorenz Larkin made his way to Bellator, many thought he would be in the running for a title. However, Larkin went on to lose fights with top Bellator talent in Douglas Lima and Paul Daley and now finds himself needing to reclimb the ranks.
Larkin will be up against Pascu, who has appeared only once inside the Bellator cage. In his debut with the promotion, he lasted the distance with Ed Ruth and now will secure his first victory with the organization.
It won't be easy, but Lorenz Larkin's class will shine through at Bellator 207.
Bet on Lorenz Larkin to win at -700 with Bovada
Kevin Ferguson Jr. vs. Corey Browning
Kevin Ferguson Jr. will move down to the lightweight division as he looks to make a name for himself in the 155 lbs category. "Baby Slice" will be competing against Corey Browning on the main card of Bellator 207.
Best odds for Kevin Ferguson Jr. vs. Corey Browning:
Kevin Ferguson has bounced back in a big way since losing his mixed martial arts debut. "Baby Slice" was submitted by a guillotine choke in his first-ever fight but has since backed it up with three wins all by way of first-round stoppage. He'll enter this fight after defeating Devon Brock in only 34 seconds.
Browning will be making his Bellator debut this weekend and is primed with a brilliant opportunity to snap a two-fight losing streak and score a significant victory on the biggest stage of his career so far. After starting his career with three stoppages, Browning has since lost touch and been unable to secure a victory.
Don't be fooled into comparing "Baby Slice" with the street fighting of his father, Ferguson Jr. is becoming increasingly technical and well-rounded as a mixed martial artist. Look for a finish here.
Bet on Kevin Ferguson to win at -750 with Bovada
Carrington Banks vs. Mandel Nallo
Two incredibly exciting prospects will do battle at the beginning of Bellator 207's main card when Carrington Banks meets Mandel Nallo in a lightweight bout.
Best odds for Carrington Banks vs. Mandel Nallo
Banks started his career with seven consecutive victories and looked to be nearly unstoppable until meeting Adam Piccolotti recently. Upon entering the Piccolotti fight, Banks was a heavy betting favorite but ended up giving his back to the submission-wiz and losing the fight in the third round.
Nallo is flying under the radar a little since joining Bellator even after securing an impressive 18-second head kick knockout in his debut with the promotion. With a big win over Banks on the Bellator 207 main card, Nallo is well on his way to becoming a highly-regarded prospect – if he isn't already!
Bet on Carrington Banks to win at -235 with Bovada
Best Bets for Bellator 207
We've reviewed all of the fights on the Bellator 207 main card and here are our best bets for the evening:
We're taking all of the favorites here.
Bellator 207 Fight Card
The Bellator 207 main card begins on Paramount Network from 9:00 pm ET (1:00 am GMT) on Friday, October 12.
Bellator 207 Main Card – Paramount Network (9:00 pm ET / 1:00 am GMT)
Matt Mitrione vs. Ryan Bader
Roy Nelson vs. Sergei Kharitonov
Lorenz Larkin vs. Ion Pascu
Kevin Ferguson Jr. (Baby Slice) vs. Corey Browning
Carrington Banks vs. Mandel Nallo
Bellator 207 Preliminary Card (6:30 pm ET / 10:30 pm GMT)
Michael Kimbel vs. Alex Potts
Sean Lally vs. Kemran Lachinov
Kastriot Xhema vs. Pat Casey
Sinead Kavanagh vs. Janay Harding
Nicholas Giulietti vs. Alex Ortiz
Alexandra Ballou vs. Lisa Blaine
Andre Fialho vs. Javier Torres
Kristi Lopez vs. Sarah Click
Tim Caron vs. Vincius de Jesus