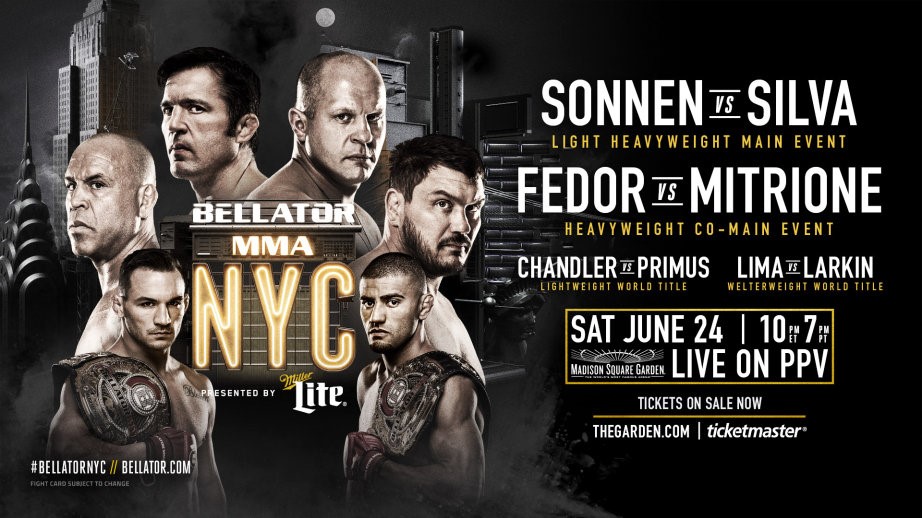 Bellator moves to pay-per-view broadcasting this weekend with the action-packed Bellator NYC card, live from Madison Square Garden in New York City on June 24.
The main event features a bout with plenty of 'bad blood' as Chael Sonnen meets Wanderlei Silva inside the Bellator MMA cage. Silva, who despises Sonnen, reported this week that he 'wants to feel Sonnen's blood on the ground.'
The co-main event is special solely because it hosts the return of 'The Last Emporer' Fedor Emelianenko to our television screens as he makes his Bellator MMA debut against Matt Mitrione. The bookmakers believe that this is almost a perfectly even matchup between these star heavyweights.
If you're not excited by two bouts between ageing mixed martial artists, don't worry, the next three fights will surely catch your attention. Michael Chandler will defend the Bellator Lightweight title against the undefeated Brent Primus. Douglas Lima welcomes Lorenz Larkin to Bellator MMA from the UFC in a Bellator Welterweight Championship bout. Many hardcore MMA fans are also excited for the debut of Aaron Pico, a highly-touted 20-year-old potentially the greatest MMA prospect of all-time. Pico will kick-off the pay-per-view Bellator NYC card against 8-2 Zach Freeman.
The undercard for Bellator NYC is a Bellator 180 event, filled with some of Bellator's best talent from start to finish. Bellator 180 airs on Spike TV and is headlined by a Bellator Light Heavyweight Championship bout between Phil Davis and Ryan Bader.
Recommended Bet

Chael Sonnen vs. Wanderlei Silva
Sunday 25th June – 12:30am (ET) / 04:30am (GMT)
Wanderlei Silva to Win (+110, 11/10, $2.10) 
Best Sites for Online MMA Betting
Rank

Bookmaker

Why We Like'em

1

Great outright winners, prop bet odds/moneylines + parlays on MMA events. They cover UFC, Bellator and Strikeforce.

2

Early MMA lines on offer and can bet up to $1000 per fight! Very quick deposits & withdrawals.

3

Lowest juice on MMA with max bets of $1000 per fight.
Bellator NYC (Pay-per-view) – 10pm ET / 2am GMT
Chael Sonnen vs. Wanderlei Silva – Main Event
Fedor Emelianenko vs. Matt Mitrione – Co-Main Event
Douglas Lima vs. Lorenz Larkin – Bellator Welterweight Championship
Michael Chandler vs. Brent Primus – Bellator Lightweight Championship
Aaron Pico vs. Zach Freeman
Bellator 180 (Spike TV) – 8:00pm ET / 12am GMT
Phil Davis vs. Ryan Bader – Bellator Light Heavyweight Championship
James Gallagher vs. Chinzo Machida
Neiman Gracie vs. Dave Marfone
Heather Hardy vs. Alice Yauger
Bellator 180 Preliminary Card (Spike TV) – 5:30pm ET / 9:30pm GMT
Ryan Couture vs. Haim Gozali
Jerome Mickle vs. Anthony Giacchina
John Salgado vs. Hugh McKenna
Matt Rizzo vs. Sergio da Silva
Bradley Desire vs. Nate Grebb